Sumiko Kanazawa – Mizuho Trust & Banking Co.
Banking on herself
She might have met with the IT department to talk about system consolidation first thing in the morning. After lunch, perhaps it was reviewing proposals and contracts with the business department. Later that evening a call with the bank's headquarters in Tokyo, where the next day's business had already begun.
In the months it took for Mizuho Trust & Banking Co. (USA) (MT&B) to complete its strategic merger, it seemed Sumiko Kanazawa was only able to come up for air when she was handling—of all things—due diligence efforts.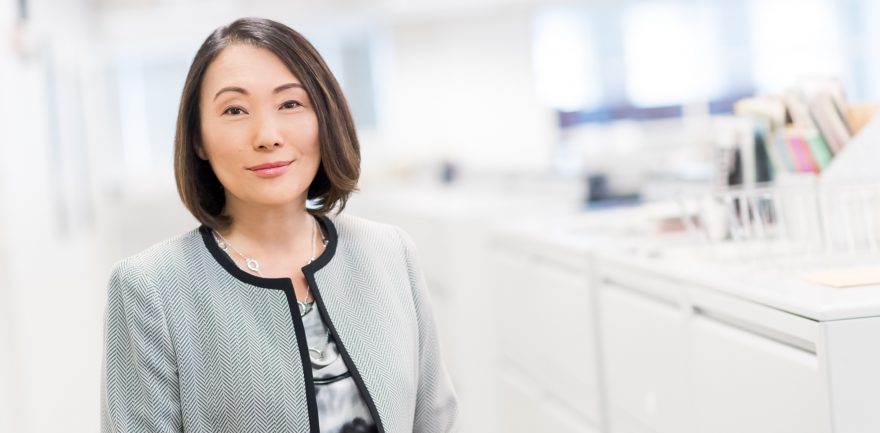 That's because Mizuho Bank (USA), the entity MT&B was merging with, was literally right across the street.
"It was more of a group reorganization than a classic merger, in that the plan was to keep the businesses of both entities and allow them to grow," explains Kanazawa, then MT&B's general counsel and chief compliance officer (CCO). "But there were challenges as in any merger."
Under one roof
The possibility of merging two entities—both New York state licensed  bank subsidiaries of the Japanese-based Mizuho Financial Group (MFG)—had surfaced off and on since around 2001, the year after another merger had brought Kanazawa into the MT&B fold.
According to Kanazawa, the process was accelerated by two factors. From MT&B's perspective, the first and most fundamental had to do with a "strategic imperative for long-term growth." Simply put, by combining their capital, the combined bank would allow expansion of the New York footprint of Mizuho Financial Group's global custody network, which also has hubs in Tokyo and Luxembourg.
The second factor concerned the wave of additional bank regulations and heightened expectations over compliance and risk management. New York state licensed banks must meet applicable laws, regulations and guidelines at both federal and state levels. For example, in 2017 the New York State Department of Financial Services (DFS) adopted additional risk-based regulations covering areas such as cybersecurity, anti-money-laundering and sanction filtering.
"Strong compliance governance is important for protecting our clients' assets. But so is efficiency. We were keenly aware that if we kept two separate banks, we'd be spending double the resources on it" Kanazawa explains.
She says the streamlined governance structure, coupled with the legal and compliance expertise of the two banks, made the combined banks' compliance standing even sturdier. Indeed, with the bank regulators levying billions of dollars in fines across the industry each year, the stakes are hardly trivial.
That's a lot of pressure for what Kanazawa jokingly calls "a pretty boring corner of the industry." Unlike typical commercial banks, which take deposits and make loans, MT&B provides services such as safekeeping of securities, securities lending and fund administration for institutional investors—financial firms, insurance companies and the like.
Over the past decade, Kanazawa saw MT&B's custody assets double to more than $200 billion, with a growing staff working collaboratively toward the same goal: earning the trust of clients to keep their assets safe.
With the business growing, "Legal and compliance staff members need to constantly keep up with the evolving needs of a broad client base, grander business plans and constant technological and operational upgrades." explains Kanazawa. "We are part of those conversations. Solid legal and compliance footing that supports all these efforts is how we make meaningful contributions to the organization."
Seizing opportunity
Kanazawa recalls something of a hectic childhood, moving from city to city, the daughter of a single mom in a country where professional opportunities for women were limited. By the time she was in elementary school, Kanazawa had designs on becoming a lawyer—a career that could give her the kind of stability that had eluded her and her mother.
But with Japan still years away from gender parity in the legal world— women made up just 5.8 percent of all lawyers as recently as 1991— Kanazawa, now a year into high school, started thinking bigger.
"I was always fascinated by the idea of coming to the U.S. to finish my education," she says. "So that's exactly what I did."
She spent a year as a high school exchange student in Lisbon Falls, Maine, an experience she credits with opening the door to law school.  She still takes time to visit her host family—this time with a husband and daughter of her own.
After a brief stint back in Japan, Kanazawa attended Boston University, where she earned a pair of degrees (a B.S. in business administration and an M.A. in international relations) in less than four years.
Immediately after graduation (in 1991), she landed a position at a New York office of the Yasuda Trust & Banking Co. (YT&B). Determined to make good on her vision, Kanazawa attended law school at night, receiving a J.D. from Pace University in 1999. Following a series of mergers, by 2000 Kanazawa moved to Mizuho, where she's remained ever since.
From a slew of fresh regulations in the wake of 9/11 to the 2008 financial crisis, the job hasn't been without tumult. But it's the triumphs—becoming the MT&B's first-ever female general counsel and chief compliance officer and helping helm the company through a new era of growth—that Kanazawa will remember most.
The company's merger now complete, Kanazawa is setting her sights on new horizons, having assumed the title of director and associate general counsel for the parent of the merged bank, Mizuho Bank, Ltd. Though the journey she's taken—and the helping hands she's had along the way—are never far from mind.
"By its nature, legal and compliance provide the support to let businesses best serve their clients. But I can tell you that I could not have done my best work without an incredible support system," she says. "My husband and daughter at home, my team and outside counsels at work—they've pushed me to where I am today."
Showcase your feature on your website with a custom "As Featured in Vanguard" badge that links directly to your article!
Copy and paste this script into your page coding (ideally right before the closing