GC Erin Bagley puts the "cover" in Coverys
Erin Bagley – Coverys
Amidst the cacophony of the national health insurance debate—over who pays what and how; and of when liability comes into play—one voice always seems drowned in the din: that of practitioners providing the care.
It's a conundrum Erin Bagley knows only too well. As general counsel for Coverys, a medical professional liability insurer headquartered in Boston, Bagley has the unenviable task of navigating the minutiae of healthcare for a company that itself, must do so on behalf of its clients.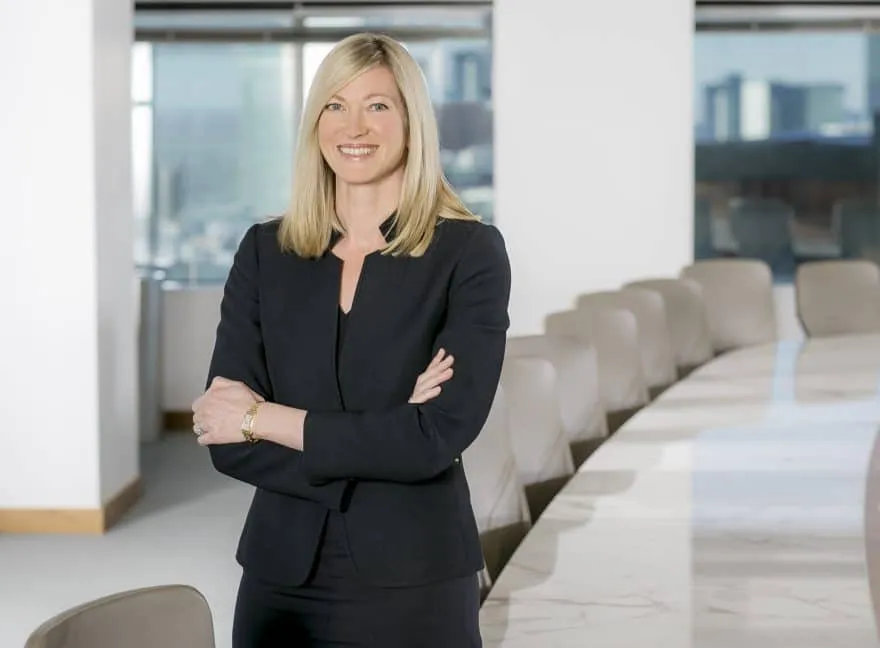 "Insurance is enormously complicated, no matter the sector," says Bagley. "This is something that, whether we realize it or not, affects all of us."
Encompassing 37,000 individuals and 600 health centers across 50 states, Coverys' reach would seem to put it at odds with the interests of consumers. Yet, Bagley believes that better protecting America's medical practitioners can actually improve patient care.
"I think what the industry lacks most right now is trust," Bagley says.  "The less doctors and nurses have to worry about shielding themselves, the more they can focus on improving patient care."
An impossible puzzle
In 2014, "JAMA Internal Medicine" released a study by the Cleveland Clinic estimating the cost of defensive medicine, shorthand for measures meant to prevent potential litigation, at $46 billion in the U.S.
Polling dozens of physicians across three hospitals, the study found that 28 percent of the near 15,000 orders—meaning prescriptions, procedures, tests and so on—were reported as being "at least partially defensive," (though only 2.9 percent were deemed "completely defensive").
Though still disputed, the study suggests doctors are spending more of their patients' money as a cautionary measure. Additionally, a 2014 survey of 20,000 physicians by The Physician's Foundation concluded that physicians are concerned about whether defensive medicine may contribute to an increase in medical spending.
Coverys' internal examination of the literature suggested the correlation might not be all that clear, yet that same examination also found that physicians, even if they don't practice defensive medicine, clearly worry about its overall impact on the cost of health care.
Making matters more complicated, further research suggests only a small portion of these costs might be reduced by tort reform that would make litigation less likely, reducing the need for doctors to 'cover their bases.'
So what's Coverys doing?
According to Bagley, the company's approach is twofold. First, Coverys aims to shield and educate practitioners, both through liability insurance and cutting-edge patient safety and risk management protocols, including state-of-the-art data analytics tools to help identify root causes of risk.
It's also seeking to capitalize on the ever-changing nature of reimbursement, helping doctors and hospitals navigate a brave new world of bundled payments and value-based care in a way that aligns with its broader goals of risk management.
"What we're always hearing from our clients is that they just want to practice medicine," Bagley says. "As a result, our approach has pivoted to say, 'We'll handle the distractions, so you can get back to doing what you do best.'"
New horizons
For all of its complexities, arguably the greatest change in the healthcare industry concerns the dramatic rate of corporate consolidation. It's a trend to which Coverys—currently the sixth largest provider of liability insurance in the U.S., with net admitted assets at $3.6 billion and direct written premiums of $400 million—is hardly an exception.
Coverys has acquired several companies in the last four years, including three medical professional liability insurance companies and three specialist risk management and education providers. In the meantime, its physician and hospital clients are also consolidating, growing into ever-larger healthcare systems whose demands—and risks—are evolving at the same time.
Moreover, Bagley and her colleagues have expanded their business into the U.K., where a luminary like Lloyd's—considered by many to be the oldest insurance market in the world—has long provided access to go-to insurers and reinsurers for companies like Coverys and its large hospital clients.
Still, while mergers and acquisitions have come to occupy an outsized portion of Coverys' legal plate, Bagley says the department's creativity-fueled collaboration continues to be a positive bellwether for the company.
"Our team is relentless in its pursuit of providing great legal service to our internal clients," Bagley explains. "Growing the company the way we have, we are taking on new challenges all the time, but it's important that we're careful to grow our team slowly, and with that common vision always in mind."
It's that commitment to culture and teamwork that's greased the pins of her 15-year legal career.
Changing the dynamics
During an industry conference two years ago, Bagley noticed something off-putting about the panel participants, namely that all of the speakers—11 in total—were men.
Upon returning to her office a few days later, Bagley sent a note to the organizer expressing her dismay at the disparity. When the conference reconvened last year, women speakers were prominently featured. The message, it seemed, had been heard loud and clear.
Together with colleagues from across the company, Bagley has helped update Coverys' internal policies to better reflect its commitment to fostering a respectful workplace environment.
"I think it's important to lend some visibility to the issue, particularly in our industry," Bagley says. "It's not just about meeting legal requirements to check a box; we want to set an example. We're proud of our company and the ways in which we've grown, and we want to preserve what is great about it by making sure we are not afraid to tackle the difficult conversations."
If Bagley wears that passion on her sleeve, it's because so much of her own career course has been charted with the guiding hand of women colleagues.
After earning her law degree at Suffolk University Law School in 2003, Bagley worked as a litigator for Johnson & Aceto (now Aceto, Bonner & Prager), a corporate law firm specializing in business and litigation services for healthcare clients.
Encouraged by two female mentors, in 2008 Bagley accepted a position as healthcare counsel to the Insurance Commissioner of Massachusetts, working at the nexus of the state's then-unfurling universal healthcare mandate.
What she learned, and what has continued to vex her ever since, is that while both the Massachusetts law and subsequent Affordable Care Act (ACA) encourage access to quality care, transparency and consumer involvement, the most pressing factor—that of cost—remains unsolved.
Just as she brought her own voice to bear in addressing flaws within her industry, Bagley believes that putting practitioners back on the podium can go a long way in aiding an ailing industry.
"It's going to take a significant disruption before the question of paying for care starts to sort itself out," Bagley says. "The only thing you can do with the model we have now is bend the cost trend. As long as we're focused on giving providers the tools they need to deliver the best care possible, and committed to providing resources for navigating changes in the payment models so they can get back to practicing medicine, we can be a key player in improving that dynamic."
Showcase your feature on your website with a custom "As Featured in Vanguard" badge that links directly to your article!
Copy and paste this script into your page coding (ideally right before the closing