Leslie Cohan – Seneca Gaming Corporation
Security is no game for a casino company attorney
For Leslie Cohan, law school seemed like an unfinished part of her family's history. She's a descendant of Ely S. Parker, who clerked for a small law firm in Western New York but wasn't admitted to practice because Native Americans weren't citizens of the U.S. at the time.
Parker, a member of the Tonawanda Band of Senecas, wrote the terms of the surrender at Appomattox that ended the Civil War. He later served under President Ulysses S. Grant as the Commissioner of Indian Affairs—the Bureau of Indian Affairs building in Reston, Virginia, is named after Parker.
"He never got to practice law, and I felt it was my responsibility to finish what he started," Cohan says.
She's spent more than 25 years practicing law. And despite her credentials and experience, she came to her current job as a matter of circumstance.
Winning a game like blackjack requires some skill, but it also requires some luck and good fortune. Cohan had some of all three about 11 years ago when she landed her job with Seneca Gaming Corporation in New York.
"I saw a job listing in my email, and it was the last day to apply," says Cohan, the company's associate general counsel. "It seemed like the right fit then, and I've been here ever since."
While her role can be highly varied, Cohan says she primarily focuses on benefits, HR and non-gaming compliance, security and working with the company's anti-money laundering initiatives.
The company is a tribal entity with about 2,900 employees and operates three casinos, two hotels and a golf course: Seneca Niagara Resort & Casino, Seneca Buffalo Creek Casino, Seneca Allegany Resort & Casino and Seneca Hickory Stick Golf. Like many other hospitality organizations, Seneca Gaming is working its way back from the COVID-19 pandemic, Cohan says.
Time to play the game
Having a positive impact and influence on the employee experience is an integral part of her job. Cohan says she leaned on previous work for a health insurer while collaborating with the benefits team to create packages that make sense for the company and employees. Benefits compliance arising from some federal laws passed during the height of the pandemic continue to be hot topics, she says.
"We work to ensure that our properties are as safe and fun for guests—and our employees — as we can," Cohan tells Vanguard. "Most of what I do results in nothing which is obvious to them, but it has a medium to a high level of impact on their experience."
At any casino, the guest experience can be enhanced by a new and clean gaming floor, modern games that are changed frequently and bars and food options. To bring that forward-facing experience to life, Cohan and her team work behind the scenes with law enforcement and regulatory agencies.
Not all games are regulated the same way—Class III games like roulette and blackjack are treated differently than Class II games that tribes can regulate, like bingo. Additionally, sports betting was legalized in New York State a few years ago, and Seneca Gaming Corporation partnered with Kambi to provide the technology platform which powers the retail sportsbooks at Seneca Nation Class III casinos.
"Business is great right now, but we're always looking for people to join the Seneca Gaming Corporation family," Cohan says.
Securing the property
Having the right staff and a lot of foot traffic from customers is excellent, but high-level security is needed behind the scenes and on the front lines.
Cybersecurity will always be a challenge, Cohan says, because there are always threats from bad actors who can exploit even the littlest vulnerabilities.
"We've all seen that there has been a noticeable uptick in incidents within the business space in the past few years," she says.
As much as computerized, high-tech threats are a concern, making the on-the-ground environment safe for employees and guests is a top priority.
"We want the safest environment possible, and we use technology that is useful and helpful but not oppressive and intrusive," Cohan says.
On May 14, 2022, a gunman killed 10 people in a mass shooting at a Tops Friendly Markets location in Buffalo; the attack shook the community, Cohan says, and the organization has put even more emphasis on security preparedness because of the continued threat of gun violence in America.
Seneca Gaming conducts annual training for mass shootings, bomb threats, fires, power outages and natural disasters. Each casino conducts security exercises involving acting out a specific scenario so everyone can learn how to react accordingly.
"Unfortunately, this stuff is part of our culture and our world, and we need to know where to go and how to help people if something happens ahead of time," Cohan says.
Finishing the job
Cohan grew up in Western New York and earned a degree in arts management from Medaille University in Buffalo. She says she planned on working in the arts and entertainment industry in some capacity but later decided law school was the route she wanted to take.
While enrolled at the University of Wisconsin Law School, Cohan says she decided her career would focus on Indian or tribal law.
"Indian law is based on federal law, and at the tribal level, you're working for the government and with its entities operating under its laws like any other government," she says. "Trying to serve the needs of its people was always my plan."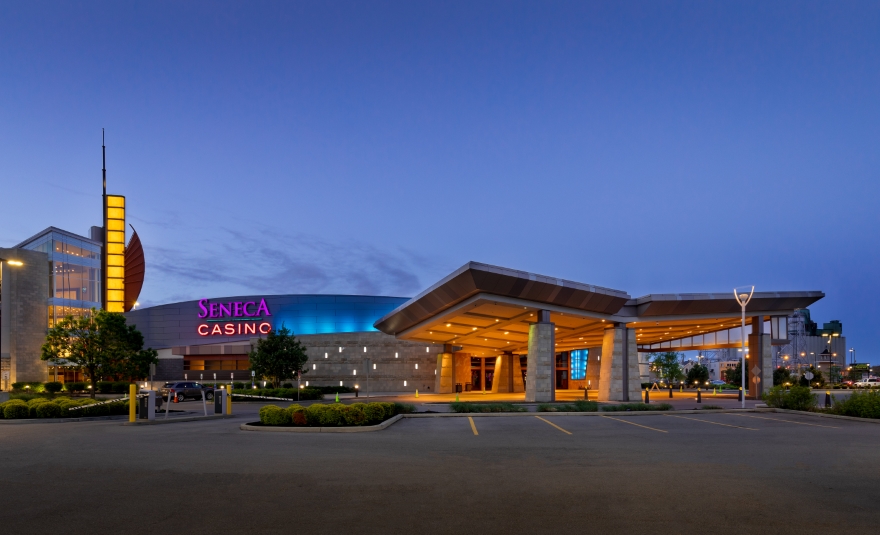 Following graduation, Cohan spent over seven years as a tribal attorney/tribal counsel for the Ho-Chunk Nation Department of Justice in Wisconsin. Then she worked for nearly five years as legal counsel for HealthNow New York, a licensee of the BlueCross BlueShield Association, before joining Seneca Gaming Corporation in September 2011.
"My career has evolved. Whatever I did next was built on my previous experience," Cohan says. "My fulfillment comes from doing the right thing. It's part of who I am, and I work every day for the best possible outcome."
View this feature in the Vanguard Summer II 2023 Edition here.
Showcase your feature on your website with a custom "As Featured in Vanguard" badge that links directly to your article!
Copy and paste this script into your page coding (ideally right before the closing