Mariana D'Andrea – Roku
Media lawyer licenses international expansion
In the late 1990s and early 2000s, cable TV reigned supreme as a source of information and entertainment.
So, when given the chance to work with new media, Mariana D'Andrea was excited. Still in law school at the time, she was one of the youngest employees at an Argentinian media conglomerate. She was also one of the few members of the company's recently assembled in-house legal team who was "curious to learn about the internet and its novel legal implications," she says.
Over 20 years later, her enthusiasm for media and technology has led her to Roku, where she's been associate general counsel, business and legal affairs, since March 2022. She focuses on international content licensing and app distribution for the California-based company as it expands its services into other parts of the world.
"At this point in my career to still be learning, further exploring and seeing different sides of the industry is very rewarding," D'Andrea says.
As she explains, Roku is a TV streaming platform that hosts thousands of apps and services, allowing users to access media and entertainment outlets. It also offers a variety of streaming devices that are powered by the Roku operating system—the only operating system that is purposely built for TV, according to the company. And through The Roku Channel, its owned and operated free, ad-supported streaming service, it provides users with tens of thousands of free movies and TV titles and more than 300 linear channels.
"Roku's business model is unique and compelling, and because of this, I had been interested in working here for some time," D'Andrea says. "I have always enjoyed the content side of the business and knew this would be a role where I could deepen my knowledge from the tech side."
International embrace
D'Andrea moved to the U.S. in 2015 while working for Paramount Global (formerly ViacomCBS) after being offered a role on the legal team at the company's international headquarters in New York. She had held roles in the company's office in Buenos Aires. In the new role, she worked on strategic transactions to help the company expand into new markets.
In early 2019, D'Andrea was promoted to vice president, business and legal affairs. In that role, she led the global rollout of subscription video on-demand services, among other international projects. She left in early 2021 after 12 years with the company. Before coming to Roku, she worked at Tubi, a streaming service owned by Fox Corporation, where she oversaw the legal original content team.
Since joining Roku, D'Andrea has been working on the international expansion of Roku's platform for streaming services. She's also been working on the international growth of The Roku Channel, negotiating contracts and ensuring compliance with foreign laws and regulations as well as industry best practices. She has also been helping develop scalable processes to "allow for Roku's future expansion into other markets in a more agile and efficient manner," she says.
D'Andrea says the exposure to international work has made her a better lawyer as has the resiliency and adaptability she says are common among people with similar backgrounds.
"As professional Latina women, overcoming challenges is in our DNA because of where we come from," she says. "To turn that into an asset is powerful."
As in other companies she's worked for, D'Andrea is active in Roku's employee resource group for Latin and Hispanic staff, "Somos Roku," and says her views and identity have been embraced. The group supports members and engages the whole company through programming, such as events in observance of Hispanic History Month.
"Being Latina is both part of who I am and what I bring to the table," she says. "I fully embrace it and believe our experiences need to be amplified, leveraged and celebrated."
Continuing education
D'Andrea earned her J.D. during her first job in Argentina and has continued pursuing higher education throughout her career. She has postgraduate degrees in corporate and economic law, communications law and telecommunications law, an executive MBA, an MBA in entertainment, media and technology and a Master of Laws. She is also admitted to the New York Bar.
One of her MBA programs included a semester abroad at New York University Stern School of Business, where she met Professor Al Lieberman and was soon offered to join him as guest lecturer. Since 2013, she has visited once a year to teach a class about the globalization of the entertainment industry with a focus on Latin America.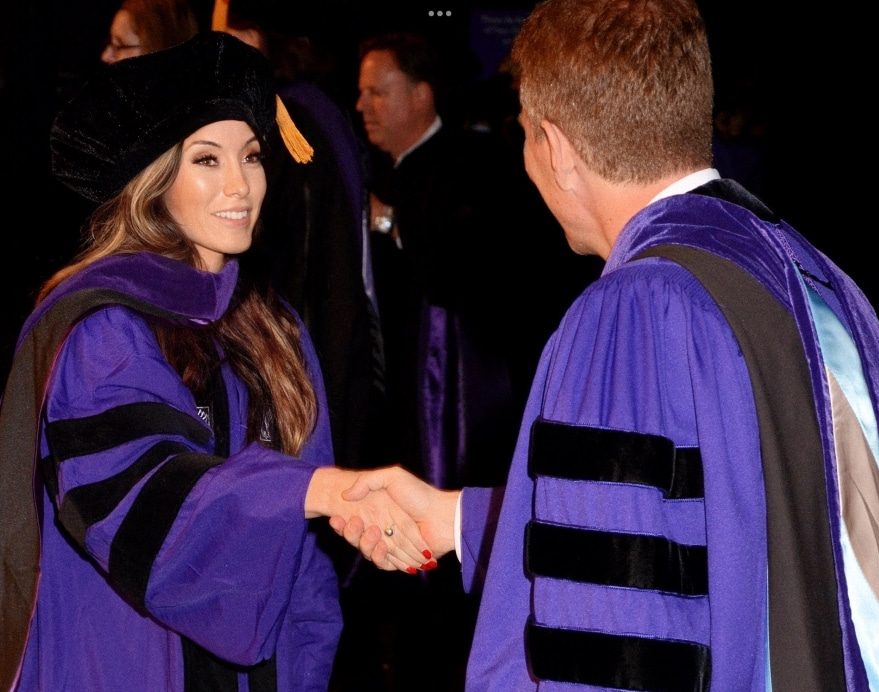 "The only constant in media is change, which forces me to stay current and do my research," D'Andrea says. "Plus, I just love studying and staying connected to the academic community."
Aside from learning, she enjoys practicing yoga and cooking, saying both relax her and serve as stress relievers. But media and law continue to be her passions. She says her first several months with Roku have been fulfilling and that the culture has been welcoming and respectful.
"On my first day, I was told, 'this team won't let you fail,'" D'Andrea says. "That was a great feeling, knowing that I wasn't alone and that I would have support. The team and the culture here are extraordinary."
View this feature in the Vanguard Fall II 2022 Edition here.
Showcase your feature on your website with a custom "As Featured in Vanguard" badge that links directly to your article!
Copy and paste this script into your page coding (ideally right before the closing