Malik Majeed — PRWT Services Inc. and U.S. Facilities Inc.
Riding the rising tide
One of the things Malik Majeed loves hearing from employees, both past and present, is that PRWT Services Inc. "feels like family."
For Majeed, the president, CEO and general counsel for two Philadelphia-based companies—PRWT Services Inc. (PRWT) and its wholly owned subsidiary, U.S. Facilities Inc. (USF)—it's a sentiment that's both heartwarming and validating. One of the goals of both companies, Majeed says, is to provide opportunities to disenfranchised people from all walks of life with the steadfast belief that "a rising tide lifts all boats."
"At the end of the day it's all about the people," says Majeed, who served as general counsel at PRWT for eight years before assuming his dual role as head of PRWT and USF in 2015.
"Seeing an individual grow with the company and later leave to go work for another company and achieve success is very rewarding. We've created a powerful network of family, who support each other, personally and professionally no matter where they are."
Spectrum of solutions
Founded in 1988, PRWT is a nationally recognized minority-owned enterprise that provides business process outsourcing services to state and local government agencies and corporate clients. A second spoke of the business is USF, after it was acquired from Halifax Technical Services in 2000.
PRWT/USF operates throughout the United States and maintains more than 60 million square feet of commercial and industrial space, as well as bridges, tunnels and waterways.
PRWT handles business process solutions or what Majeed calls "soft services." These services include a variety of back office functions such as clerical support, data entry, call-center operations, handling payments and operating mailrooms.
Through USF. the company provides facility management and infrastructure support services to federal, state and local government institutions and corporate clients. USF maintains buildings; provides security; repairs HVAC systems; and carries out infrastructure support services including the operations of bridges, tunnels, locks and dams.
"Our success is driven by our exceptional team of 1,100 direct employees at both companies and 400 contractors," Majeed says.
Delivering a dashboard
And while building the company, teams have always loomed large, Majeed's responsibilities go well beyond matters of HR.
To better monitor and manage their nationwide projects, Majeed is in the process of rolling out an internal dashboard at PRWT to provide his national team with real-time updates of contract and asset performance. The dashboard will eventually be used by both companies.
Developed internally, the software will provide Majeed with a real-time snapshot of what's taking place at every project within the company. It will also measure performance and arm him with predictive analytics that the company can use when it goes out to bid for work.
"We launched a partial rollout and will be adding to its functionality," Majeed says. "Once completed, it will allow us to know—down to the person—what is taking place so we can take a proactive step to make any adjustments to become more efficient."
With the most up-to-date decision-making information available, Majeed will be poised to offer clients streamlined services while maximizing his workforce's effectiveness. The services provided are governed by SLAs and PRWT's system will allow the company to quickly measure KPIs, diagnose issues and preempt any necessary corrective actions before issues arise.
"Those KPIs also allow us to spot trends and take steps that produce better outcomes for our clients," Majeed says. "Our clients have come to expect nothing but the best from us, and that means constantly evolving and incorporating new technology into our operations to make sure we are offering clients the best services."
Multitasking
Given his gamut-spanning duties, Majeed is no stranger to the importance of process efficiency. Serving as the president, CEO and general counsel, he splits his time "judiciously" between the three roles, handling everything from business development, contract negotiations, IT integration, PCI compliance, employment litigation and serving on several boards.
"No two days are ever the same for me, and I have a lot of responsibility as the president, CEO and general counsel of a national company," says Majeed. "But all of my day-to-day tasks are made manageable by my fantastic leadership team and employees who come to work every day excited to roll up their sleeves and dive into the work that needs to be done."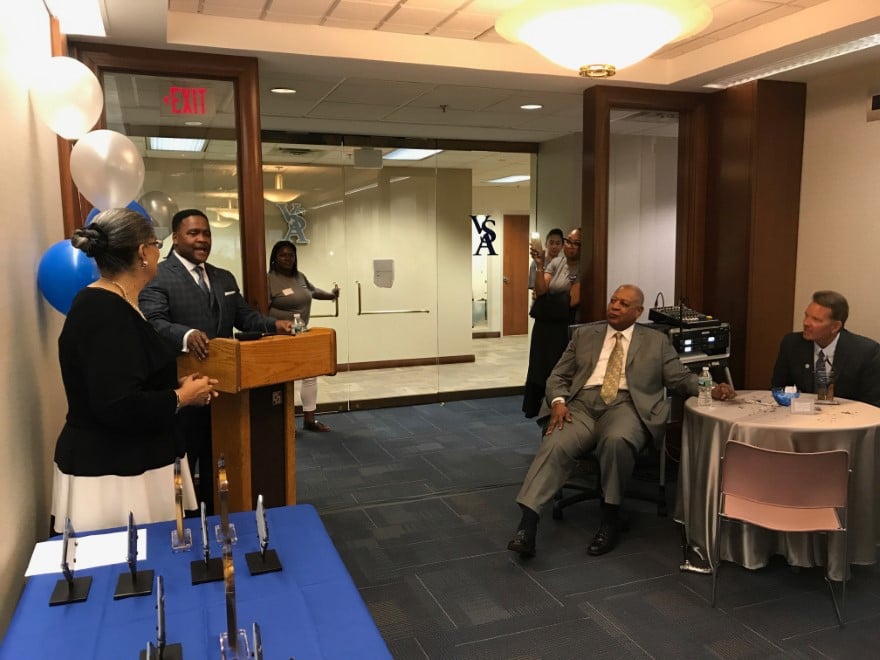 Looking ahead, Majeed sees considerable growth opportunities, particularly where U.S. entities that once took business overseas are looking to re-configure their customer service structure back in this country.
"We're a unique company doing a lot of things and offering business opportunities to a variety of people in a lot of places," he says. "We also  support and serve our clients in a socially responsible way."
Indeed, it's a role—and a perspective—that Majeed has spent decades working to hone.
Hitting the books
Those skills, he says, were forged through his education in New Jersey and work experiences in Philadelphia—a path that prepped him well for the career to come.
It began with a pair of degrees from Rutgers University-Newark: a bachelor's in political science in 1987 and an MBA in finance in 1988 from Rutgers Business School (he would later earn his J.D. from Rutgers Law School in 1995).
Fresh off his MBA, he says he learned the nitty gritty of business from being a commercial banker at Philadelphia National Bank (PNB)/CoreStates (now Wells Fargo) for five years. He also learned operations from his time working as an IT consultant and in HR and payroll-related work at Bristol Myers Squibb, a Fortune 500 company, before becoming CEO of PRWT in 2015.
When Majeed first came into the company in 2007 as an attorney, he helped lay the framework for legal processes. Now he's involved with multiple aspects of the business: hiring new employees; signing contracts with agencies and businesses; establishing service level agreements; and monitoring key performance indicators set forth in the contracts.
"I want to make sure in my role that we review contracts in a balanced way and evaluate the risk profile. I look at each document through the lens of what is in the best interest of the company from both a legal and business perspective," he says. "I'm also not afraid to get another set of legal eyes on it, to provide some insight as well."
Mentorship
In an effort to honor the company's origins as a socially responsible minority-owned business, Majeed has maintained his goal of continuing to grow while supporting and mentoring other minority-owned businesses. Whenever PRWT is the lead contractor on a project and needs additional support, Majeed looks to smaller minority-owned firms to hire as subcontractors.
Outside of work, he and members of his management team volunteer for organizations like the Urban League of Philadelphia, seeking to aid on the front line of issues affecting urban areas. He also sits on the finance and facilities boards of Virtua Health System and has been heavily involved with Martin Luther King High School in Philadelphia, providing students with mentorship and scholarship opportunities.
"These projects provide us with insight and have a tremendous impact on the kids," he says.
Working with guidance counselors, he lets students know that there are myriad opportunities for them other than college. He can even help set students up with companies that offer tuition reimbursement programs for the future.
"They can come to a company like ours and work a respectable job while they are figuring it out. We're here to help them on their path," Majeed says. "We bring the real world down to community level. We are a company that cares."
Showcase your feature on your website with a custom "As Featured in Vanguard" badge that links directly to your article!
Copy and paste this script into your page coding (ideally right before the closing