Marc Battle – DC Water
Pure progress addressing water needs in D.C.
Water is life and make no mistake: Neither the COVID-19 pandemic nor massive protests for racial and social justice will interrupt its flow to Washington, D.C.
People from all walks of life will have what they need to drink and bathe, says DC Water's Marc Battle, the chief legal officer and executive vice president, government & legal affairs for the city's water utility which operates the the world's largest advanced wastewater treatment facility.
In an unprecedented action this summer, DC Water made sure water was available to every residential customer citywide, even those who were already disconnected. Setting billing issues aside until the world calms down, safety and welfare issues were deemed a priority. Other utilities followed suit to support residents with essential services—and lawmakers adopted measures to formalize the protections.
"With no cure or treatment for coronavirus, people must be able to wash their hands," Battle says. "It's a matter of public health, it's imperative … and it's the right thing to do."
Evolution and innovation
The utility's history traces back to 1852, when the nation's first aqueduct system was commissioned by Congress. Evolving in its scope of services, by 1996 the District of Columbia Water and Sewer Authority became an independent agency.
Rebranded as DC Water in 2010, it provides drinking water, sewage collection and treatment to more than 681,000 residents and 21 million visitors annually. Its water distribution system alone covers 1,350 miles with four pumping stations, five reservoirs and 9,510 fire hydrants.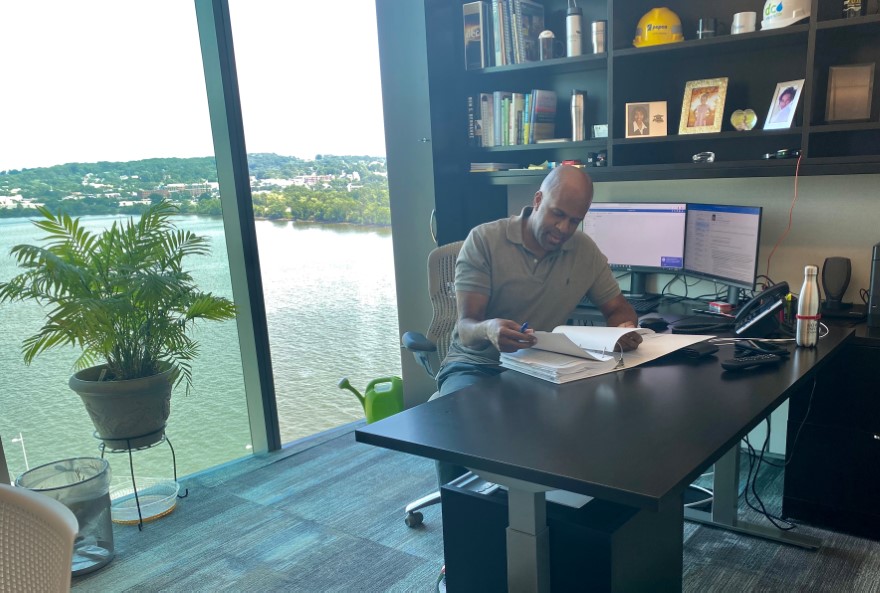 There are projects aplenty passing through its renowned Blue Plains Advanced Wastewater Treatment Plant, located on 150 acres along the Potomac River. It's there that DC Water generates electricity made from transforming biosolids into fertilizer and returns clean water into area rivers through the Tunnels Project.
By selling its biomass, the utility can lower rates for customers while an emerging project to build solar panels will further decrease the company's electrical use.
"As the single largest user of electricity, the company's doing its best to lessen cost so customers won't have to bear the expense," Battle says.
Tremendous tunnels
Most recently Battle's been supporting the work of the long-term Tunnels Project, a massive multimillion-dollar undertaking to divert untreated wastewater from the Potomac and Anacostia Rivers to the Blue Plains facility. There, water is cleaned before being returned to the rivers.
Dubbed the Clean River Project, it began five years ago as part of a consent decree with the EPA. The goal was, and remains, to improve the quality of wastewater going into the Potomac and surrounding watershed.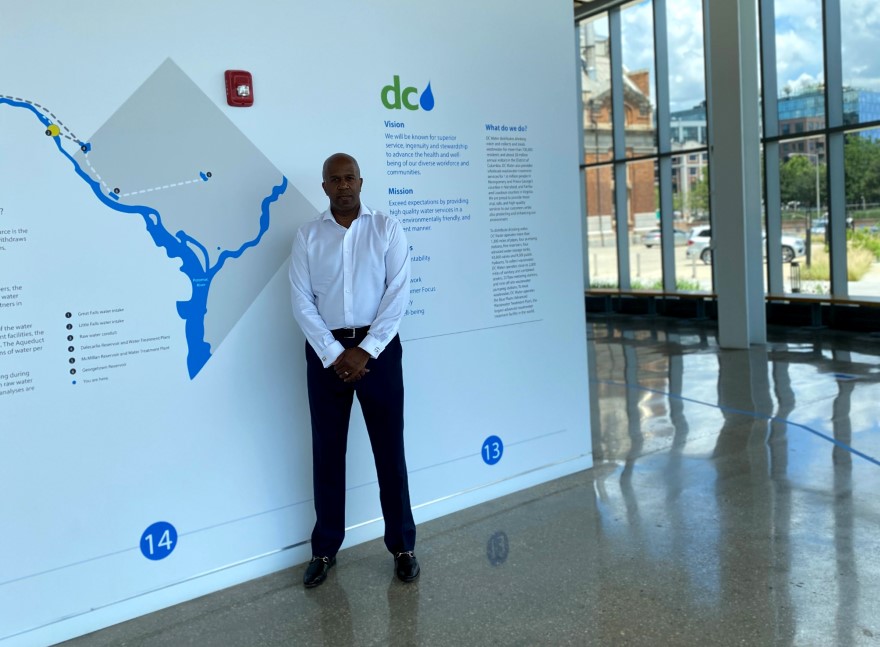 "We've been able to get a major reduction of sewage—far and above what was anticipated," Battle says.
The scope of the undertaking involves digging more than 18 miles of tunnels throughout the city. With all that's dug up, Battle and his DC Water colleagues coordinate with business associations, elected officials and other stakeholders to handle issues related to the massive construction project and the impact on businesses that are also affected by COVID-19.
Considerable discussions have emerged over how to reduce pollution with proposed environmentally friendly green projects. DC Water had to balance those "green infrastructure" proposals with concerns raised by residents in historic areas like Georgetown, where people didn't want cobblestone streets and other public spaces disturbed.
"There are ways to still achieve environmental goals, maintain historic features and still be in compliance," Battle says.
Up for the task
There was certainly no shortage of legal matters like that to address when Battle took the job last November. And that was before the pandemic hit.
Now, he says his days are filled with rate adjustment discussions; environmental compliance matters; labor and employment issues; real estate development projects; and liability issues, just to name a few. When COVID-19 hit, telework plans, safety measures and budget adjustments were added to the mix.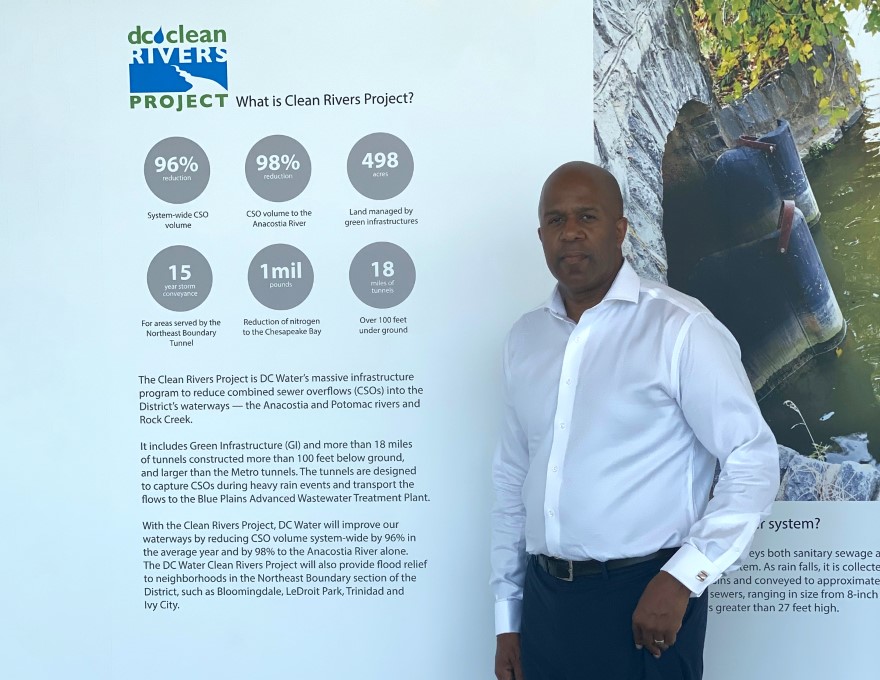 Undaunted, Battle says he was well-prepared given his prior 10-year role at Pepco Holdings—a public utility that supplies electrical power to the city—where  he was also heavily involved with government affairs and utility-related matters.
"It makes my job interesting," he says. "I encountered many of the same issues at Pepco, so I have recently absorbed many of those responsibilities at DC Water as well."
In truth, there's probably very little Battle hasn't experienced first-hand growing up in the nation's capital—something that offers him a depth and breadth of understanding the city, its people and now its projects.
Attending the University of the District of Columbia, he earned a bachelor's degree in journalism before attending Howard University School of Law. After graduation, he headed to Capitol Hill in 2002 as a special counsel and press secretary in the U.S. House of Representatives, handling legal communications and working as a speechwriter. He also worked as counsel on the Governmental Operations Committee for the Council of the District of Columbia for a year.
In 2004, Battle was selected for The Fried Frank Civil Rights Fellowship—a unique program created to bridge the worlds of private law firm litigation and public service law. He headed to New York City to work in securities litigation at the Wall Street firm Fried, Frank, Harris, Shriver & Jacobson, immersing himself in the financial services sector with big bank clients. Two years later he switched gears, working pro bono as an assistant counsel for the NAACP Legal Defense and Educational Fund, pursuing civil rights litigation.
"I had my best litigation exposure at NAACP; the operation was small but powerful there," he says. "I got a chance to litigate for the sake of doing the right things—and it was great to be able to do that."
His experiences in New York, in some ways, provided the foundation for the next stage of his legal career. Seeking a role as in-house counsel, he moved back to D.C. to join Pepco as associate general counsel in 2009.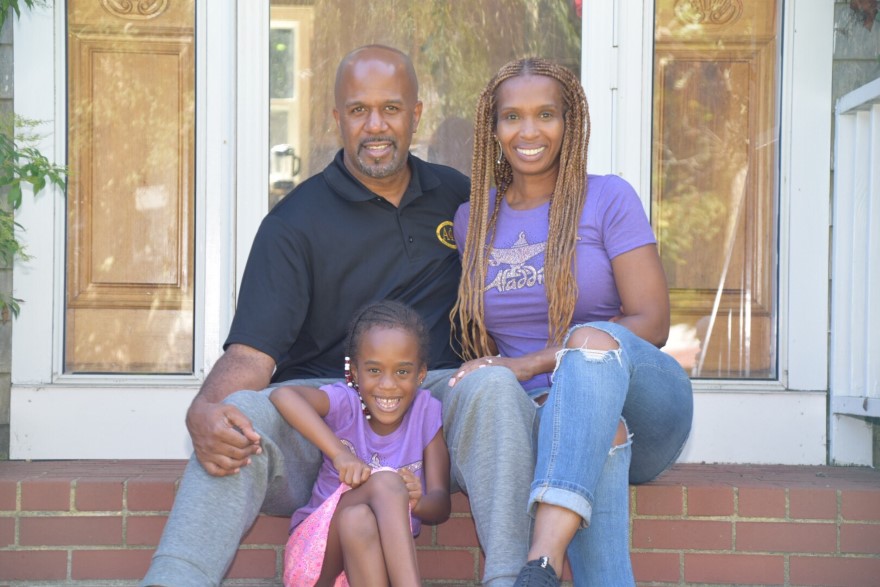 "I brought my civil rights background and mindset into my next roles, making sure the rights of customers were always top-of-mind," he says.
After four years he was promoted to Pepco's region vice president, focusing on government and external affairs, and even spent time working with DC Water and other utilities on related projects. What was lacking, however, was being able to practice law in his government and external affairs position.
"I missed being a lawyer," Battle says. "It's the work juggling and triaging matters that makes the job interesting."
When a recruiter encouraged him to take the role of general counsel at DC Water, he couldn't say no.
"More than anything, I want to work in an industry that affects everybody and has a lot of impact … and water is that, because water is life," Battle says. "My work has a sense of purpose addressing this critical need, making sure everybody can access something that's so fundamental."
Showcase your feature on your website with a custom "As Featured in Vanguard" badge that links directly to your article!
Copy and paste this script into your page coding (ideally right before the closing