Paul D. Tanaka – Kirkland & Ellis
Grounds for a rewarding legal life
When Paul D. Tanaka interviewed for a position in 2006, with the global heavyweight firm of Kirkland & Ellis, he seemed to have all the credentials to acquit himself in the increasingly complicated area of environmental law.
Though just 31, the University of Hawaii law grad had distinguished himself as a trial lawyer with the U.S. Justice Department's environmental and natural resources division since 2004, after three years as an associate with Kelley, Drye & Warren.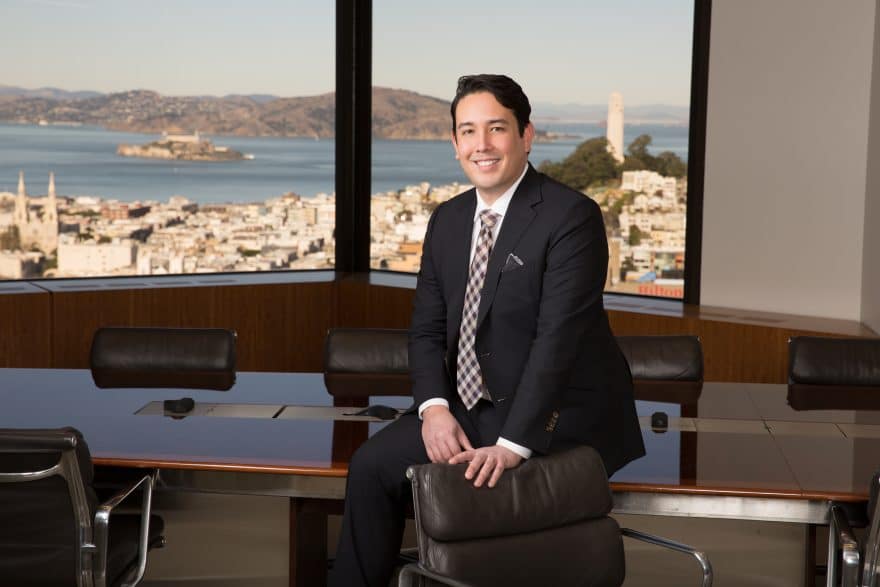 Having grown up amid Hawaii's natural splendor, he sure was drawn to all things environmental and had done well litigating its many areas. So even when he was meeting in the Washington, D.C., office with Brian Land, whose professional accomplishments include mention in The Best Lawyers in America for Environmental Law, Tanaka didn't anticipate any subjects in which he wasn't already well-versed.
"Then Brian asked me, 'Do you know you're interviewing for an environmental transactions position?' I wasn't even aware of what that meant," Tanaka recalled, when he spoke by phone with Vanguard recently. "I had to act like I knew what I was talking about."
Now a Kirkland & Ellis partner, Tanaka no longer has to bluff. He leads the firm's environmental transactions practice on the West Coast and in Texas. His office wall even displays some of the same designations that Land has been awarded.
And Tanaka freely dispenses advice to any young person studying law: Acquaint yourself with the legalities of environmental transactions; it's fascinating—and can be rewarding.
Land and liability
"What we do is essentially handle all of the environmental aspects of a real estate or a corporate transaction," Tanaka says, adding that issues are almost certain to arise if property has been contaminated or target companies fail to comply with applicable environmental laws.
Countless buyers having learned that the hard way, there's a growing premium on legal expertise that developers, corporations, private equity clients and public entities might want to tap into before purchasing or unloading brownfields and other compromised properties.
Further complicating matters is that regulations can be a moving target, Tanaka points out, emphasizing that Kirkland & Ellis has largely been ahead of the curve when it comes to compliance issues as well as risk management in this area.
"You'd better identify these issues early," he says. "It's going to cost you if you don't."
A partnership energized
Heading one of several Kirkland & Ellis teams advising on the transaction, Tanaka and his associates addressed a slew of issues in 2017 that enabled Blackstone Energy Partners to enter into a joint $2.3 billion venture with Sanchez Energy Corp. to acquire from Anadarko Petroleum Corp. some 318,000 oil- and gas-rich acres across a fossil-fuel-rich swath of Texas.
That was big money spent, unique risks undertaken and a big potential payoff for Blackstone and Sanchez. Just the kind of transaction that necessitated the green eyeshades of Tanaka and his team.
"The way these pacts are structured, you look to identify and allocate the risk of any issues," he says. "Over 1,000 well locations were involved in the transaction, and we had to mobilize an environmental consultant team to review them and identify any defects in just a couple weeks. We were able to ascertain that the assets were clean."
And likely productive. The year before the transaction, sales volumes from these properties amounted to about 45,000 barrels of oil and 131  million cubic feet of natural gas.
A productive year
As 2017 wound down, Tanaka could point to a string of accomplishments. Aided by associate James Dolphin, he helped represent Industrial Growth Partners and Integrated Global Services Inc.'s acquisition of Cetek Ceramic Technologies, a market leader in oil and gas equipment, and power markets. He also helped to establish and build the environmental transactions practice at Kirkland & Ellis'  Houston office.
The new year promises to involve a lengthy to-do list, containing anything from fracking to pipeline construction to energy exploration to the leasing of lands for mineral and energy exploration. And that's just in the United States; Tanaka also takes a role with Kirkland & Ellis' transactions run out of its offices in China and Europe.
"We're the quarterback who pulls together the details on those global projects," he says.
There's plenty to do on the environmental transactions front, and the day will come when Tanaka needs new teammates. When the need for other types of lawyers arises at Kirkland & Ellis, worthy applicants always unveil, but the pool of environmental transactional lawyers is not always wide or deep.
So Tanaka is doing his bit to ensure there'll be candidates for what's certain to be a growing demand. He and a couple of colleagues teach an environmental transactions class at University of California-Berkeley School of Law. And he participates in an annual environmental transactional roundtable and American Bar Association conferences to plan for emerging issues in this area.
His clients just might attest to how great the need is for environmental transactions lawyers. After all, what could be the ramifications for companies when global environmental regulatory efforts on climate change evolve? Or if the federal Clean Air or Clean Water acts undergo changes?
From a lawyer's perspective, there's a motherlode of opportunity, no matter who the president is, or which side controls Congress, red or blue.
"If there's an administration that's more restrictive about development, it impacts our clients, who need to know how to navigate and comply with the regulations," Tanaka says. "If there's less regulation, it creates a higher volume of activity. We're in a good position in any respect. There'll always be a need for us."
Budding lawyers be advised: Kirkland & Ellis is always looking for a few good men and women interested in environmental transactions work.
Showcase your feature on your website with a custom "As Featured in Vanguard" badge that links directly to your article!
Copy and paste this script into your page coding (ideally right before the closing