Sean Jamieson – Spire
Warming up to natural gas
It's a commodity that enables so many aspects of everyday life, from helping us cook dinner to heating our homes.
Welcome to the world of natural gas.
While the U.S. relies heavily on this safe and affordable product, some do have questions. But Sean Jamieson, general counsel for the commodity and midstream businesses of Spire Inc., plans to answer them by improving transparency and community involvement for Spire's natural gas pipelines, natural gas storage, and commodity trading businesses.
Brought in to expand the legal support for these businesses, Jamieson established, and is now building, Spire's legal organization in Houston from the ground up. The guiding light for future success, he says, is to cast a wide net to involve a community of supportive stakeholders.
"It's all about engagement with the communities we serve," Jamieson says. "We want to understand perspectives of our neighbors, employees and government officials in an industry that has its challenges. The message of what our industry does and how it seeks to help people isn't often communicated well. We want to change that."
Rich history
Founded in 1857 as The Laclede Gas Light Company, Spire, a public utility holding company, was one of the original 12 industrial companies listed on the Dow Jones Industrial Index.
In his role Jamieson seeks to provide transparency and community involvement in the company's operations—focusing on three spokes of the business: Spire Marketing Inc.; Spire STL Pipeline LLC; and Spire Storage West LLC.
Following the arrival of new president and CEO Suzanne Sitherwood in 2011, she led the company on an expansion of gas utilities ultimately making Spire the fifth largest publicly traded natural gas company in the United States.
"Suzanne's vision and leadership quadrupled the size of the business since her arrival," Jamieson says.
The goal: to bring affordable, abundant, domestic natural gas to as many people as possible by expanding into new regions, including Alabama, Mississippi, Missouri and points west—all while weaving potential sites into its existing framework of operations.
"We know natural gas plays an important part in sustainable energy for the future," Jamieson says. "Suzanne's leadership has meant finding innovative ways to supply the energy that people can depend upon while also reducing methane emissions."
Projects aplenty
Spire then decided to strategically invest in and develop its midstream and commodity marketing capabilities. As part of that decision, it moved its gas trading business to Houston in 2018, and took advantage of opportunities upstream in the natural gas value chain.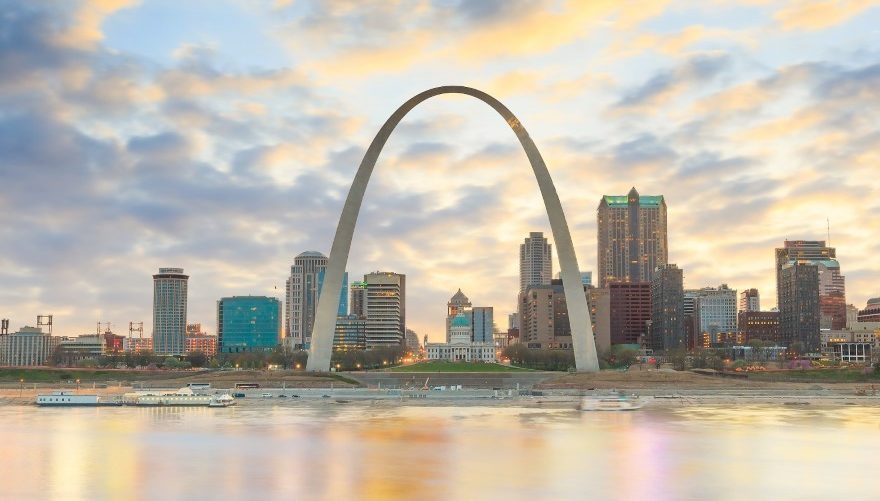 That same year, Spire completed the acquisition of its second interstate natural gas storage business in Wyoming, and in 2019 it began construction on an interstate natural gas pipeline through Illinois and Missouri. That pipeline—the Spire STL Pipeline—brings more affordable natural gas to the St. Louis region from the largest producing basin in America.
"A large part of the business is connecting people to the commodity," Jamieson says. "But it takes a lot of legal work to achieve these results."
Power to the people
Physical considerations are just one element of the business. Next step is getting the gas to market.
That happens via commodity trading—the buying and selling of natural gas. Spire doesn't drill for gas; it secures and delivers the resources to market through its own commodity trading company, which combs through suppliers for the best deal in virtually every gas market in the United States.
As GC, his efforts to support the broader business objectives touch on multiple areas for these subsidiaries: overseeing legal and governmental affairs; tackling the regulatory challenges for project development and operations; leading stakeholder engagement; addressing questions of land use; and managing the compliance program.
"These are the foundations of my job," Jamieson says. "The guiding principle is not just focusing on the contract, regulatory or statutory text, or best legal position in court, but to also pose the question of what is the right thing to do?"
Jamieson's perspective is simple: when a company listens to the concerns of stakeholders—from addressing environmental concerns to market impact—there tend to be fewer matters of litigation.
"A legal department should protect the company's interests today, tomorrow and in the distant future," says Jamieson.
Encountering COVID
Indeed, protecting employees and customers continues to be a paramount priority. It is imperative to keep gas flowing to power homes and factories during the pandemic.
Spire went to great lengths to protect its workforce: allowing office-based employees to work remotely; reimagining how teams commuted to work in remote areas; and developing best practices for working within underground facilities.
"It's been a challenging time, but there's nothing that a dynamic response cannot solve," Jamieson says.
Practice makes perfect
When it came to helping Spire bolster its legal department, Jamieson tapped into his past experience at Cheniere Energy Inc., the largest liquid natural gas (LNG) company in the U.S.
In many ways, that role would set the stage for what came next.
Jamieson first joined Cheniere to lead legal affairs for its domestic gas supply and trading division. He was promoted to global head of compliance and would later lead the company's commodities, regulatory and compliance legal team. Jamieson worked primarily from Houston, London and Washington, D.C., and was responsible for compliance operations in those areas and more, including Singapore and Chile.
The Houston-based LNG company first began exporting U.S. natural gas to Brazil in 2016. The move was considered controversial, with many citing the oil embargoes of the 1970s which resulted in scarcity. But the company knew resources were abundant—and profitable, Jamieson says. In no time, it became a leader in the exporting market and Jamieson was there to watch and learn.
"They were at the forefront of a changing idea," Jamieson says. "They achieved their objectives through education and connecting with stakeholders. People soon no longer viewed LNG export as a bad idea, but a good one—that helped to improve U.S. gross domestic product and much-needed infrastructure and economic growth to local communities."
But while the lessons learned at Cheniere helped prepare Jamieson for his next role, the most important insight he gained was consensus-building.
"I've learned the importance of collaboration," this New York native says. "From the start, I was taught to find long-term sustainable solutions. Any lawsuit, or investigation is just the tip of a bigger issue that needs to be resolved."
Avoiding a headache
To avoid legal problems, Jamieson makes a point of being a good neighbor and adhering to environmental and energy regulations to build trust.
That experience—coupled with a stint at a large international law firm—opened the door for him at Spire in 2018. Initially hired as general counsel for Spire Marketing Inc., Jamieson was promoted a year later to his current role, taking over the legal affairs for all of Spire's non-utility businesses.
"What attracted me most to Spire was the opportunity to help the company become a player in the midstream market," he says.
Jamieson says it's been an amazing journey from working at his first law firm to becoming global head of compliance for a company with operations on four continents, and now working as the GC of the midstream subsidiaries for a well-established, publicly traded company.
But he's not done yet.
This graduate of the George Washington University and Howard University School of Law plans to focus on executing his company's growth strategy. He also plans to lend his voice to the national dialogue furthering sensible energy policy that fuels everyday communities while respecting the environment.
"I work with fantastic people. Our stakeholders are my inspiration," Jamieson says. "I believe in the mission of my industry and the way it helps ordinary people like me and you. Together we can enrich lives through the strength of our energy."
Showcase your feature on your website with a custom "As Featured in Vanguard" badge that links directly to your article!
Copy and paste this script into your page coding (ideally right before the closing