Randy Noe – Norfolk Southern
Working legal on the railroad
Like so many federal laws, the Rail Safety Improvement Act of 2008 was devised with the best of intentions: to prevent certain types of train collisions, derailments and other incidents by requiring all Class I railroads to implement a new safety technology system known as positive train control, or PTC.
But as often happens with sweeping legislation, unforeseen complications abounded.
How complicated, you ask? Aside from the enormous technical challenge presented by devising a system that had never been implemented anywhere in the world, the railroad industry faced a complex series of regulatory directives from multiple agencies.
As an attorney in Norfolk Southern's law department, it was Randy Noe's job to ensure the company found its way through the regulatory maze.
"In principle, seeking the government's approval for what you plan to build and when and where you plan to build it sounds pretty simple," says Noe, who now serves as Norfolk Southern's assistant vice president regulatory affairs. "But once you dive into the details, the reality is more complex—a lot more."
Between the tracks
According to Noe, one especially vexing challenge was a provision requiring PTC systems to be interoperable, meaning tenant carriers—those transporting freight on another company's lines—must operate a system that reliably functions with the host's.
Particularly in the East, where Norfolk Southern operates, the railway network is intertwined, with multiple railroads—often carrying both passenger and freight carriers—regularly operating over the same segment of track.
Implementing a brand new technology that works in such situations requires not only overcoming the technical hurdles, but also managing the commercial relationships between the carriers while obtaining the approval of the Federal Railroad Administration (FRA).
According to Noe, PTC's regulatory challenges often come from unexpected directions. Because many of the track-side devices that had to be installed to support PTC use radio signals to communicate with other elements of the system, Norfolk Southern and the other railroads needed to satisfy the Federal Communications Commission's rules for compliance with the National Historic Preservation Act.
Noe led the Norfolk Southern legal team responsible for working with the FCC in designing a process that weighed both the implementation deadline required by Congress and the need to consult with the numerous Native American tribes who might be impacted by construction.
"It felt like peeling back the layers of an onion," Noe recalls. "The deeper we got into PTC, the more the complexity of the challenge revealed itself. Not only did we have to become experts in the rules adopted by the FRA to implement Congress' mandate, we also had to figure out how to fit PTC within the pre-existing legal and regulatory landscape, which wasn't especially well-suited for a deadline-driven project of this scope."
Seat at the table
For Noe, the lessons learned from overcoming regulatory barriers are now being put to the test. After a 20-year career as a lawyer for Norfolk Southern, he recently transitioned to a new role in the company's Washington, D.C., office as assistant vice president regulatory affairs. While as a lawyer his focus was regulatory compliance, in his new job he is tasked with reimagining the regulatory system itself.
According to Noe, railroads are subject to a system of safety regulations that has been developed over decades. But many of those rules were put in place when available technology was much less developed.
For example, brake inspection rules have their origins in the 1950s, when air brake systems were more prone to leaking and performed less reliably. It may have made sense to require more frequent brake inspections back then, but as braking technology has improved by leaps and bounds, such requirements have become onerous.
And while railroads have managed to gain some relief from outdated regulations through specific waivers, Noe says the waiver process can be arduous and uncertain.
It would be far better, Noe says, if the regulatory system could be redesigned to be more performance-based and adaptable to changes in technology, where rather than stipulating specific "whats, wheres and hows" for every subject, the regulator would set a clear objective—say, a safety performance target—and leave the "how" to the businesses themselves. That, he says, would help spur innovation.
But while performance-based regulation holds a lot of promise as a model for the future, adapting the hundreds of pages of prescriptive rules on the books today to allow for new technology presents an entirely different challenge. For that, a more creative approach will be needed, and Noe suggests the solution could be informed by some of the lessons drawn from PTC.
Given the countless thousands of pages of plans reviewed by the FRA, overseeing PTC has been enormously burdensome for the agency. Noe believes a wiser approach would be to focus instead on the technology-based processes a railroad uses to assess and mitigate the associated risks.
As long as the safety process approved by the regulator is followed, and the use of the technology would be at least as safe as the process prescribed by existing regulations, railroads would be permitted to implement that technology as an alternative means of regulatory compliance.
"Everyone wins," Noe says. "The FRA's workload is more manageable, the railroad can take advantage of new or improved technologies, and the public interest in safety is preserved or even enhanced. This isn't necessarily about deregulation; it's about smarter regulation. The trick is maintaining the important role government plays in setting safety standards while harnessing the innovative power of our industry. We've been very encouraged by how [FRA head] Ron Batory has publicly embraced that commitment to innovation."
The live long day
With 19,500 route miles across 22 states, Norfolk Southern's sprawling system represents a somewhat different challenge than the model train sets of Noe's youth. The connection to the business, however, has never lost its steam.
Growing up in the picturesque railroad junction town of Livingston, Montana, Noe remembers being inspired by his grandfathers, both of whom made their living on the Northern Pacific Railroad. One was a brakeman, the other a shop machinist.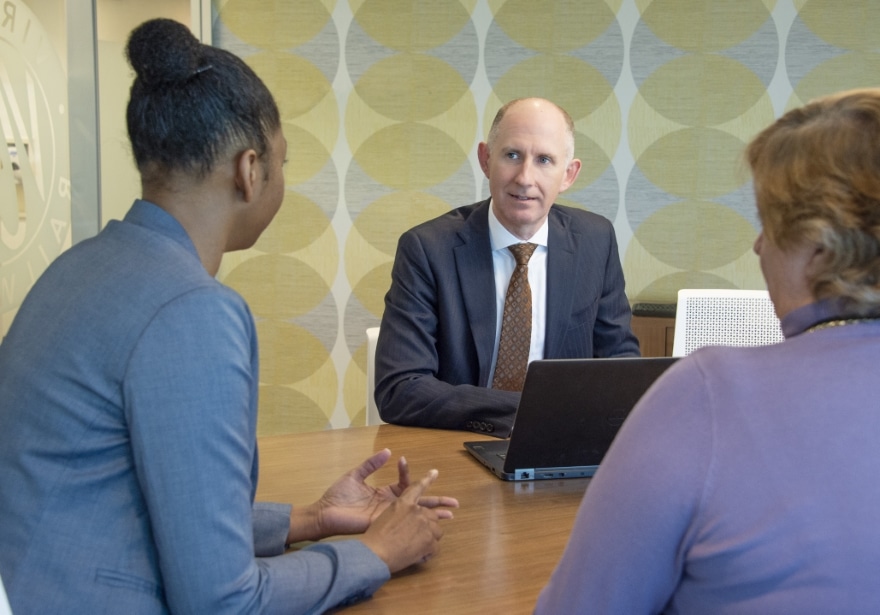 "You can't be from Livingston and fail to appreciate how tangible the railroad industry is. Wherever you went in that little town, you could see it and you could hear it," Noe reflects.
Noe eventually left Montana for the East Coast, where he attended the University of Rochester and Washington and Lee University School of Law.
All the while, his interest in the rail industry grew.
"Particularly in law school, where it seemed every third or fourth case involved a railroad, I gained a new appreciation for the way our railroads wove the fabric of the country," Noe says. "Not only were they physically impressive, they left a big imprint on the legal system as well."
Back at the start
After earning his J.D. in 1995, Noe returned to Rochester, joining Harter Secrest & Emery as an associate attorney. Serving in the firm's litigation department, Noe got a crash course in civil procedure, handling everything from depositions and motion drafts to written discovery.
But it wasn't long before the railroad beckoned, just as it had to his grandfathers two generations earlier. In 1998, he was hired as an assistant general attorney at Norfolk Southern.
"For as challenging as the job can be, there are times when I still feel like a 10-year-old boy playing with trains," Noe says. "To drive down a highway and see a drawbridge with a train on it and know I play a small part in making that happen—that I'm part of that story – makes it seem less like a job and more like a calling."
Showcase your feature on your website with a custom "As Featured in Vanguard" badge that links directly to your article!
Copy and paste this script into your page coding (ideally right before the closing