Tom Harris – Transdev
Transdev attorney keeps buses on the road as 'God's work'
If getting there is half the fun, it's also true that it's not always easy. That's the case for many of Transdev North America's customers—people of limited means and sometimes mobility who don't own vehicles and aren't able to walk for errands, medical appointments or family visits.
Transdev operates transportation systems, including specialized paratransit services for people with disabilities, linking them to fixed bus routes or destinations such as hospitals and medical offices in cities around the U.S.
Tom Harris, Transdev's vice president and deputy general counsel says when the COVID-19 pandemic threatened those operations, his efforts to keep buses on the road while keeping drivers and passengers safe took on greater resonance.
"The paratransit work is God's work. It's for people who can't reach the fixed routes and still need to live independently. It gets them to stores, hospitals and medical appointments," Harris says "They often live in underserved communities. These people can't be forgotten after the ways they've served society."
Transdev kept the buses moving with some innovation, and now Harris is taking an innovative approach to keeping the company staffed—working with community organizations as did Thurgood Marshall, his inspiration for becoming an attorney.
"I stand in front of my friends in a fight. I believe that's the lawyer's creed," Harris says. "I always wanted to be a lawyer because of my desire to serve the community, as did Thurgood Marshall."
Serving by road and rail
Headquartered in Lombard, Illinois, west of Chicago, Transdev North America is part of a global company operating in 17 countries and is the largest private provider of multiple modes of transportation in North America, according to its website.
Those modes include bus, shuttle, rail and streetcar, autonomous, and paratransit. Transdev's clients include cities, counties, airports, companies and universities. Annually, it provides up to 160 million passenger trips in more than 200 communities while supporting nearly 50 transit agencies with a workforce of more than 13,000 people.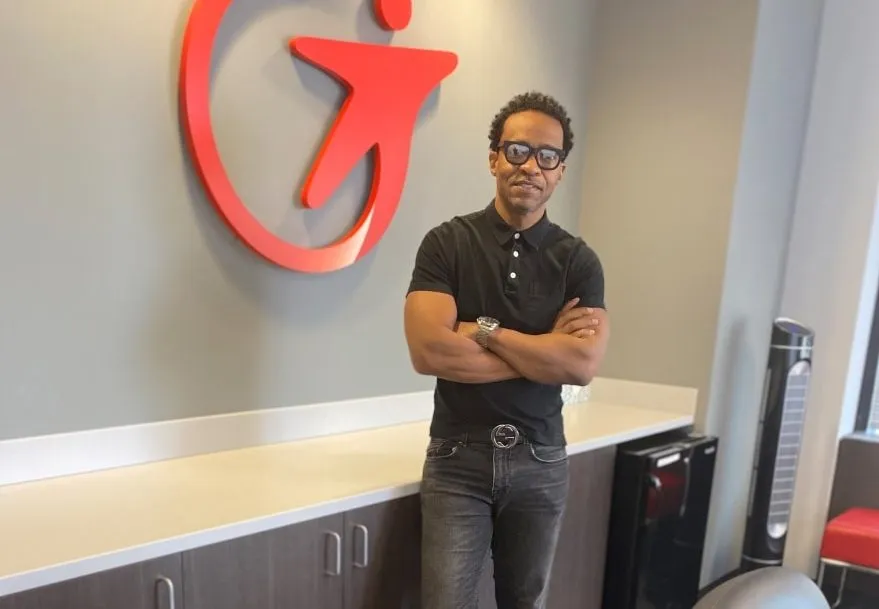 Harris says Transdev's transportation systems were used less as offices closed and businesses went to remote operations. However, he says they were still necessary for getting employees to work in essential industries, such as retail and manufacturing.
Though the safety guidelines and regulations varied throughout the company's service areas, Harris says the basics for protection remained the same. For instance, passengers got on buses through the rear doors and cashless fares were required.
Social distancing was created by removing the first two rows of seats on the buses and drivers had temperature checks before each shift. Vehicles were sanitized daily and plastic barriers, in some instances, were installed to further separate drivers and passengers.
New ways to recruit and work
While many Transdev operations, like driving, couldn't be done remotely, those that could have proven a success. Not only does Harris no longer need to go to travel every other week for meetings, he's ditched the power suit for his workdays.
"I learned what you thought was necessary to be in the office for a fixed time wasn't important," Harris says. "We were able to accomplish great things working remotely. We can all be successful how and when we work. I didn't need a blue suit and red tie anymore."
Harris has also served as interim chief HR officer since January 2021. He says a particular challenge has been recruiting drivers during the current labor shortage.
"I see recruits as fumbled footballs," Harris says. "As if the game depended on the recovery of the fumbled ball, candidates should be pursued with the same energy, tenacity and care."
In place of the former "post and pray" method used to fill positions, Harris approached organizations including the NAACP, Job Corps and Urban League to list the jobs and help recruit employees. "We have to attract, then train people and the goal is to retain them," he says. "But it's hard when candidates aren't coming to you. This gives us the edge through community-based recruiting efforts."
A career in service
Born and raised in Cincinnati, Harris earned his bachelor's degree in political science and his J.D. from the University of Cincinnati before beginning his multi-faceted law career as criminal defense attorney in private practice.
In 2000, Harris moved to the public sector as senior city attorney in Cincinnati's Labor and Employment Division, a shift that led him to sometimes defend police officers who'd been his courtroom opponents as a defense attorney.
The shift also led Harris further into practicing labor and employment law, setting the tone for his career. In January 2003, he returned to the private sector, going in-house as deputy general counsel for labor and employment with Alderwoods Group.
In 2006, Harris joined the transportation industry as Comair's corporate counsel. He held the post for four years, then became deputy general counsel and vice president of human resources and safety for First Group America, a role which took him to Panama for 1 1/2 years to implement a safety program for a transit system the company operated there.
In November 2016, Harris joined Transdev.
"I wasn't born on third base. I had to hit a triple to get here," Harris says. "Understanding who came before me and what they went through means a lot. I'm looking to be a public servant through the law, and I want to set an example for those that come after me, too."
View this feature in the Vanguard Winter III 2022 Edition here.
Showcase your feature on your website with a custom "As Featured in Vanguard" badge that links directly to your article!
Copy and paste this script into your page coding (ideally right before the closing