Randy Pritzker – Wolf, Greenfield & Sacks P.C.
Seriously good service and PhD creds for IP law
From self-driving cars to glasses that can translate street signs in foreign countries, technology is evolving in ways that often exceed our ability to grasp it.
That presents an unenviable challenge for the thousands of intellectual property (IP) lawyers tasked with protecting the conceptual seeds of those technologies—computer code, proprietary designs, chemical compounds and the like.
Yet there's more to keeping pace with the technology than recruiting the best talent, including recent PhD recipients from M.I.T., says Randy Pritzker, head of the Boston-based Wolf Greenfield's (WG) electrical and computer technologies practice.
Indeed, while it pays to train technologists to be lawyers—a practice WG has long embraced—Pritzker credits a more deeply-seated ethos for bringing the firm to where it is today.
Namely, caring about clients.
Putting the 'you' in IP
"First and foremost, we view ourselves as business counselors to help our clients achieve their business goals," Pritzker says. "From each client, we seek to learn those goals and then, with the client, devise and implement an IP strategy that helps them achieve those goals, recognizing that IP is simply a tool that can do just that."
This requires Pritzker and his team to couple their knowledge of IP law with business acumen. Far too many clients come to the table believing they need a certain IP strategy (licensing, for example), when what they really require may be patent protection, due diligence services or another approach entirely.
In all cases, whether a client wants daily updates or biannual ones, prefers phone over email, or prioritizes long-term solutions over short-term, Pritzker adapts. "I make myself available 24/7, to the point where they never know when I'm on vacation," he says. "I call them before they call me. I also strive to charge only reasonable fees, providing free visits, updates and training sessions regularly."
Exemplified by the thousands of patent applications the Boston-based firm files each year, Wolf Greenfield's reputation has never been more solid—even if the legal world in which it operates has seldom been more unpredictable.
Protecting the protections
If there's one misconception Pritzker works hard to dispel, it's that patents are limited in both availability and efficacy. In fact, some of the most groundbreaking technologies stemmed from patents that, in hindsight, were surprisingly simple.
"People tend to hold this view that you have to come up with something revolutionary in order to patent it, but that's hardly, if ever, the case," Pritzker explains. "Sometimes all you need is a small tweak to markedly improve on something that came before."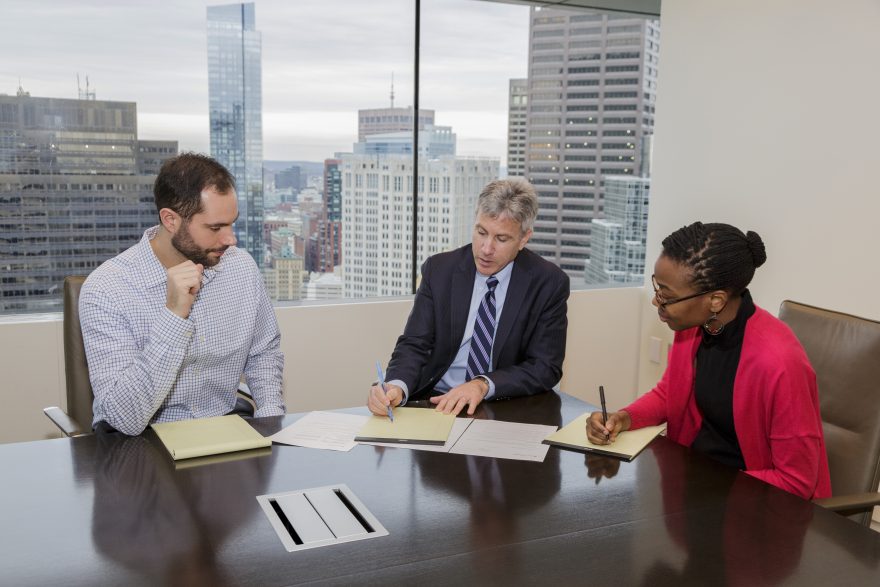 Still, it can be hard to identify what's unique, and when the U.S. Patent and Trademark Office (PTO) issues a patent—say for a new laptop video interface—the patent's validity, while presumed legitimate under U.S. law, isn't immune to challenges. Following passage of the America Invents Act in 2011, contesting patents has become easier, a development Pritzker says has made the job of firms like his more complex—yet more rewarding.
Pritzker points to Inter Partes Review as one avenue for challenging patents outside the courtroom, but also cautions that such matters must be handled with extreme care.
"It's a complex process that requires people that are detail-oriented and multi-disciplinary," Pritzker says. "We have those folks at our firm, and that's why we win most often."
At the same time, increasingly sophisticated technology has further complicated the role of firms like Wolf Greenfield.
To Pritzker, representing a client without understanding their business context—competitors in the marketplace, trends and goals—is akin to a surgeon rushing into an operation without running the requisite tests: If you don't understand the goal, how can you achieve it?
Boston strong
Leveraging its city's tech-hub roots, Wolf Greenfield recruits recent PhD recipients, as well as other industry experts fluent in the latest technologies and trends. The firm then pays for these new hires to attend law school at night, to effectively round out their IP bona fides.
Armed with a dynamic staff of tech-savvy lawyers, Wolf Greenfield has secured its place as one of the country's most respected IP firms, with a resulting clientele encompassing everything from academic institutions and startups to hospitals and Fortune 500 companies.
Less than two years after opening its New York City satellite office, Wolf Greenfield has never been bigger. Just ask one of its longest-serving principals, and he'll tell you the firm has never been better, either.
"Our growth is driven by our ability to optimally service our clients," Pritzker says. "I view each matter as one we must win, and thus assign a team to handle it that best fits the challenge. We put our egos aside. If there's someone better suited for handling a matter, then that person handles it—and that's why we win."
Reflecting on the growth of Wolf Greenfield in the nearly three decades since his arrival at the firm, Pritzker recalls a time before Skype, the internet and cloud storage, when typewriters were the norm and face-to-face meetings were a near-universal occurrence.
Though the communication paradigm has certainly changed, Pritzker says the advice of founding partner David Wolf—to treat every client like it is your only client—is one he's taken to heart.
Showcase your feature on your website with a custom "As Featured in Vanguard" badge that links directly to your article!
Copy and paste this script into your page coding (ideally right before the closing