Rebecca Zimmer – GE Healthcare
She's about collaboration, compliance and cures
It can be a stressful ordeal for any woman, anticipating the annual mammogram that the American Cancer Society advises for those 40 and older.
Which is something that more than half of American women haven't been undergoing.
That's according to a 2014 survey conducted by the nonprofit Society for Women's Health Research. Some experts say the numbers haven't changed appreciably, with apprehension among the reasons cited. Optimistic that a more patient-centered approach could make the procedure seem less intimidating, GE Healthcare devised a suite of products focused on the patient experience.
These include the latest mammography platform, Senographe Pristina, and special add-on features like the patient-assisted compression device Dueta, and SensorySuite—an all-encompassing interactive experience that allows the patient to have her mammogram in a virtual environment where her senses of sight, scent and sound are soothed by the smell of a garden, the sight of a waterfall and the sound of waves lapping a seashore.
The launch of these new products presented a challenge because they did not fit the traditional marketing "playbook." With the typical medical device product launch, sales collaterals are heavy on technical features and specifications. For Senographe Pristina, however, the approach was designed to be disruptive.
Among those weighing in has been Rebecca Zimmer, the general counsel for GE Healthcare's diagnostic imaging business unit. The global launch materials "were designed to reimagine the entire mammography experience for women, helping to reduce their anxiety," she explains. This approach had its risks, given the importance of getting it right. But ultimately, the break from tradition paid off.
 Worldly outlook in the script
"The GE Healthcare playbook shouldn't be too U.S.-centric," Zimmer tells Vanguard in July from her suburban Milwaukee home, where she's been working remotely during the COVID-19 pandemic. "We might have one way of doing things in the United States, but we have to take into account the different perspectives as we launch products globally."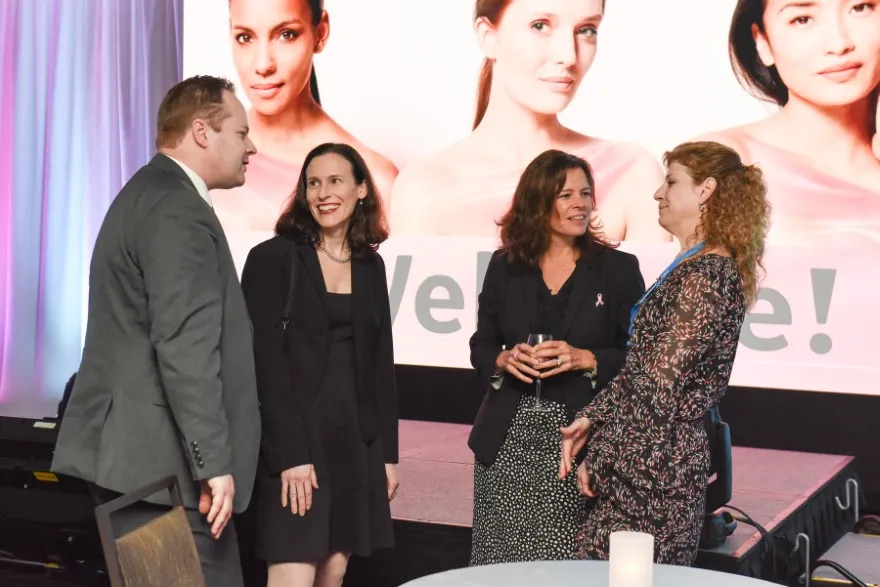 It's a one-size-doesn't-fit-all reality that she recognized, as one of the few Americans sitting in meetings with a global product team. While the overall concept of putting a patient at ease may transcend borders, the messaging may need to be customized for regional audiences. Thus it's best to collaborate with regional colleagues around the world in creating a marketing plan.
"Most of my day is spent collaboratively, learning from other people," Zimmer says. "Collaboration with our product team, joint development strategy discussions and also with team-based activities through interactive group sessions."
Then there are the compliance measures that must be satisfied for GE Healthcare's products to pass muster with U.S. and global regulatory authorities. She's proud to say the company has been successful in navigating these challenges, with tangible results to show.
AI and algorithms
Last year Zimmer helped navigate regulatory and compliance challenges as GE Healthcare worked toward FDA clearance of its Critical Care Suite—a collection of artificial intelligence algorithms embedded in an X-ray device. The brainchild of a collaboration between GE Healthcare and the University of California San Francisco, the AI algorithms help triage critical conditions such as a pneumothorax (collapsed lung) and assist in reducing turnaround time for a radiologist to review an X-ray image.
"Legal was involved every step of the way," she says. "Contract negotiation, marketing strategy, collaborating with GE Healthcare engineers or academics, guiding the teams through regulatory strategy both here and abroad."
And among the beneficiaries of such innovations might be the radiologists themselves, Zimmer mentioning the high burnout rate of these very essential links in the healthcare chain. Multiple studies have shown them fatigued by such factors as turnaround time pressure, increasing imaging volumes, decreasing reimbursements, an isolated work environment, and career uncertainty.
"There's so much data flowing on a regular basis because the systems we're manufacturing are so sophisticated," she says. "Having access to all that data is good, but it can be more challenging for radiologists to be efficient in reading images. It's critical that we provide solutions such as AI to help them."
Ascending the company ladder
A 2004 Columbia Law School grad, Zimmer has been part of this division of General Electric for the past 11 years, following a four-year stint as a Willkie Farr & Gallagher associate in New York City. Her husband had just received an academic position at a university in the upper Midwest during the Great Recession, a most inconvenient time for any lawyer to be leaving a secure position.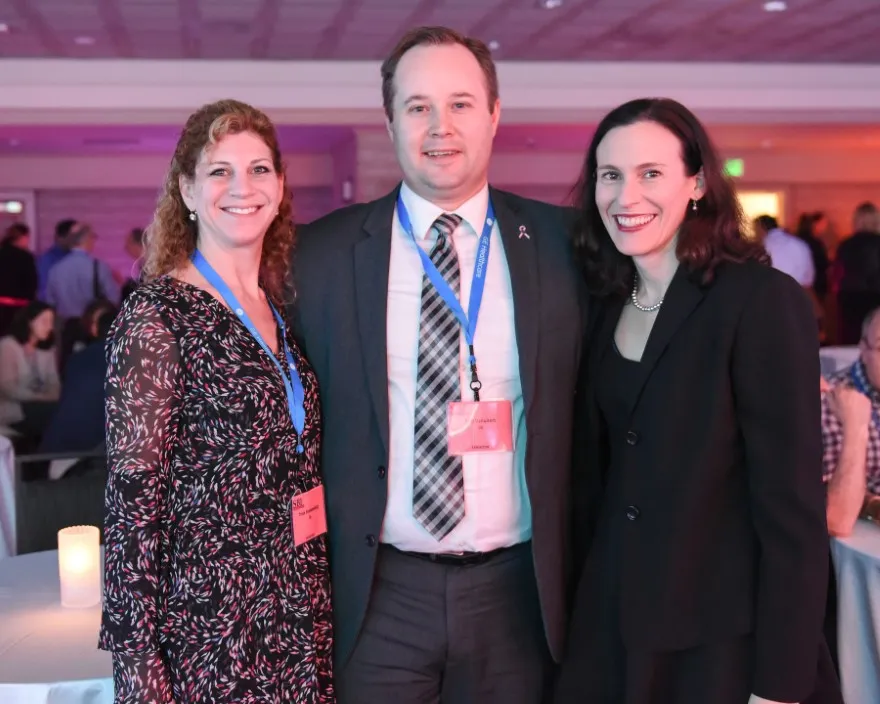 "The legal market was just reeling," she recalls. "The firms were laying off good lawyers. I had to reinvent myself."
But she's quick to say how it's turned out for the better. An international studies undergrad at The College of William and Mary, she had long aspired to partake in international business, and health care had a particular attraction—Zimmer having an ER doctor for a father, and various aunts and uncles who practiced medicine.
Graduate school not yet on her radar screen, she'd enhance her worldliness with summers spent in Italy studying Italian and art history, and in Budapest studying international law. In retrospect, she finds that time as well spent as it was enjoyable.
"I now work for a U.S. company with a global scope and have to be mindful when interacting with anyone whose cultural perspective may be different," she says. "I'll collaborate with colleagues, customers, research partners from other countries who have their own points of view. We learn from each other. A diverse set of perspectives can improve the outcome."
Zimmer was promoted to her current position in 2017. It's a most fulfilling position at an exciting company, she says; one that stands to make a progressive contribution toward making health care both affordable and efficient via technology.
"Even before COVID our customers were under pressure to take the cost out of the healthcare system," she reminds.
And even more so since the pandemic began its global spread.
Showcase your feature on your website with a custom "As Featured in Vanguard" badge that links directly to your article!
Copy and paste this script into your page coding (ideally right before the closing