Rick Levy – ICM Partners
Starting the second act of his entertainment career
While there's been no shortage of "pinch himself" moments—attending movie premieres, A-list parties and award ceremonies—nothing has topped the countless instances where a bright-eyed assistant would let Rick Levy know that Aretha was on the phone.
"And it wasn't some assistant on the other end holding for Aretha," muses Levy, the longtime general counsel and chief operating officer for ICM Partners, one of the world's biggest talent agencies. "It was always Aretha dialing herself."
Headquartered in Century City, California, ICM represents some of the biggest names in Hollywood, including John Cena, Shonda Rhimes, Spike Lee, Chris Rock, Samuel L. Jackson, Ellen DeGeneres—and yes, the late Aretha Franklin, the legendary singer who passed away in 2018.
"To have the chance to develop a real relationship with one of the greatest and most iconic singers in music history was both an honor and a privilege," Levy tells Vanguard from his Century City corner office with views of the Hollywood Hills and downtown Los Angeles.
Levy plans to retire from his day-to-day functions as the company's chief legal officer by the end of the year, but will continue to sit on several boards of companies ICM has invested in, including a top sports agency and a leading comedy festival.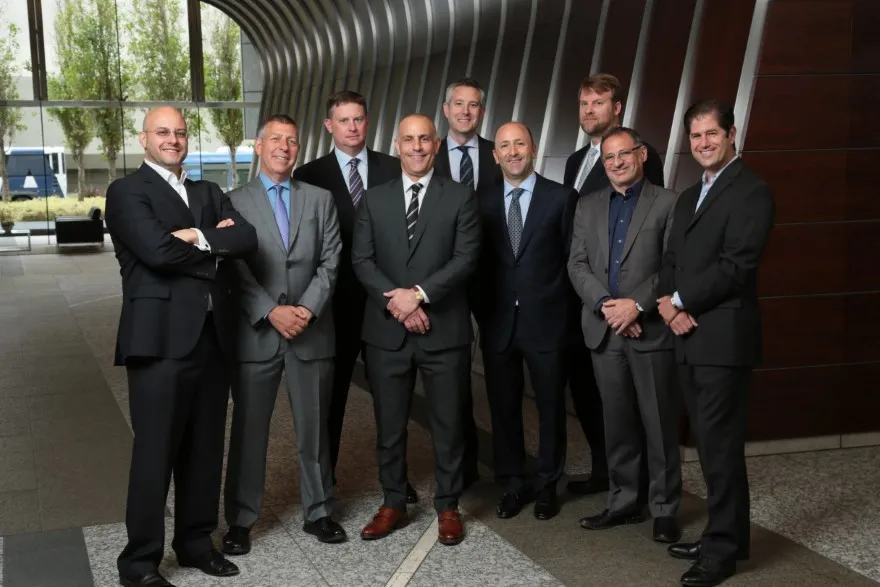 Despite coming to ICM with virtually no entertainment industry experience, Levy quickly earned the R-E-S-P-E-C-T of his peers and colleagues at rival talent agencies, studios and entertainment law firms. He gives special credit to his professional peers at Creative Artists Agency and William Morris Agency (now William Morris Endeavor) for "being so kind, respectful and helpful" to him at the beginning of his career.
"They couldn't have been more gracious and patient with my learning curve, which was steep, and those colleagues remain my good friends 25 years later," he says. "They didn't look at me as just a competitor out there trying to kill one another. Instead, we always tried to take the long view, and in so doing developed deep trust in each other."
Levy parlayed early successes into a 25-year career during which he helped engineer his agency's growth through periods of change, including the advent of streaming services as they forever changed the entertainment landscape.
Not bad for a former college baseball player from a small village in Westchester County, New York, best known as the post-presidency home of the Clintons.
The deal with crisis management
For an entertainment lawyer, dealing with crises is a major part of the job description. And it was one in particular that helped pave the way for Levy to join ICM.
As a young associate working in the labor and employment practice at Gibson, Dunn & Crutcher, the then-CEO of ICM, Jeff Berg, needed help managing a crisis. What was it, exactly? Levy can't quite remember—or won't tell.
"There were so many back then, it could've been anything," he says with a laugh.
When Levy's Gibson Dunn boss and mentor, Nancy McClelland, wasn't available, Berg told Levy he need to see him in his office in 15 minutes, and the rest, as the old entertainment cliché goes, was history.
"I was fortunate to be able to get a fairly unprecedented amount of client contact and hands-on experience from the very beginning of my law career, and that certainly helped me deal with everything a talent agency routinely has thrown at it," Levy says.
There've been big upheavals, like a writer's strike and some things more company specific, like a rash of agents leaving ICM for another agency with their clients—though that was years ago. There was also the time when ICM bought back the company from the same private equity group Levy helped sell it to several years earlier.
"When I moved to Los Angeles after law school, I didn't even know what a talent agency was, but my big law training and experience definitely helped me navigate myriad challenges we were facing at the time," he says.
He credits his other founding partners and longtime corporate counsel David Sands, as well as the team he worked with.
"We beat the odds," Levy says proudly, or as ICM's CEO and Levy's longtime partner-in-crime, Chris Silbermann, summed up.
"For more than two decades, Rick has done an outstanding job on everything large and small that we entrusted to him at ICM. His vast contributions are ingrained in our DNA."
A Stellar career and future
In early October, ICM made a splash in the sports world when it acquired London-based Stellar Group, which counts international soccer superstar Gareth Bale among its 800 clients. The acquisition, to which Levy contributed his years of agency M&A experience, positions ICM as an overnight major player in the sports representation marketplace at a time when the salaries or athletes in soccer, baseball, basketball and American football are larger than ever.
"This move was about not just getting into sports, but about having instant global credibility in that space, while continuing to grow internationally," Levy says. "There's no bigger sport on the planet than soccer, and it was opportunistic to be able to acquire a world-class, best-in-breed agency during a pandemic."
That position is just one of the many board seats Levy will occupy during the next act in his career in entertainment. In 2018, ICM and longtime client, comedian and America's Got Talent judge, Howie Mandel, led an investor group that acquired the Just For Laughs group, a global comedy organization best known for its Just For Laughs Comedy Festival in Montreal. Levy was named to the board in April and says that part of his role will be helping shape the future of the festival in such uncertain times.
"The challenges are obvious in operating this iconic comedy platform while festivals and performances in front of live audiences of any scale won't be back for some time," Levy says. "But successful companies must learn to pivot, and management is proving they not only are well-suited for the challenge, but they see the opportunities."
Where it happens
Additionally, Levy has a board seat with music booking agency Primary Talent International in London, which ICM acquired in March; and Albatros, a Swedish boutique literary agency that the company invested in a few months ago. Clearly ICM has been in a building mode, Levy says, and being involved in these acquisitions and helping ICM grow has been interesting and invigorating.
"And we are not done yet," he says.
Levy is equally excited about his board position, and role as a founding member of Innovative Partnerships Group, IPG 360 for short, a business development and partnership marketing startup that serendipitously counts FC Barcelona as a client.
"It's a three-year-old company, and I'm very excited about supporting the company as it continues to grow," Levy says. "Sports aren't going anywhere, despite the pandemic, and there's a tremendous amount of opportunity."
You'll still see him
A graduate of McGill University and the New York University School of Law, Levy says it's been hard to step away from ICM Partners and it took a few years to make the decision.
"Even though the job wasn't always easy, I've never taken for granted the fact that I've been very fortunate to sit in this seat for as long as I have," he says. "But there are still new things I want to do professionally."
A die-hard Bruce Springsteen fan, Levy thinks about a lyric from The Boss' classic song "Darkness on the Edge of Town" which goes: "Tonight, I'll be on that hill 'cause I can't stop. I'll be on that hill with everything I got."
He's excited to climb that next hill.
"First and foremost, I'll miss my colleagues, but also the never-a-dull moment atmosphere of working at a talent agency," Levy says, adding that while he expects to keep many of his close ICM relationships, he knows it won't be quite the same as working with them every day.
All that, and the occasional impromptu visit from an industry superstar.
Showcase your feature on your website with a custom "As Featured in Vanguard" badge that links directly to your article!
Copy and paste this script into your page coding (ideally right before the closing