Santiago Cornejo – Biogenesis Bago
Going the distance to ensure livestock safety
It helps to go the extra mile. Or, more precisely, the extra 8,000 miles.
That's roughly the distance as the plane flies between Buenos Aires in Argentina and Riyadh in Saudi Arabia. The Middle East seemingly prime territory for the kind of livestock medication Biogenesis Bago produces and distributes throughout South America and beyond, it was only appropriate that one of its legal bosses visit prospective partners there last summer.
Some deals, such as a 50-50 partnership with the Saudi Arabian veterinary services company MAS, you just don't want to do online.
"They need to see you and talk with you one-on-one," Santiago Cornejo, the legal diretor of Biogenesis Bago, tells Vanguard in April.
"They're not comfortable just signing over their money. By going there, we showed we were serious about closing this deal and entering a long-term relationship and that we'd provide the technology and expertise to make it work. They had to know we wouldn't just make the deal and leave."
Language and cultural barriers overcome, grounds will soon break for Saudi Arabia's first animal vaccine facility—a $60 million endeavor—with commercial production expected to commence by late 2024 or early 2025. Crown Prince Mohamed bin Salman intent on diversifying the Saudi economy beyond oil and energy, this fits his agenda while opening the door to Biogenesis Bago's Middle East expansion.
Meanwhile Cornejo says he can call his legal counterparts in Saudi Arabia and chat jovially. It's all about earning one's trust and respect.
And there's certainly a need, he explains, for Biogenesis Bago's vaccines to safeguard against foot-and-mouth disease transmissible in cattle, goats and sheep. The Saudi kingdom also protective of its meat industry, it's been known to suspend importation of beef and other animal products.
From Mideast to Asia
Just a couple hours after sealing the deal in Riyadh, Cornejo was on the phone with an Asian company negotiating a similar project. Visa and quarantine protocols didn't allow him to travel there, so he had to connect virtually. For the Far East, that means a different tact.
"They're very tough negotiators," he says. "The Saudis have more in common with Latin America—they like soccer and horses. You also have to show the other part they're entering a partnership that represents a win-win situation."
As a result of those negotiations, which carried on for nine months, Biogenesis Bago can expand its Asian footprint, which also includes the construction of the world's largest animal vaccine plant in China—another successful joint venture. Cornejo notes there's a correlation between the health of animals and people, with diseases sometimes transmitted from the former to the latter.
"We are increasingly focused on international business," he says. "We are growing by 15 percent revenue per year and are among the best companies in animal health."
Not that he doesn't have enough to do on this side of the world where Biogenesis Bago's Argentina headquarters are augmented by subsidiaries in Uruguay, Paraguay, Bolivia, Colombia, Brazil and Mexico.
Going beyond vaccines
Though long noted for its large livestock vaccines that are mainstays on Latin American farms and ranches, Biogenesis Bago is diversifying into other animal health solutions.
With Cornejo's help, the company expects to be among the world's top producers of reproductive medicines and vitamins. It's bought a diagnosis lab and a Brazilian license to manufacture swine medication, initiatives that will help the company's goals in Asia where pork production is fundamental to the economy.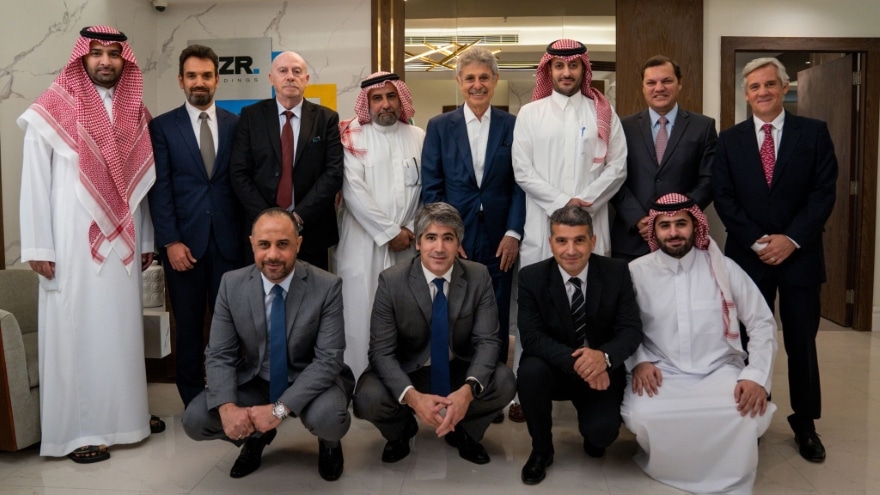 The company also has foot-and-mouth disease related services, such as the FMD Antigen and Vaccine Bank that supports countries, such as United States, on preparedness for a possible outbreak. The company is also expanding in the companion-animal, or pet, market, where there is still room to grow.
That leaves Cornejo with a to-do list that includes commercial contracting, intellectual property protection, regulatory compliance and management of outside counsel in every country where Biogenesis Bago has a presence. He oversees four other lawyers, helped create a code of ethics and sits on that committee.
He says it's been a whirlwind five years since joining the legal team, but he came to the job well prepared.
An easy choice
A Universidad Austral, Buenos Aires law graduate, Cornejo earned a master's degree in banking, corporate and finance law in 2014 from Fordham University and honed his skills in private practice. He and his wife, who now have three young children, then moved to New York.
"I love New York," he says. "I lived on the Upper West Side my first year and the Upper East Side my second year. New York's the greatest city. You cannot get bored there."
Home being Argentina, Cornejo and his wife returned in 2015 with him taking a position as a senior associate with the Buenos Aires office of Allende & Brea, which is noted for technology industry expertise. In house, however, was where he thought he could make his biggest impact, and it came down to a choice of Biogenesis Bago and a French oil company.
For Cornejo, the choice was easy—he relishes the opportunity to weigh in on such an essential industry. Foot-and-mouth disease is highly infectious among cloven-hoofed animals and countries deemed to be at low risk have the greatest access to beef exports. Argentinian beef prized worldwide, the integrity of its cattle herds is an economic necessity.
And a health necessity, Cornejo is quick to add.
"We support one health," he says. "By keeping animals healthy, we're keeping humans healthy. And I want to continue accompanying the growth of this company. I don't see a ceiling."
View this feature in the Vanguard Spring IV 2022 Edition here.
Showcase your feature on your website with a custom "As Featured in Vanguard" badge that links directly to your article!
Copy and paste this script into your page coding (ideally right before the closing