H. Daniel Alvarez – Bureau Veritas
Passion and profession collide
For H. Daniel Alvarez, there's something special about being on a tennis court. Singles or doubles, on hardcourt or clay, the effect is always the same: how it loosens the lungs and works the blood; and the clarity that comes after an hour or two of non-stop movement.
But for all the game's many benefits, it's the back-and-forth of well-placed lobs and cross-court strikes that Alvarez might relish the most.
"Tennis, by its nature, is competition," Alvarez says. "And yet, there's nothing better than playing a long match with someone, because you're both contributing to something greater than your individual interests."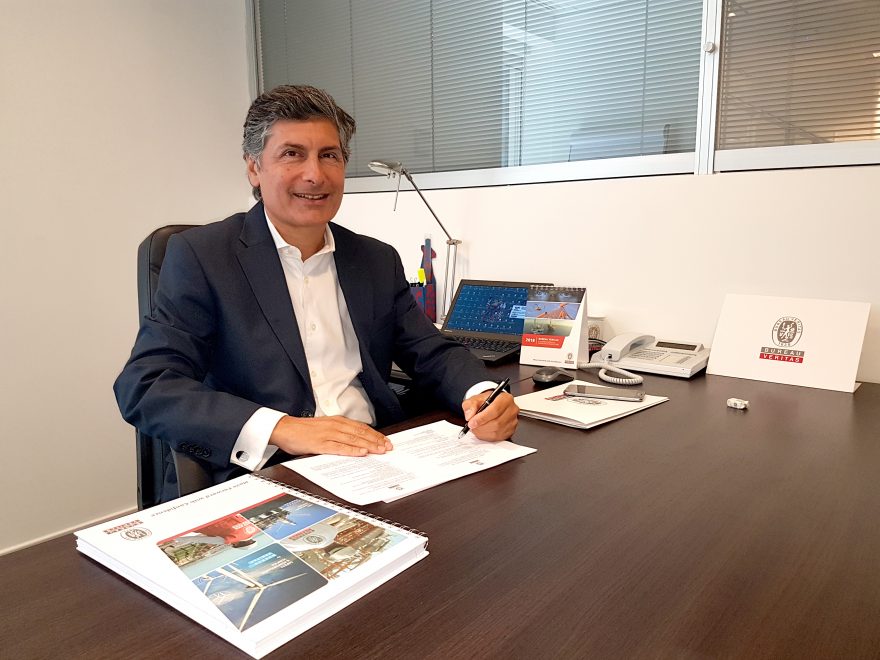 It's a philosophy that's come to epitomize his role as general counsel and compliance officer for the South Latin American arm of Bureau Veritas, an international leader in testing, inspection and certification services, based in France. Since joining the company in 2015, Alvarez has sought to build a more robust and efficient in-house legal and compliance department.
Given Bureau Veritas' global footprint, servicing industries ranging from consumer products, aerospace and agriculture to retail, oil and gas, a dynamic and flexible approach was nothing, if not practically motivated.
Still, what motivates Alvarez isn't the size of his department so much as the scope—infusing the decision-making volley with more creative, collaborative flourishes.
"My goal is to continue developing a department that is strong in both legal and compliance, but more importantly, a business partner that can be trusted for providing timing, sound advice and a focus on the bottom line," Alvarez says. "We're here to prevent certain contingencies, but we also need to be partners in opportunities. We all sit at the same table and pursue the same results."
Center court
Indeed, Alvarez says his biggest challenge is getting the company's attorneys to be seen as trusted business partners, rather than mere conflict resolvers. In a vacuum, it sounds like a perfectly fine idea: take on a role more in line with what legal departments in the United States have been doing for years.
Only, it wasn't so simple. Because Bureau Veritas touches such an array of industries, it's critical that the company has strong, dynamic compliance—the ability to both navigate oil testing and consumer products standards and also confront the challenges digitalization trends have had across business markets.
Indeed, Alvarez's duties encompass not only myriad businesses, but a wide geographical landscape. His arrival sparked the creation of the company's first-ever in-house legal and compliance department (based in Argentina), with oversight of south Latin American subsidiaries in Bolivia, Chile, Paraguay and Uruguay.
In 2017, Bureau Veritas acquired Schutter Group, an agricultural inspection, testing, certification and logistical services company with operations worldwide. According to Alvarez, the deal reflects his company's goal of becoming a global leader in the agri-food market by 2020, as the sector's need for testing and inspection grows in tandem.
Not only was the deal one of Bureau Veritas' proudest milestones that year; it was one in which Alvarez and his team played a supportive role.
With time, Alvarez believes his department will become an ever more integral piece of the company's decision-making apparatus. Indeed, as the region continues its economic march forward, the opportunity for mergers and acquisitions (one of Alvarez' areas of expertise) has the potential to grow in turn.
In tennis parlance, Alvarez has made it to Centre Court. Never before have the stakes been so high; the discursive volleys so graceful and nuanced.
Much like the pros of his beloved game, though, Alvarez got his start on much humbler terrain—and damn near just as young, too.
From passion to profession
Unlike in the United States, where choosing a professional path often entails multiple majors and more than a few false starts, the process in Alvarez' native Argentina is more straightforward: once you decide on a field of study, all manner of measures are employed to help you see that commitment through.
Alvarez was an 18-year-old college freshman when he took his first job as a legal assistant for a Buenos Aires law firm, after deciding on law over sports journalism (though he says the call was a close one).
At 30, already well-seasoned in the professional ranks, Alvarez took a series of courses conducted by the Association of International Petroleum Negotiators, earning a postgraduate degree from the University of Buenos Aires shortly thereafter.
From there, the courts and crowds only became more rarified, with Alvarez bringing his legal learning to bear for some of South America's biggest energy companies, including Pluspetrol, Perez Companc (now Petrobras), Pan American Energy (a BP subsidiary) and Pioneer Natural Resources. Following an eight-year stint in private practice, Alvarez came aboard Bureau Veritas in 2015.
But while his legal bona fides grew to encompass everything from business development to contract negotiation to procurement policies, Alvarez feels most at home collaborating with colleagues in close quarters. Call it playing at the net.
"One thing that comes with experience is being more creative in terms of finding solutions," Alvarez says. "Whether you're working with engineers or accountants, it's about finding that balance between being a legal advisor, a compliance officer and, ultimately, a businessman."
As Bureau Veritas continues to leverage digitization to better serve its clients, such input and flexibility stand to become even more indispensable.
But for Alvarez, it's also important to understand the person on the other side of the net.
"You have to understand the culture of the company, on both sides," Alvarez says. "If you comprehend the back and forth of the entity you're working with, you're more likely to contribute and make a profitable business decision."
Showcase your feature on your website with a custom "As Featured in Vanguard" badge that links directly to your article!
Copy and paste this script into your page coding (ideally right before the closing