Dan Gravel – Linear Financial Technologies
Empowering Main Street through fintech
It was one complex corporate transaction in February 2021 that Dan Gravel oversaw as legal and compliance boss of Fundation Group, a small-business lender in Reston, Virginia.
His employer of six years along with another firm, the OnDeck subsidiary ODX, were selling their assets to assemble Linear Financial Technologies, which provides a digital loan origination platform to banks and other entities whose small business customers need financing.
Meanwhile, Fundation is a second-look lender for Linear's banking clientele. As for its own clientele, and ODX's, Gravel says they probably haven't noticed any significant changes in going through the new LinearFT to sustain credit flow.
"It was not a merger per se, but you can think of it as one," Gravel says, explaining the nuances between a merger and asset sale. "It did merge two platforms into one and did no harm to existing clients."
It also fashioned the new firm as a one-stop shop for loan facilitation, he goes on to say. Cutting-edge technologies are a must in fintech and LinearFT's software-as-a-service platform offers its commercial clientele a faster, cheaper means for originating credit cards and loans. Basically, when an applicant applies for a loan from a Linear bank client, that applicant can have Fundation review the application should it be rejected.
Security being essential to the process, LinearFT has released its next-generation fraud-detection platform, Linear Defense, which Gravel says uses machine learning to identify dubious applications and accounts. Whereas most fraud detectors still use identity-driven methods, this one can focus on any product line and customer segment, spotting inconsistencies in applications and accounts.
From lender to lending platform
While the IT staff fine-tunes the systems, Gravel has much to do on other fronts. Previously general counsel and compliance boss at Fundation, he assumed similar responsibilities upon LinearFT's launching and says it's been a seamless, albeit busy, transition.
"This is probably the busiest time I've ever had," Gravel tells Vanguard in November from Reston. "There's something new to deal with every day, and as a true generalist, I have my hands in many different areas."
With operations merging, there have been minimal layoffs though it's a different compliance focus. Fundation has been a licensed lender while LinearFT, as a lending platform, is subject to other regulations. Each, however, must abide by precise rules requiring them to explain loan processes and safeguard data.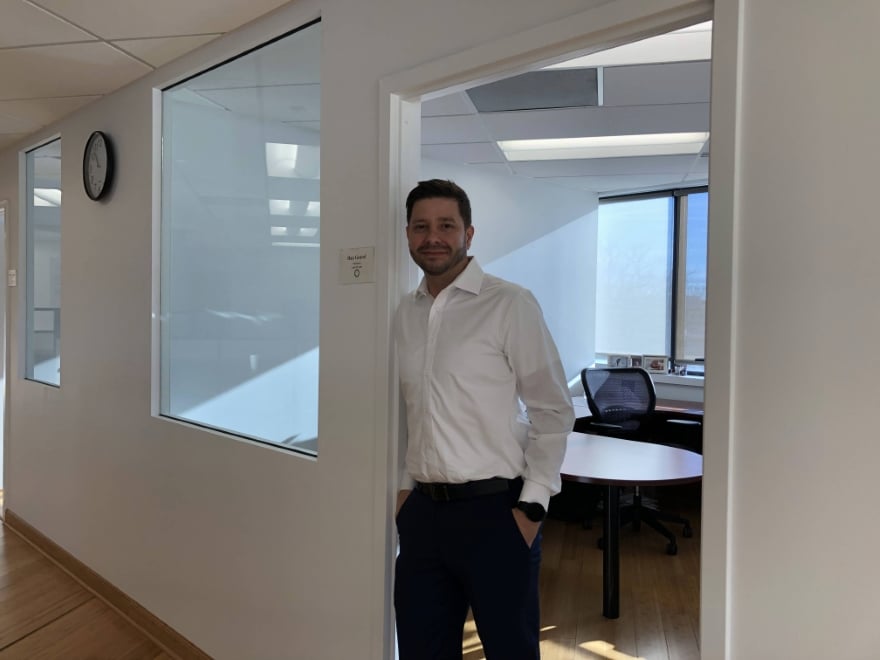 But the reason for the new firm's being still is consistent with Fundation and ODX goals, as LinearFT enables business credit, only from a different capacity. And how essential it is to keep the credit line flowing, Gravel reminding it's the lifeblood of modest enterprises that generally don't have much cash in reserve.
Businesses seeking credit can access a LinearFT bank client's website and quickly apply through the new platform. Included are the bank's underwriting criteria, which LinearFT processes. If the credit is approved, LinearFT provides loan documentation and end-to-end solutions, streamlining what had been a time-consuming process. Fundation loans average around $60,000, but range from $15,000 to $500,000, and LinearFT's involvement hasn't changed that.
"Small businesses are very busy and need their capital quickly," Gravel reminds. "They don't want to be filling out paperwork. We've been getting feedback and overall, it's been very positive. Businesses like this method instead of the old document- and manual-heavy ways."
And Gravel likes enabling the process from the legal and compliance perspectives. It's a role he says was long in the making.
At home in-house
Born in the Boston area and educated at Villanova University and St. John's University School of Law, Gravel has spent most of his career immersed in financial matters, initially honing his skills as a tax analyst with Deloitte & Touche from 2006 to 2009. He spent the next three years in the Virgin Islands with BoltNagi, a full-service business law firm where he acted as general counsel to corporate clientele in banking, telecommunications, financial services and hospitality. It was just the kind of position Gravel wanted—well almost.
"I liked the idea of focusing on one client and I still had many," he says. "In-house you have a sole client, and that's the company itself."
He found that client in a company that provided services to online consumer lending businesses, serving as its general counsel and compliance director from 2012 to 2015, then took a similar position at Fundation in early 2015.
How necessary Fundation and then LinearFT have been during COVID-19, he says, lauding its streamlined platform as a lifesaver for everything from mom-and-pops to larger companies. Many of those companies seeking federal Paycheck Protection Program loans from large banks, facilitated by Fundation and LinearFT, they needed quick results and while the banks were eager to help, they couldn't compromise their security concerns.
Gravel's working life has undergone changes since the stay-at-home mandates of March 2020. He continues to work remotely and though he goes to the office on occasion, over a year has passed since he's been in a room with more than two people.
"We're still constantly communicating but need to be more deliberate," he says. "It was much easier to just swing by somebody's office or talk things over by the coffee machine."
But he has no complaints about the home life he shares with a wife, young son and daughter. When time permits, the family enjoys hiking and biking. Time for recreation has been limited, however, with LinearFT in growth mode and so many small companies having a stake here.
"By providing Main Street with access to credit, small businesses can be successful," Gravel says. "We take pride in our mission, which is empowering the small-business economy with modernized financial infrastructure."
View this feature in the Vanguard Winter III 2022 Edition here.
Showcase your feature on your website with a custom "As Featured in Vanguard" badge that links directly to your article!
Copy and paste this script into your page coding (ideally right before the closing