Michael Sauer – MERRILL Technologies Group
Trains, planes and cranes: Making it big in Michigan
Mike Sauer has never strayed far from home, yet a small move has made a huge difference in his professional life.
"I have one client, and instead of being just a lawyer, I play a role in the execution of the business of the company," he says about serving as executive vice president and chief legal officer for MERRILL Technologies Group Inc., of Saginaw, Michigan.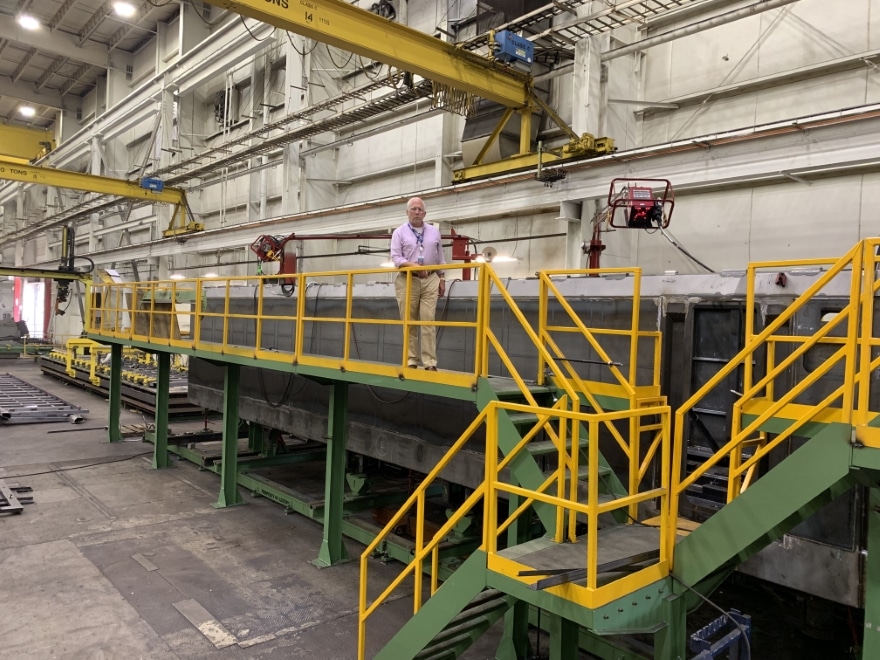 Sauer has been with the family-owned company for five years after being the senior business attorney at the private Saginaw firm of Braun Kendrick Finkbeiner for almost 35 years.
"It was professionally, the best decision I ever made," Sauer says. "It is very challenging working in a family-owned company; we are working to make it world class."
Tooling up
MERRILL was founded 50 years ago with a single lathe and grinder in Merrill, Michigan, by Gary and Kay Yackel. The company moved to Saginaw, Michigan, in the 1990s, and Sauer helped it recapitalize when Bob and Jeff Yackel bought the company from their parents. MERRILL has since burgeoned into a precision machining, fabrication, and design and build supplier making complex metal parts, assemblies, and systems for diverse markets, including aerospace, defense, oil and gas, and transportation. Customers include industry leaders such as Lockheed Martin, Boeing, Raytheon, Pratt & Whitney, and General Dynamics.
MERRILL also makes a military-grade mobile crane system that can lift the power pack of a main battle tank, as well as a weapons system now used on combat vehicles including the U.S. Army's M1A1 Abrams tank. The system fires remotely; its operator remains concealed inside the vehicle, if needed.
"Our work is very intricate, very high precision in terms of the machining, fabrication and welding requirements. Nothing we make is high production; they are very complex, and often very expensive, parts," Sauer says.
MERRILL is also building 56 power car body shells for French-based Alstom Transportation, the company contracted to design and build the $2.45 billion upgrade of the high-speed trains Amtrak operates between Boston and Washington, D.C. Sauer says that Alstom will install the car controls, motors, transformers and wiring at its facilities in Hornell, New York. Prototypes will be tested this year, with the first new trains expected to roll in 2021.
At Braun Kendrick Finkbeiner, Sauer specialized in corporate finance and transactions. At MERRILL, regulations like the federal Defense Federal Acquisition Regulation Supplement, known as DFARS, brought Sauer to a new realm of expertise.
"We've had to become compliant with the new DFARS requirements regarding the protection of defense-related information.  It was a major investment and a very complicated process involving many of our departments, particularly legal and IT," he says. "I still approach things the same professionally, but I have had to learn a number of new disciplines I didn't know or barely worked with before I got here."
Sauer's approach has included hiring two associates with experience in contracts and procurement at GE Aviation and the U.S. Navy. Their teamwork is quick, nimble, and decisive, he says, giving them a leg up on competitors' larger legal departments.
Well rooted
"I have been in Saginaw since graduating law school," says Sauer, who got his Juris Doctor from the University of Michigan in 1979, 100 years after his maternal great-great-grandfather graduated from the same law school. The family legal tradition extends through ensuing generations, and Sauer said his resolve to become an attorney was bolstered after meeting one at a high school job fair.
"I get bored easily, and if I get bored, I am unhappy," he says "I thrive on the good kind of stress, the challenges-the company being confronted with an issue that is significant and high risk. I love walking into the battlefield, but I don't like bickering and backstabbing, that creates unhappy stress."
He was offered the MERRILL job as he was turning 60, after having done much outside work for the company over many years.
"One reason MERRILL asked me to join was because they weren't getting enough of my time," Sauer says.
Complexity remains intrinsic to his work, but he says he does not miss pushing to get billable hours annually in a private firm or being in demand 24/7; there is still "high-level" negotiation and conflict resolution on his plate, Sauer says that he has been continuously involved in the Alstom relationship since its inception, requiring much time and travel.
But even at 65, Sauer does not see retirement right around the corner. His weekends are freer now that he has left private practice, but idle time is not on his schedule.
"I love living in this part of Michigan, I love the outdoors. I hike, I go to lakes, I walk, drive out to state park beach," he says.
But the work is just as satisfying.
"It's the day to day challenges, constantly having to educate myself, learning new things, dealing with different people," he says. "It's about having a sense of accomplishment in getting a deal closed or a dispute resolved, or working with the rest of the executive team to move the company forward as our business increases in complexity."
Showcase your feature on your website with a custom "As Featured in Vanguard" badge that links directly to your article!
Copy and paste this script into your page coding (ideally right before the closing