Vincent Castiglione
Like a fine wine, a legal career matures
For Vincent Castiglione, work and winemaking—two lifelong passions—have much in common. Chief among them is the notion that, no matter how diligent you are, the results are out of your hands. Environmental factors, you might call them.
In the case of Castiglione, among these outside forces was the sale of his most recent employer, Nautica—the mid-range maker of apparel and style accessories—to New York-based holding company Authentic Brands. As with many of his senior colleagues, Castiglione's role wasn't retained.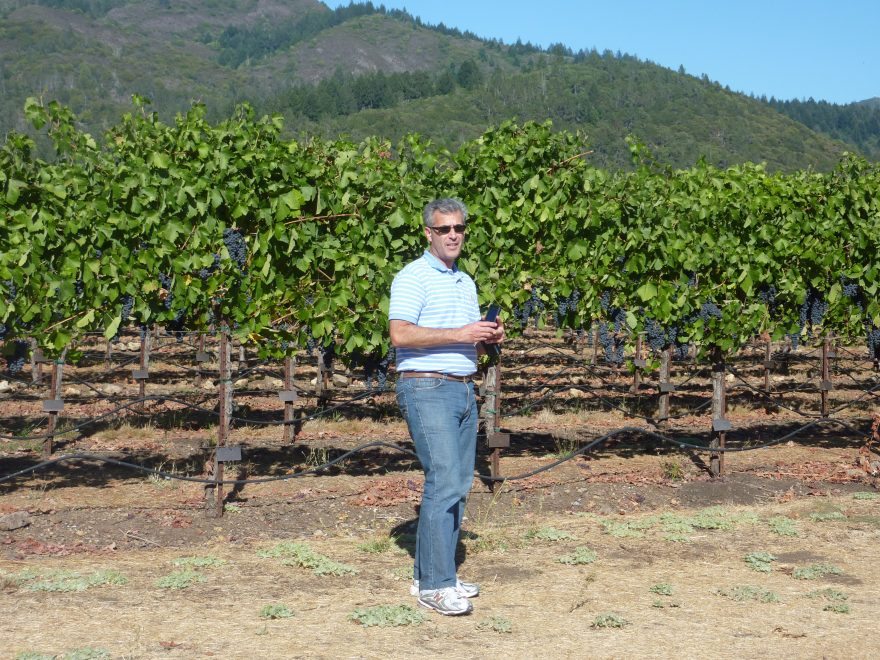 A true free agent for the first time in his near-30-year career, Castiglione wants his next step to be a memorable one—a vintage he can one day recall with pride.
"I've had some time to sort of take stock of what's next," Castiglione says. "One thing I've learned is, however much you try to steer things, your journey takes you where it takes you."
If you know anything about Castiglione's background and upbringing, however, that roll-with-the-punches perspective should come as scant surprise.
Humble roots
When his parents arrived in New York City from Italy in the 1950s, they spoke little English and owned next to nothing. They met at a weekend dance hosted by a local Italian club, and soon enough they were married, determined to make an American dream of their own.
"Our parents worked so hard to give me and my sister a better life," recalls Castiglione, who was all of 3 years old when his father asked him to help with the family's homemade wine. "I learned the value of money and hard work, of having responsibility and never wasting an opportunity. I will kiss their feet to this day for that."
Born and raised in Queens, Castiglione is the proud product of New York City public schools. When he wasn't buried in books, he cut grass and shoveled snow around the neighborhood to earn some extra money. He played pickup baseball and handball at a school across the street, in a neighborhood, he says, that captured the immigrant ideal.
"Most of my friends were like me," Castiglione says. "First- or second-generation Americans, whose parents or grandparents came here seeking a better life. They worked extremely hard, and that attitude was infectious."
As an undergrad at Georgia Tech, while most of his friends were out on the town, Castiglione spent his Friday nights studying. Though he eventually earned his degree in mechanical engineering, by graduation day, Castiglione had his sights set on another career entirely.
After earning his J.D. from Emory University in 1989, the then-25-year-old moved back to New York, joining the firm of Morgan and Finnegan as an associate attorney. In 1994, Castiglione made his move in-house, as a patent attorney for medical device giant BD.
Three years later, Castiglione was recruited to C.R. Bard, Inc., another New Jersey-based medical technology company (Bard recently merged with BD), where he was promoted to assistant general counsel and manager of Bard's IP practice. There, he delivered IP legal services across eight different divisions worldwide, all the while learning the nuances of industry terrains that might apply to other businesses.
"As time went on I started to really enjoy the business side of things," Castiglione recalls. "Being in that environment, traveling back and forth between the U.S. and Europe, I think I developed a broader appreciation of the multicultural aspects of business."
Letting it breathe
During the late 1990s, a time when technology was undergoing a paradigmatic leap, companies were becoming more protective of their intellectual property (IP). For Castiglione, that meant taking an even deeper dive into the world of IP law—a focus of his dating back to those  days in private practice.
"When you have as many acquisitions and divestitures as we had, the IP landscape becomes so much more complicated," Castiglione says about C.R. Bard's evolution. "You're not just safeguarding a few individual patents; you're dealing with a whole portfolio; deal, licensing and litigation issues abound."
Patent protection was far from the only thing on the radar, however. During his seven-plus-year stint at CR Bard, Castiglione also oversaw a hefty global legal budget, a purview that included building a reliable roster of outside counsels.
By 2006, Castiglione's resume was robust enough to earn him a general counselship for the New York-based Coby Electronics Corporation. As the first to hold this post at the company, Castiglione aided in shaping Coby's business-development strategy, monitoring more than 1,000 customer accounts around the world, dealing with a host of IP and litigation issues, and—most pressing of all—managing the ever-growing demands of government compliance and product safety.
Despite the attendant challenges, Castiglione says the increased regulatory rigor helped shed a more nuanced light on the role of legal.
"A company's counsel is much more than a legal advisor; they're a business advisor, because they can see ways over the regulatory hurdles that others can't," Castiglione says. "It's the reason people are actively looking to go in-house—that chance to be part of the management team and really impact strategy."
Hidden notes
All the while, Castiglione always sought to broaden his perspective: joining business task forces, taking on special projects and becoming the kind of mentor he'd so often looked up to. Lately, he's been especially active with the Association of Corporate Counsel, an organization he says allows him to give back to the in-house community.
By the time he joined Nautica as deputy general counsel in 2014 (he was promoted to Nautica's general counsel in 2016), Castiglione's career—aged 25 years and counting—had developed its own unique notes.
Beyond managing Nautica's legal team and outside counsel, he also oversaw aspects of the company's marketing efforts and social compliance, as well as assuring a healthy and equitable workplace environment.
Despite that seemingly good work, when Nautica was sold by VF Corporation to Authentic Brands Group in late April 2018, Castiglione's position—like many other senior roles in the company—was eliminated.
Having been involved in numerous high-level acquisitions over the years, Castiglione knew such setbacks were the price of doing business.
"I'm looking at it as a real opportunity to work in a business I'm passionate about," he says. "The more seasoned you get, the more you know what will be a good fit."
That could mean any number of roles or industries. Good thing he's got his other passion to keep himself occupied.
Passion project
As with acquisitions, winemaking begins with a particular result in mind: that first half-filled glass, tailor-made for a rib-eye or plate of fresh pasta. Getting there will require all the right materials, sound methods and an unblinking eye for detail.
Castiglione can wax about winemaking until the cabernets come home.  When he's not blending varietals in a specially built portion of his house—a temperature controlled room in his basement featuring oak barrels, a 1924 wine press and neatly labelled racks displaying years of work—tours to hotbed regions in California and Oregon have become regular respites.
For Castiglione, it's a world away from the office, though not without similarities.
"To me, careers are living, breathing things, "Castiglione explains. "They're what define us as productive citizens. Which is why variety was always important to me: by changing industries, I was able to keep things fresh."
Showcase your feature on your website with a custom "As Featured in Vanguard" badge that links directly to your article!
Copy and paste this script into your page coding (ideally right before the closing