William Benvenuto – Retrophin Inc.
Threading the regulatory needle
In his high school yearbook profile, Bill Benvenuto included a quote—a two-clause reminder that he should never settle or sell himself short: "Once you've stopped facing the challenges in life, you've stopped living."
It being natural to soften one's youthful zeal with a bit of world-wise nuance, Benvenuto offered a slight addendum when he spoke with Vanguard in February.
"Once you've stopped facing the challenges before you," he says, "you'll miss the opportunity to do great and important things."
Needless to say, helping helm the legal and compliance arms for a pharmaceutical company specializing in rare diseases and disorders pretty well covers both bases—the brain-bending challenge and the reward.
"Every week I hear stories of caregivers and patients whose lives were improved because of what we do," says Benvenuto, vice president of legal affairs and chief compliance officer for Retrophin. "Knowing what they suffer with, the challenges they face, and that our therapies are actually helping, you realize your efforts and work are so much bigger than yourself."
Getting Started
Whenever Retrophin looks to develop new therapies—as they currently are to address focal segmental glomerulosclerosis, a rare kidney disease that affects how a person's blood is cleaned—having a strong compliance posture is paramount, particularly when it comes to research and development.
First, the company must go through a proof-of-concept stage. After that, Retrophin will test the drug's chemistry for safety, administer it to an initial control group and approach select physicians about the drug's potential as a treatment option.
At that point, the regulatory affairs department files the necessary paperwork with the Food and Drug Administration (FDA) to establish a proper protocol for clinical trials.
Once the company gets the green light from the FDA, Benvenuto then works with partnering institutions—medical centers and universities, research labs and the like—for collaborations and contracting for the trials.
"How we interact with the industry is incredibly important, so we want to make sure all of those relationships are above board and appropriate," he says. "We can't do it alone."
The right message
Should the trials prove successful (and the non-disclosure agreements look promising), the next step involves collaborating with Retrophin's commercial and managed-care teams on things like core visual aids (detailed compendiums that serve as a kind of marketing catch-all, or what Benvenuto calls the "Bible" behind every drug launch), launch plans, safety and efficacy profiles and other fodder—much of which must be approved internally and filed with the Office of Prescription Drug Promotion.
According to Benvenuto, a high level of scrutiny is reserved for educational materials given to health care providers: brochures, product descriptions and the like. The goal, he says, is to create tools that both tout the efficacy and merits of a medication, while being accurate about its safety.
"Throughout the process, I'm trying to be more of a crossing guard than a police officer," Benvenuto says. "It's easy to say no to a particular approach, project, language or idea. The hard part is coming up with solutions that help both the business and are beneficial to the health care community."
Having an impact
Given Retrophin's unique niche—creating drugs to treat rare orphan diseases, or those that affect fewer than 200,000 people nationwide—navigating the overall compliance landscape can be quite the high-wire act.
For Benvenuto, the relationships between Retrophin, health care providers and key opinion leaders (such as clinical researchers and medical organizations) are of critical importance—and highly regulated in their own right.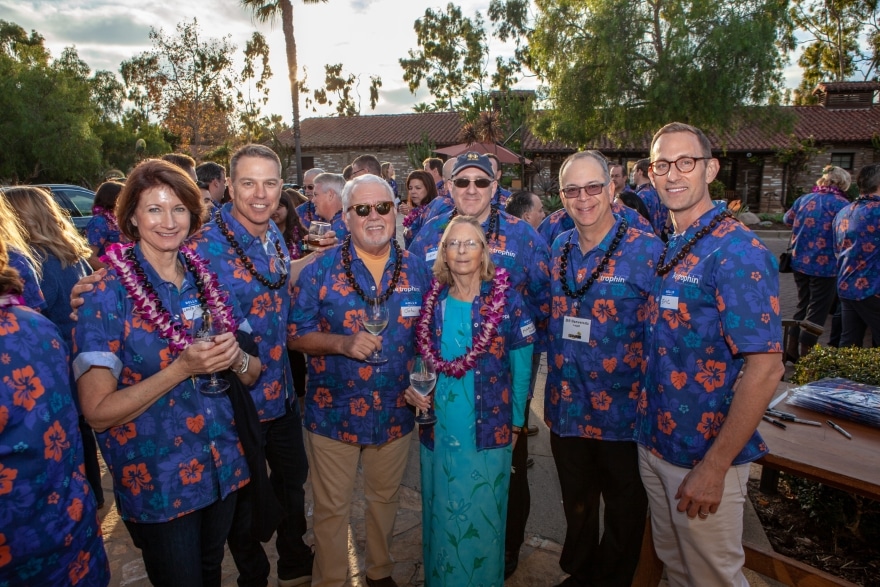 What's more, many of these interactions require constant input from Retrophin's own stakeholders, including the commercial, medical affairs and R&D departments.
"A compliance program isn't something that's set in stone; it's not static, but rather always evolving because a company's goals, projects and focus may change, as does the regulatory and enforcement environment," Benvenuto explains. "Someone in legal and compliance must be able to assess the purpose of a project and ensure it can meet the regulations that guide the activity."
It's a balancing act Benvenuto has learned to master during his near-30-year legal career. The passion for the craft, however, is rooted even deeper.
Not far from the tree
It was Benvenuto's mom who sparked his interest in the legal world: the intricacies of court cases, the dynamics of debate and—most of all—how there are always two sides to every story.
"The more I read case law and court decisions, the more I learned how to understand various sides and positions to an issue," Benvenuto reflects. "I thought, 'This is something I could really enjoy doing.'"
A graduate of Villanova University, Benvenuto earned his J.D. from Catholic University's Columbus School of Law in 1990. That was followed by a 10-year run in private practice, first as an associate at the New Jersey-based Paragano & Keough and, later, as one of the firm's named partners.
Eager to ply his trade in-house, in 2000 Benvenuto joined Novo Nordisk, a pharma company he said offered a great opportunity to begin his in-house career—and his first real foray into the complex world of compliance and corporate counsel.
A higher calling
Indeed, that focus would eventually become the through-line in Benvenuto's career, as he helped a succession of companies create and bolster their compliance programs and launch new therapies, including Amylin Pharmaceuticals, Jazz Pharmaceuticals, and Shire.
His is hardly a one-lane legal road, however. Since joining Retrophin in 2014, Benvenuto has been heavily involved in the company's cross-functional commercialization efforts, research and development, business development and much more.
But it's his work on the patient advocacy front—providing support, educational information, and resources to families affected by rare, orphan diseases, to give them "somewhere to turn when information is scarce"—that's proven the most rewarding.
"When you or someone you know is diagnosed with one of these diseases, it can be hard to know where to turn," Benvenuto says. "Anything we can do to make that process easier, we want to do. It helps you realize just how important the day-to-day work we do really is, and it gives me the extra energy and enthusiasm I need to be at my best."
Showcase your feature on your website with a custom "As Featured in Vanguard" badge that links directly to your article!
Copy and paste this script into your page coding (ideally right before the closing