Aamna Jalal – Televerde
Empowering a disempowered community
Social progress notwithstanding, women at all levels in business face workplace obstacles largely spared to men. These obstacles increase for women with criminal backgrounds.
So says Aamna Jalal who, since January, has been working with and providing support to women in prison through Televerde, a global inside sales and demand generation company based in Phoenix that combines end-to-end sales and marketing solutions to drive pipeline and revenue for their clients.
As the first general counsel for Televerde, Jalal enables the rehabilitation of around 400 women incarcerated in two women's correctional facilities in Arizona and Indiana. These women make up four of Televerde's nine global call centers.
"The entire company was founded on a model of empathy. We empower these women with marketable business skills that enable them to return to society and thrive as leaders, caregivers, innovators and business professionals," explains Jalal. "It's a purpose and cause I'm proud to get behind."
Also a rainmaker
Much of Jalal's job involves bringing companies on board with Televerde's mission. "It's been a win-win for our clients and the ladies we hire," Jalal says. "Our customers now have reliable and motivated partners who really become extensions of their marketing and sales teams, and our ladies gain access to the tools and resources needed to rebuild their lives and succeed outside the locked gates."
Then there's the societal benefit. Since 1994, more than 3,000 women have been through the Televerde program with less than 10 percent recidivism, compared to the national three-year recidivism rate of 68 percent. At an average annual cost of approximately $24,000 to house an inmate in Arizona, Televerde is saving the state and its taxpayers about $25 million annually by keeping hundreds of women from returning to prison.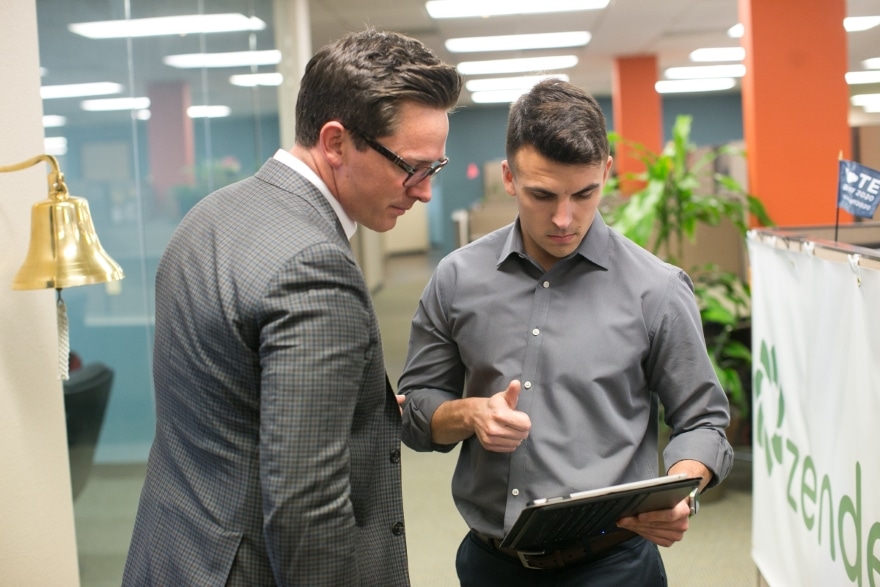 Jalal has become Televerde's point woman on multiple fronts. She weighs in on strategic initiatives, negotiates technology transfers and enterprise-wide licensing, and partners with an executive team that shares her social conscience and business savvy.
The more deals she can close with large companies, the more opportunities there will be for women to turn their lives around. The company recently announced its new mission of providing 10,000 life-changing opportunities over the next decade. This has led to Televerde expansion efforts, which Jalal is helping lead. The company plans to expand to other states and the United Kingdom prison system later this year.
Stigma unwarranted
In case any prospective company stigmatizes the ladies over their imperfect pasts, Jalal reveals they are all subject to rigid screening and 80 hours of no-nonsense coaching and training. They also have every reason to succeed since backsliding in any area could cost them a very coveted position.
Whereas typical prison jobs can pay less than $1 per hour, women employed by Televerde are paid a fair-market hourly wage, receive regular pay increases and earn overtime—with some deductions made for restitution, child support and the cost of incarceration, if applicable, and a personal savings account to be used upon release. Perhaps most important, employment with Televerde is designed to help them overcome the conditions that led them to prison and develop a foundation to succeed through career advancement, avoiding poverty and recidivism upon their release.
These women aren't "dialing for dollars," Jalal makes clear.
"Our ladies are trained in the most cutting-edge technology on the market, as well as the hard and soft skills needed to close deals, communicate with C-suite executives and collaborate with Televerde clients' sales and marketing teams," she says.
When these women transition out of prison, they are eligible to apply for open positions at Televerde headquarters. In 2018, 40 percent of the company's workforce in Phoenix was formerly incarcerated. There are people in every department and in every level of the organization, including the C-suite, who began their careers on the inside.
In 2011, the company launched a nonprofit wing, Arouet Foundation, to provide support and resources through a robust three-year reentry program. Rehabilitative efforts can't get much more progressive, says Jalal, who has taken on the additional role of unofficial mentor to many women during and after their incarceration.
"These women are so grateful to have a high-paying job in prison and the chance to learn the sought-after business skills needed to succeed in the outside world," Jalal says. "There's a lot of competition for these jobs and once a woman has one, she works hard to hold onto it. They recognize the value of their second chance and they make the most of it. They have everything to gain and prove."
It's About Second Chances
Combining profit and purpose in her professional life has long been one of Jalal's priorities, and she seems especially excited to do it for a cause that empowers one of the most stigmatized and overlooked populations in the world. She shares the vision of Televerde's new CEO Morag Lucey, who also came on board in January after distinguishing herself in a 30-year career in high-tech, most recently as Avaya's chief marketing officer.
As for Jalal, she's built a career that includes almost a decade in entertainment law. Among the items shining on Jalal's resume is her long stretch at Thinkwell Group, where she led negotiations on the multibillion-dollar deal that resulted in the award-winning Warner Bros. World Abu Dhabi, the world's largest indoor theme park.
The work of Televerde may be less flashy, but the impact she says is felt just as much, if not more.
"We've all made mistakes," she says. "But discarding anyone for the worst mistake they made on the worst day of their life is a waste of human potential. There is a wealth of talent sitting inside our prisons. To be a part of a company that's investing in these women to give them a second chance is incredibly rewarding and watching what these ladies do with these opportunities inspires me to want to do more."
Showcase your feature on your website with a custom "As Featured in Vanguard" badge that links directly to your article!
Copy and paste this script into your page coding (ideally right before the closing