Adriana Rivera-Montoya – Keralty
Offering 'one-stop shopping' in the continuum of healthcare
Imagine a health care system that gets to know someone from when they're born until the time of their passing. That's the vision of Keralty, the Colombian-based health care company that's expanding its comprehensive model in the U.S.
Through its work, Keralty provides medical care, health insurance and health education through its network of providers. Currently it has a team of 15,300 doctors and 23,000 employees worldwide, treating patients in 13,500 primary care and medical centers in 849 cities, according to General Counsel Adriana Rivera-Montoya.
When Rivera spoke with Vanguard in February, details were being finalized on its latest expansion to another state. Currently Keralty serves 250,000 patients in Florida, Texas, Connecticut, New Jersey and Tennessee with 2,000 employees in 23 cities through 60 primary care offices and two dental clinics.
"The future looks positive for us in the U.S., as we have the opportunity, knowledge and more than 40 years' experience to make things happen," says Rivera from his Miami office. "By integrating a network of health care services—and empowering family and caregivers with the skills to assist patients—the company is creating an ecosystem of caring, compassionate, equitable and supportive community health care services."
Migrating a model
Formerly known as Colsanitas in Colombia, Keralty first expanded its operations beyond Colombia, moving into Venezuela in 1998. It expanded into Peru and Brazil in 2009; the U.S., Spain and the Philippines in 2015; and Mexico and Asia in 2019.
Developing its own Sanitas University Foundation in 2000 allowed the company to build an avant-garde educational center for health management, models and practices while offering training for health professionals to support its model.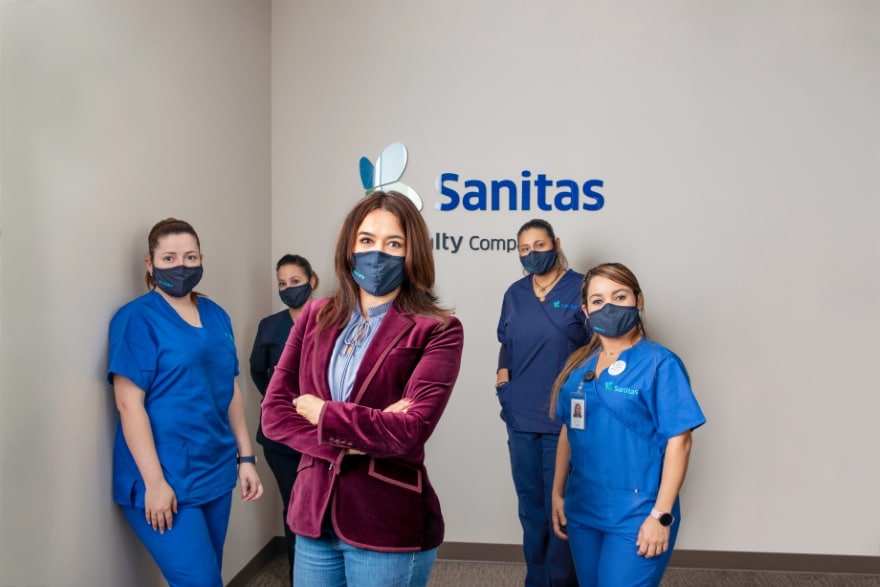 In most of the countries it serves, Rivera says Keralty developed a "full-risk model" where a single annual fee covers comprehensive services including outpatient care, surgical and emergency services, imaging services in its pathology labs, and palliative and hospice care. In the U.S., Keralty partners with insurance service providers that have taken a first step to incorporating its model through 60 primary care centers.
"It really is one-stop-shopping in many of the countries we serve," she says. "We are in the early phases of deploying the model in [the U.S.], but we will get there. It just takes time."
Foothold in Florida
Under Keralty's U.S. approach, the company enters into agreements with local insurers. Through the joint venture, local insurers integrate Keralty's model in medical centers for primary and acute patient care. Depending on a patient's needs, services such as home care and palliative care can be added.
Keralty got its U.S. start in 2015 by entering a joint venture with Blue Cross and Blue Shield of Florida, linking its services to two medical centers—then adding Westchester Hospital in Coral Gables, which it purchased in 2020.
It's now serving 25 locations in Florida while expanding into Texas and Tennessee. Currently Keralty—through its partnership with Blue Cross and Blue Shield of Texas—has opened five primary medical centers each in Houston and Dallas and three apiece in Memphis and Nashville.
"These are virtuous joint ventures with our local insurance partners," says Rivera. "Our partners provide patient membership and we provide the care through our providers. It's the right approach for this model, which only gets easier as we grow in multiple states."
What distinguishes Keralty's model from others, she says, is the hand's-on involvement of family members, friends and even the community in supporting patients. They, too, can receive training to better support patients.
"It's a joint commitment safeguarding each person's health in the course of their lives," Rivera says.
In establishing a supportive social community network, Rivera also negotiates services for patients who might need hospice, home care, day care and supportive centers for the elderly populations.
"It involves different negotiations with corporations, associations and other entities to perform these services to make them part of the model," Rivera says. "It keeps me busy developing agreements, or mergers and acquisitions when necessary."
Switching gears to success
After years of working in highly competitive international industries, such as oil and gas, Rivera was looking for opportunity in 2015. By happenstance, Keralty reached out to her as it was seeking someone internationally trained and seasoned.
Equipped with a law degree with additional training in taxation, Rivera earned her master's degree in international business law from The London School of Economics and Political Science. There Rivera became well-versed in international business transactions and laws regarding international finance of multinational enterprises.
"It was a win-win process," she says. "I was looking to come to a company like Keralty and they needed someone with international expertise."
Joining the Keralty as a corporate legal counsel in 2015, she provided legal support and advice on expansion into Venezuela, Russia, Brazil and U.S. In 2017 the company asked her to dedicate her work exclusively to U.S. expansion. By 2019 she was hired as the legal risk and compliance corporate counsel for Keralty—also known as Sanitas USA Inc. Later, she was promoted to group general counsel in Miami.
"The company model adjusts to the socio-demographic changes in the world, that has only increased with our elderly populations with chronic diseases and fewer caregivers," Rivera says. "I consider myself blessed to work for a company whose ethics and priorities closely match my own."
Showcase your feature on your website with a custom "As Featured in Vanguard" badge that links directly to your article!
Copy and paste this script into your page coding (ideally right before the closing