Andre T. Porter – Midcontinent Independent System Operator
Energized toward a common goal
It's a not-for-profit company based in central Indiana with the most public of responsibilities and a membership of organizations with varied sizes and business models.
Known as the Midcontinent Independent System Operator (MISO), it operates energy markets and runs the electric grid in the middle swath of North America that comprises 15 states from the Gulf of Mexico to the Great Lakes, and stretches into the Canadian prairie province of Manitoba.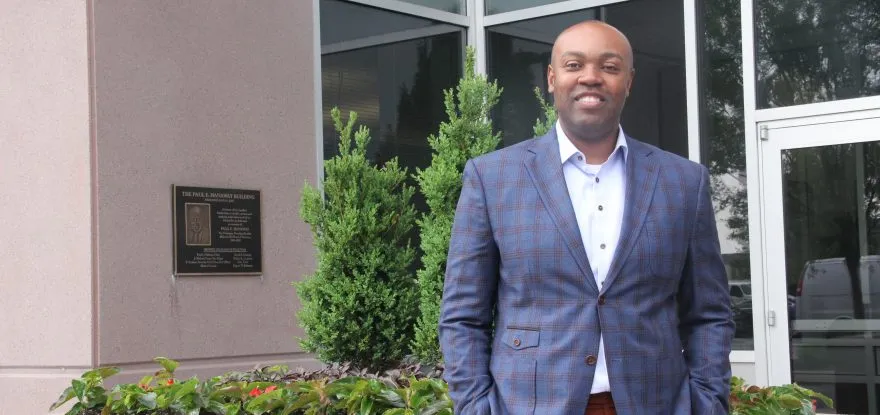 That's a lot of jurisdictions, each of which has its own agency trying to balance various interests while regulating such sensitive matters as utility rates and services. Such differences notwithstanding, MISO's legal boss finds at least a few common denominators among the many players with a vested interest.
"Our membership base is unique and diverse," General Counsel Andre T. Porter tells Vanguard in mid-May from his office in Carmel, about 20 miles north of Indianapolis. "But while there are differences, they really have much more in common. They all want reliable electric grid operations and energy markets that promote reliability in the most efficient way possible. Our members look to MISO to achieve these goals."
And if anybody is looking for a legal team and a general counsel that understand energy and utility law, they will find it at MISO, which has built a nimble department of distinguished professionals who have mastered the minutia that might have less detail-intense attorneys pursuing work elsewhere.
Meant for MISO
"Energy law and our business strategy appeal to me so much that my work doesn't even feel like a job," Porter says. "Promoting MISO's mission and leading the team of legal professionals at MISO, is the most satisfying role of my career."
Porter assumed leadership of MISO's legal department in the summer of 2016, and now manages a team of 32 lawyers, paralegals and administrative assistants.
"Our in-house lawyers are essential business partners," he says. "They have to be subject-matter experts first, but we ask them to go beyond that and add value by objectively helping develop and facilitate achieving company goals. It's a unique opportunity we have to sit at the table and be strategic partners in meeting an overall vision."
He lists MISO's three strategic objectives as serving and expanding its membership, planning a future grid that includes renewable energies, and ensuring all-around reliable and efficient operations.
And it's an exciting future, he emphasizes, with wind and solar poised to assume greater roles and the annual MISO Transmission Expansion Plan outlining ambitious goals to ensure the system keeps humming, while supporting regulatory and policy requirements, and maintaining an efficient electricity market.
Flexibility may be the key, the Transmission Expansion Plan makes clear, with trends indicating a shift toward greater options for intermittent means of generation, with a reduction in traditional base load resources. Porter assures that MISO is collaborating with regions served, as well as its member utilities that have invested over $20 billion in new transmission lines.
"As we think about the grid of the future, we see more wind, solar and perhaps distributed generation. The reliance on fossil resources is changing," he says. "While it's not MISO's role to determine what resources will be built, we are working to optimize the grid to continue delivering reliable, cost-effective energy as the landscape evolves."
Wired from the start
A graduate of Ohio State University's Moritz College of Law, Porter got his start in energy law with the Columbus firm of Schottenstein Zox and Dunn in 2005, spending the next six years advising private and public sector companies on electricity and natural gas proceedings before the Public Utilities Commission of Ohio.
Porter became so familiar with PUCO that, in 2011, Gov. John Kasich appointed him to fill one of the five commission seats. Porter also began to support broader grid development, serving on various boards, such as the National Association of Regulatory Utilities Commissioners, the Eastern Interconnection State Planning Council and the Organization of PJM States.
After two years with PUCO, Porter partially unplugged from the utility industry, opting to accept Kasich's offer to serve as director of the Ohio Department of Commerce, where he led an 850-person agency with broad authority over economic and safety matters.
But Porter couldn't stay away from utilities for long, and in 2015 was selected by Kasich to chair PUCO. "I genuinely enjoyed the subject matter," Porter recalls. "The opportunity to chair the commission offered yet another perspective—and a position from which I could help solve challenges confronted across the utilities sector, on behalf of the people of Ohio."
In 2016, Porter again had a chance to employ his utility knowledge and leadership skills on a much greater scale. With MISO's first general counsel, Stephen Kozey, taking a new role within the company, Porter took a logical step to join the legal team at MISO.
"It's been a wonderful two years; I love our team and this company,"  Porter says. Public service is still at the forefront, as it was in his PUCO days. But now the picture has grown bigger.
"It's a special purpose we serve and the reason I came aboard. It's seeing the big picture—and working with dedicated team members every day to make a difference."
Showcase your feature on your website with a custom "As Featured in Vanguard" badge that links directly to your article!
Copy and paste this script into your page coding (ideally right before the closing