Cathy Mikus – Mercy Health System + St. Mary Medical Center
Clinical Trials
Even now, more than 20 years later, the memories are vivid and transporting. The overnight shifts that sap you to the core. The frightened families similarly weathered by lack of sleep. Those immense feelings of satisfaction and joy when the miracles of medicine are summoned.
Cathy Mikus knows what it means to be a nurse. It's who she is, and why, even in a markedly different role, she remains one at heart.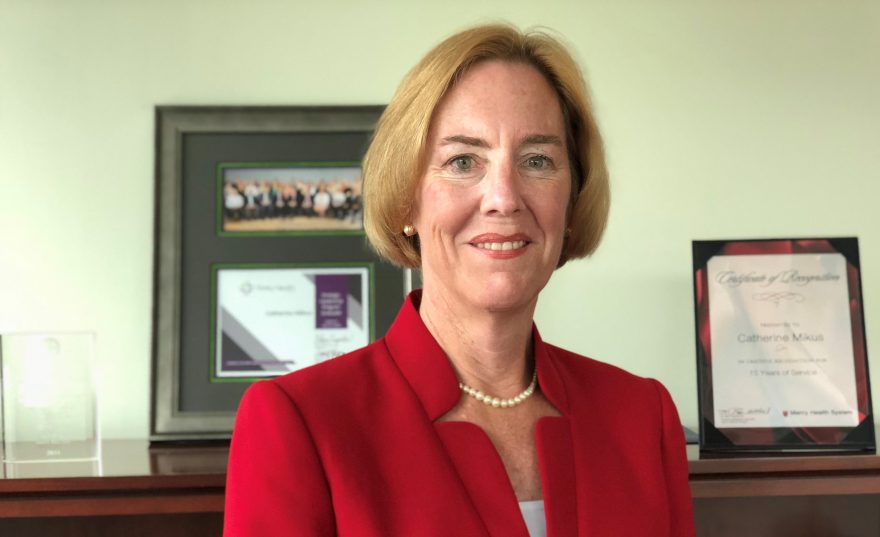 "I understand the frustrations that nurses deal with," Mikus says. "When you've worked on the front lines of the health care industry, you're bound to see things through that lens."
As general counsel for Mercy Health System (MHS) and St. Mary Medical Center (SMMC), two of the ministries that make up Trinity Health, Mikus no longer worries about working double shifts or pulling a week of overnights. The steadfast commitment to improving lives, however, has never felt more entrenched.
On the same page
Truth be told, Mikus was reticent about the role at first. She'd always been somewhat introverted; content to work behind the scenes. However, once her promotion was made official—from vice president of legal for MHS to two-badge general counsel—Mikus knew she needed to chart a different course.
"I knew immediately that I needed to be proactive and get out there in front of people," Mikus says, "to make it clear that I was someone people could come to."
One of her first initiatives was to redouble MHS and SMMC's employment-education management protocol. Recognizing a lack of awareness among management in her organizations, with respect to the full range of federal and state employment related regulations, Mikus created a four-hour presentation outlining numerous real-world scenarios and how to address them. After garnering support from executive leadership, the project was a deemed a huge success by both  organizations.
Still, the challenges are ongoing. Owing to the ever-changing nature of the health care industry, Mikus and her team must ensure their clients are up to date on the challenging regulatory landscape. In addition, because MHS and SMMC are Catholic organizations, Mikus and her team work closely with the organizations' leaders, to ensure that all transactions comply with the Ethical and Religious Directives for Health Care Services.
More specifically, Mikus' goal is to ensure that she and the legal team are visible throughout the organization, and not just to senior leadership.
"We sit on committees, we have standing meetings with clients to review ongoing projects and to discuss projects that are under consideration," Mikus explains. "Clients are much more likely to reach out to us proactively, because we are a highly visible department. We take pride in being accessible to all levels of management."
Mikus doesn't claim to know what the future of health care might hold, ever-shifting as the landscape is. But looking back on the path that brought her here—and all the trials and triumphs along the way—you can forgive her for feeling well-prepared.
All in the family
Of course, when you grow up in a house with two nurses—dad an anesthetist, mom an RN—you're bound to pick up some things: the dedication to hard work and the commitment to service. Yet, early on, aided by a love of TV law dramas, Mikus had designs on a different career path.
"I always knew I wanted to be a lawyer," she says. "I was fascinated by criminal law. I thought I'd end up in some district attorney's office. From an early age, my mother half- jokingly noted that I loved to argue about almost everything and that I would make a good lawyer someday."
By the time she applied to Villanova University, however, Mikus' passion had shifted. Despite her parents' best attempts to dissuade her—they cited the long hours, the mental and emotional tolls—Mikus had decided to become a nurse.
For much of the next six years, she worked at Fox Chase Cancer Center. With some of the very sickest patients, she experienced the promises and pitfalls of our modern health care system.
By 1989, she'd started thinking seriously about law school. Married and with two young kids, Mikus knew she couldn't simply drop everything. So she worked part time, attending Temple University Law School at night. In 1993, she earned her J.D.
"I had an absolutely amazing support system to make that possible," Mikus says. "My husband was mom and dad for a few years. Grandparents helped us out time and again. I couldn't have done any of it without them."
Beginning in 1993, Mikus served as an associate for Bennett, Bricklin and Saltzburg, a Philadelphia-based firm specializing in civil litigation. Four years later, eager to return to the health care sector, Mikus joined the legal department of Mercy Health System of Southeastern Pennsylvania, which later became part of Trinity Health.
From endless contract reviews to frontline attorney to a full-fledged member of the executive leadership team, Mikus' role has certainly  grown during her two decades under the Trinity umbrella. Even if it's the impact—the kind she always dreamed of having—that will always matter most.
"I'm incredibly lucky knowing I get to go home every day feeling like I made a tangible difference in someone's life," Mikus says. "I'm still working with patients, although indirectly. It's just the nature of the work that's changed."
Showcase your feature on your website with a custom "As Featured in Vanguard" badge that links directly to your article!
Copy and paste this script into your page coding (ideally right before the closing