Ashley Good – Acorns
Mobile-first investing hits stride at Acorns in 2020
As a young child, Ashley Good stored bits of change and odd job money in a bright pink cash box.
She's still watching every dollar today, albeit for much higher stakes at Acorns, a California-based fintech company specializing in micro-investing. The California native joined Acorns in March 2020 as chief legal officer, bringing sales and legal expertise to her role at the subscriber-driven business. The company might deal in spare change but has proven nickels and dimes can aggregate into increased financial stability.
"This work touches me deeply because I've always been a little squirrel in financial terms," Good says. "Acorns shows that the smallest amount can really add up over time if you see it through."
Financial wellness
Since its founding in 2012, Acorns has grown by leaps and bounds with more than 8 million Americans opening accounts to save and invest more than $7 billion in total assets.
Once thought of as a revolutionary concept, micro-investing entails buying fractions of shares and has come into its own in recent years. Acorns allows anyone to start investing in its portfolios of exchange-traded funds for as little as five dollars and helps make finance less of a mystery.
The model has helped land Acorns on the Fortune magazine "Impact 20" list of companies that "do well while doing good," i.e., progressing social issues with core strategy.
"Our technology allows users a simple way to invest and see their financial situation in a more comprehensive way," Good says. "Good finances require planning with foresight and hindsight, something many don't have the time or inclination to figure out between managing work, family and life."
Money-making algorithms
In addition to developing a mobile-first investment platform, Acorns has created a financial wellness system to encourage sound financial principles for the up-and-coming investor.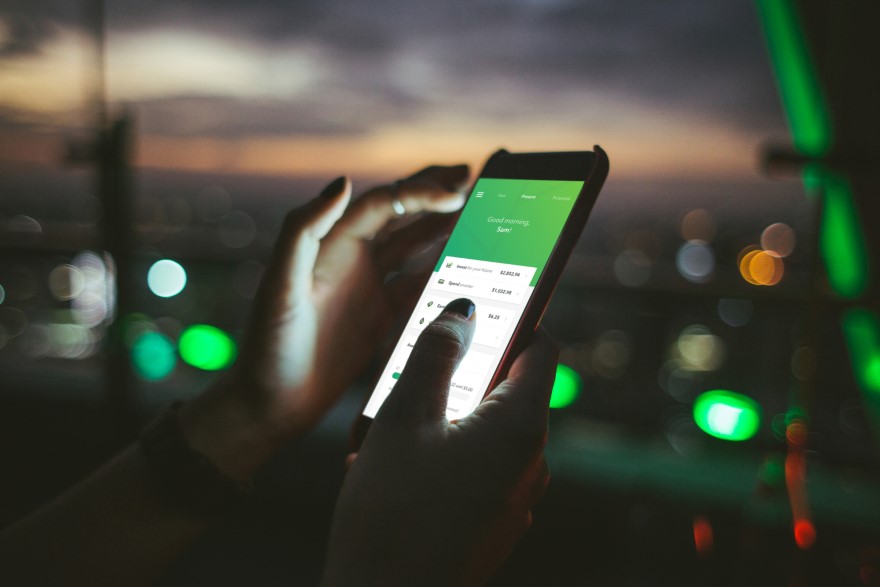 The tech allows customers—guided by smart automation—to invest in a low-cost portfolio of exchange-traded funds managed by the world's top money managers. They answer suitability questions in the process of choosing a portfolio that helps determine whether a conservative or aggressive investment strategy is in their best interest. Parameters set, Acorns' tech kicks into financial gear—without losing sight of the company's mission.
"For us, it goes back to trying to build a cohesive system, a way to connect those different elements of your financial life," Good explains. "On a more granular level, it's about empowering our customers to save and plan for the future."
Whatever the process or platform, her role is varied, demanding and centered on enabling that mission through legal support of strategic projects, compliance and risk management—and product development.
Acorns everything
When it comes to launching new products, Good plays a key role in advising the team on a complicated legal framework applicable to the highly regulated financial industry, as they build a compelling and understandable user experience for Acorns' customers.
She works closely with the business, marketing and engineering teams as they continually expand what it means to be a micro-investing and financial wellness app—a new category in the financial world with three key directives: simplification, automation and customer experience.
"We provide the support and counsel for the product launch teams to ensure sound legal structure, compliance and risk mitigation," Good says. "My team's advice helps the company have confidence in the legal viability of new products."
Those offerings include Acorns Early, which allows parents to set up custodial accounts for children. Launched in summer 2020, Good created accounts for her children with a portion of their allowance funneling into the app.
Already in place before she accepted her position at the company, the Acorns Earn program leverages partnerships with companies like Nike, Apple, Sephora and 350-plus leading brands to create bonus rewards of up to 10 percent, which are then invested in the customer's Acorns account. Good was part of an effort to add an employment component powered by ZipRecruiter to the program.
"One of the largest barriers to being able to invest is not having income, so we made it easy for customers to explore and apply for employment options right in our app," she notes.
Content equals capital
Financial literacy is a huge part of Acorns' offerings, and the company has gotten a boost via a partnership with CNBC: Acorns Grow. This effort became very timely in 2020, with Acorns' customers flocking to online resources to help them better understand the economic implications of the COVID-19 crisis.
Marketing is an ever-present part of Good's work, including branding, intellectual property portfolio management (trademarks and patents), as well the disclosures and language necessary to tell a compelling, yet legally compliant, story that still resonates.
Speaking of marketing efforts, Acorns has also benefited from celebrity investors who play various roles to support the product. Good's legal team supports these, as well as other marketing and promotional efforts.
Practicing what she preaches
She's empathetic because living on a tight budget is something she understands—as do most college students.

She didn't bring that bright pink cash box to school at Stanford University in the mid-90s—it had evolved into a ledger and her penchant for financial responsibility continued. Good worked multiple jobs while she earned bachelor's and master's degrees in human biology and education at Stanford, then a JD at Duke University Law School.
Her career has included positions at global law firm, Latham & Watkins; more than a decade with skincare and wellness product makers, Arbonne International; a stint as chief growth officer at Part & Parcel, a venture-backed social commerce community for plus-size women; and now Acorns.
One of her biggest professional influences, though, is her father. A dentist and "self-made man," he imbued her with adaptability and a strong work ethic that's served her well throughout a 20-plus year career.
"I'm not happy unless my hair is on fire and I have at least a dozen balls in the air," Good says. "Our mission keeps me motivated. It's the day-to-day variety that keeps it exciting."
Showcase your feature on your website with a custom "As Featured in Vanguard" badge that links directly to your article!
Copy and paste this script into your page coding (ideally right before the closing