Brandon Mazer – Shipyard Brewing Co.
Crafting a case for small brewers
When the Matador Network, the social media gathering spot for tourists, crowned Portland, Maine, the world's best city for craft beer in 2016—well ahead of such hoppy hot spots as Munich, Prague and Melbourne, Australia—the folks at Shipyard Brewing Co. had reason to raise a pint.
Shipyard is, after all, the biggest craft brewer not just in town but in the entire state. It was roll-out-the-barrel time, with many opting for Shipyard Export, the old standby with its robust flavor. Others went with the various India Pale Ales. Still others chose the blueberry-flavored brew that, for those used to conventional beers, can be an acquired taste. Meanwhile, the non-imbibers could celebrate the good news with the company's root beer.
With around 20 selections of ales, lagers, stouts, pilsners, porters, seasonals and non-alcoholic beverages, there was something to satisfy everyone's taste. But volume can be another matter, reminds Brandon Mazer, the affable 31-year-old general counsel who also serves as president of the Maine Brewers' Guild, and erstwhile PR driver for what's become the booming business of local beer tourism.
"During our peak season, which runs from April through October, our Portland brewery alone can't produce all we need here," Mazer tells Vanguard in October, over a pint of Finder New England IPA  in Shipyard's tasting room, where bricks and beams add a rustic ambience to whatever's on tap. "The demand can be that great. We need to transfer beer from our other breweries just to keep up with demand."
With ample credit due Mazer and the Brewers' Guild, Shipyard Brewing Co. can now do just that without being at risk of running afoul of state laws. Same goes for however many of Maine's other 90-something craft breweries that also operate in multiple locales or anticipate doing so.
Progress on tap
Maine's most recent legislative season was a productive one for craft breweries. A few gray areas were better defined which will enable the industry to, at the very least, sustain its impressive growth of recent years.
With the Brewers' Guild fronting their efforts, and Mazer's legal and legislative acumen at work behind the scenes, craft operations successfully made the case that they should be allowed to transfer their malt beverages among all their breweries and tasting rooms by tanker truck, keg, can or bottle—something the federal government never had issues with, but the state had been hesitant to allow. Some opposition came from the Maine Bureau of Alcoholic Beverages and Lottery Operations, which argued that the state should not cede its regulatory authority to the feds.
But as Mazer further explains, Maine's biggest city attracts day-trippers and tourists—many of the latter aboard cruise ships—from May to October, and the ensuing holiday season sustains the local hustle and bustle. Shipyard's showcase brewery, in downtown Portland, is a modest operation compared to the national industry heavyweights, and can't produce enough suds alone to quench so many thirsts. While Shipyard had long moved beer in from its breweries in Bangor to the north and Kennebunkport to the south, it wanted assurance that all was on the up and up as far as the state was concerned.
"The state had never really articulated what we were allowed to do, and we wanted some clarity," he says. "The other breweries were with us on this one; they want to grow, too. We may be competitors, but there's still camaraderie among us. A rising tide lifts all boats."
Rising Tide being the appropriate name of a competing local brewery, such camaraderie seems to come naturally to Mazer. And that brewery has reason to applaud his efforts, as its co-owner, a state legislator named Heather Sanborn, told the Portland Press Herald last spring that transfer rights are essential for Rising Tide's growth.
Another brick in the wall
Aside from the transfer matter, there were other situations that the Brewers' Guild wanted cleared up. Since 2011, the state had allowed brewers to sell beer in tasting rooms as well as for retail, a privilege that traditional bars, restaurants and retailers argued put them at a disadvantage.
The state did require a wall between a brewer's retail and tasting areas, a regulation that forced a popular Portland establishment, Gritty McDuff's, to have separate entrances. As was the case with the transfer matter, this too was resolved with amended language in the breweries' favor, without so much as a committee debate.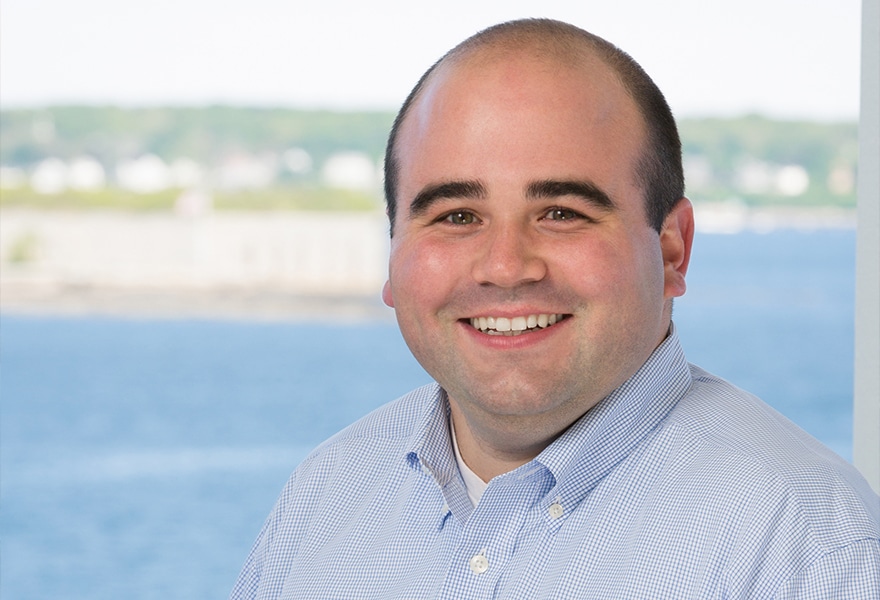 Then there was the issue of brewers wanting the flexibility to flavor their concoctions with extracts that contained diluted traces of alcohol without being subject to a $1.21 increase in the excise tax that would have docked them $1.56 per gallon. Any such increase in the alcoholic content would be trivial at best, Mazer says, and a higher tax could eliminate any incentive of getting creative, which is what craft brewing is all about.
"Most people who see a six-pack on the shelf don't really comprehend just what went on behind the scenes to produce it," he laments. "We were able to amend the language not just in our favor, but for all the craft brewers. A flavoring shouldn't result in a higher excise tax."
Head's always up
When not aiding the Brewers' Guild with industry-wide concerns, there's plenty to keep Mazer busy on the homefront.
Branding and trademark issues are one of the major areas that Mazer focuses on day to day.  With an increasing number of craft breweries opening nationwide every day, the ability to develop unique beer names becomes increasingly difficult. In addition, it is vital that Mazer monitors Shipyard's portfolio of brands in order to prevent consumer confusion.
Earlier this year, Shipyard filed federal suit against a Missouri brewer, Logboat Brewing Co., alleging trademark infringement over its Shiphead beer line. Mazer says that most breweries want to avoid consumer confusion, and that finding an amicable resolution is the norm. Since joining Shipyard, Mazer has had to enforce the brewery's trademarks on numerous occasions, but the Logboat case represents the first time that Shipyard has been forced to initiate litigation in federal court over a branding issue.
"Given the circumstances, it was important to defend our brand," Mazer explains.  "The marks themselves, SHIPYARD and SHIPHEAD, are nearly identical.  They look alike and sound alike.  They share all but two letters in the suffix, and the 'head' suffix itself causes even more confusion, given our extensive line of 'head' beers."
Those beers include Shipyard's wildly popular and widely distributed Pumpkinhead Ale.
"Add to that, the similarities of the can designs, their use of a schooner, which is a core element of our brand, and the risk of consumer confusion is apparent," Mazer continues. "Litigation is always a last resort for us, but there are times when it's necessary."
At any rate, he says the matter is further evidence of how well-rounded one must be to serve as the only in-house lawyer in a burgeoning industry.
"There's never a dull moment here," says the 2011 University of Maine law grad who first came to Shipyard nearly a decade ago as a communications aide after graduating Bowdoin College. The marketing end of the business has always appealed to him, and Mazer doesn't feel he's overqualified to promote the product for which he might be the best customer.
"I'm a beer guy at heart," he says with a hearty laugh. "That's what got me in here."
His credentials enhanced by the all-important juris doctorate and expertise in intellectual properties and corporate law, Mazer figures he's here to stay.
Showcase your feature on your website with a custom "As Featured in Vanguard" badge that links directly to your article!
Copy and paste this script into your page coding (ideally right before the closing