Lias J. "Jeff" Steen – Oil States International Inc.
Crossing borders and barriers for a Houston energy service company
A man of high spirits, Lias J. "Jeff" Steen laughs when remembering how, upon being hired as an assistant general counsel at Houston-based Camco International Inc. in 1988, a graduating classmate at South Texas College of Law told him, "too bad you couldn't get a real job."
That may have been what passed for conventional wisdom about the legal profession three decades ago, but how times have changed. Corporate law has been both a real job and a passion for Steen, now 58, and since 2008, the executive vice president of legal and human resources for Houston energy institution Oil States International Inc.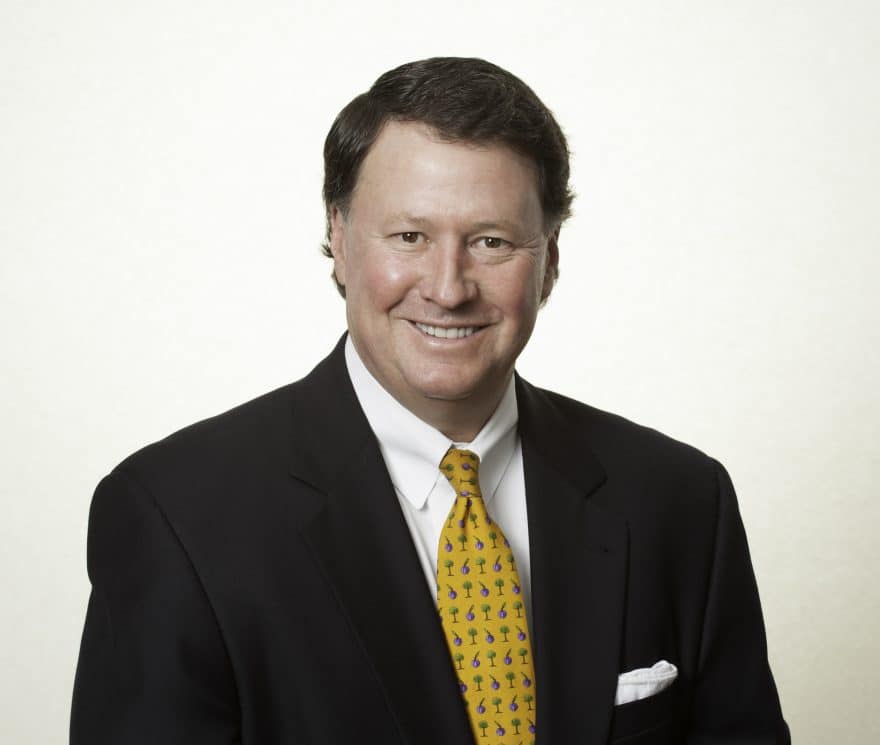 It's a job that's not just real but economically and intellectually satisfying. It entails crossing language barriers and international borders, as well as familiarity with often arbitrary customs in countries not predisposed to pro-American sentiments. A diplomatic touch and spontaneous business judgment are as indispensable as carefully articulated legal reasoning. Then there's getting one's boots dirty, dusty or wet while visiting operations in prairies and deserts or on  deep-water platforms.
But when Steen returned to his office one recent Monday morning after a long weekend of New Orleans Mardi Gras revelry, he anticipated he'd be staying put for a while.
"I'm looking at my desk as we speak," Steen said. "We're buying a company in Singapore, there's a company in Mexico that won't pay for the cranes we sold them, there are personnel matters and securities laws … there's never a boring day here. Unlike a lawyer in a law firm worrying about the next billable hours, we've got people knocking on our doors, and we have to decide whose problems are the most critical for the company."
Unpredictable 'pumpline'
With Steen's employer a player in the global energy services industry, there's no cap on the problems that may arise at home and abroad. Although not the biggest in the business, Oil States International is a publicly traded company that manufactures  production equipment in the U.S., United Kingdom, Singapore, India, Thailand and Vietnam, with sales and service offices in Australia, Azerbaijan, Brazil, England, France, Nigeria, Scotland and the United Arab Emirates.
That's a lot of countries—each with its own particular customs that, even when on the level, can be confusing. And when not on the level, well there's no taking the offending party to People's Court.
Steen remembers a joint venture with the Russian government to upgrade some wells in Siberia. The deal had one of his previous employers supplying the personnel, equipment and expertise, with the compensation being half the increased production. If a well was producing 100 barrels a day and it increased to 500 barrels, then Oil States would split the extra 400 and sell it on the open market.
"Great in concept, and the equipment worked and we built up a huge crude oil credit," Steen remembers. "But …"
There was the issue of trying to get the oil out of Siberia. Trains weren't working, pipelines were full, ships weren't available and neither were trucks. Even regional warlords got into the picture.
"We could only net about 10 cents on the dollar on every barrel, so we took the tax write-off and left the country," Steen says. "All that money and oil stayed in the country, by hook or by crook."
Petro power reigns
Such situations can be inevitable in an energy world where vast reserves exist in the bowels of the earth and under the coastal waters of the most chaotic countries, and Steen has long learned to anticipate issues particular to a region.
Russian and Saudi power brokers have the ability to turn off their countries' production, he explains, forcing up global prices, but there's still ample production elsewhere to mitigate the hikes. The nationalized industries in Mexico and much of South America present their own balancing acts for a U.S. company. Payment for services rendered isn't just a problem unique to Siberian operations.
But among the myriad variables is one major constant.
"Carbon-based fuels rule the world, and that's not going to change any time soon," Steen reminds, reeling off numbers and details that show his grasp of energy complexities—and provide reason for Oil States International to be upbeat.
The world burns almost 100 million barrels of oil daily, and that has been going up approximately 1 percent a year, Steen says, and with the global population increasing at roughly the same rate, there's no avoiding the need for more petro production. Commodity prices have rebounded from historic lows to sustain that increased production. To boot, the new White House is pro-energy exploration and development, and Oil States expects it'll be bolstering its ranks.
"But every well's first day is its best," Steen says. "It is a depleting natural resource that requires constant reinvestment to supply the world's needs."
On-the-job growth
Just as the energy industry is forever adapting to new situations, Steen can't sit still if he's to meet duties that never were mentioned in the Oil States job description nine years ago, when he came aboard after five years in a similar role with Grant Prideco, an oil equipment supplier also based in Houston. Prior to that  he served five years as general counsel of North America at Schlumberger, another Houston oil-service supplier.
Yet decades ago he saw himself not immersed in energy law and business, but being a veterinarian. Not being particularly well-versed in organic chemistry and biology, he turned to agricultural economics as a Texas A&M undergrad. He changed tacks to pursue a legal career after interning for the late Sen. John Tower and working for Sen. John Glenn during his short-lived presidential bid of 1984.
Nowadays when he counsels young lawyers, Steen, citing his own experiences, emphasizes the need for a diversified, well-rounded background that might be best utilized as a corporate lawyer rather than as a subject matter expert in a particular legal field.
"The most rewarding aspect of this work is the diversity of it all," he says. "It's being part of a management team; you're not just a hired gun. You're on a team with senior executives and work as a team to manage the company and do right by the shareholders."
After almost 30 years of world travel and tackling legal issues that range from A to Z, Steen opines that it has been a great ride.
It's enough to make his long-ago classmate envious. Last time they spoke, the former apologized for the decades-old slight and dangled the possibility of a job swap.
Apology accepted; offer declined.
Showcase your feature on your website with a custom "As Featured in Vanguard" badge that links directly to your article!
Copy and paste this script into your page coding (ideally right before the closing