Chris Jensen – City Colleges of Chicago
Employment and labor lawyer finds his why in community
Both his parents were attorneys, so Chris Jensen was expected to follow the same path.
He even got into law school during his senior year of college. But when it came time to accept the offer, something didn't feel right. So instead, he found a job at the county clerk's office in his hometown of Edwardsville, Illinois, working on local elections—he even helped implement early voting.
"I was doing civic work and it felt right," Jensen says. "I knew I was meant to be helping people."
While he felt passionate about what he was doing, he knew it wasn't a good long-term fit. That's when he reconsidered law school, realizing it could lead to a career where he could impact others.
Over the past 12 years, he's strived to do this in every role, including with the Chicago Transit Authority and currently with City Colleges of Chicago. He's the associate general counsel, employment and labor for the community college district, which has seven colleges throughout the city.
"Money doesn't motivate me," Jensen says. "Equity, equality and service are what's important to me."
Learning on the job
When Jensen graduated from Chicago-Kent College of Law at the Illinois Institute of Technology in 2010, the nation was in a recession and his job options were slim. He held temporary roles performing document review in the city before finding an opening in 2012 at the transit authority, which serves nearly 1.7 million people with its buses and trains.
"I had long, hard days there, but it was very rewarding," Jensen says. "People deserve safe, reliable transportation that's affordable and I got to be a part of it."
H e started as an associate attorney of labor and employment, an area of law that was new to him. He says mentors and colleagues helped him develop efficient time management skills and become a skilled litigator and negotiator .
He was promoted twice in his seven years with the organization, becoming chief attorney of labor and employment in 2017. The CTA employs over 10,000 people, from executives to bus drivers, and Jensen was tasked with preventing discrimination, developing policies and training, litigating as needed and facilitating transparent communication.
"Labor and employment is never the same day-to-day," he says. "It's always unique."
Finding a balance
W hile working at the CTA solidified Jensen's desire to help people, he craved a new challenge a few years ago. He took his current role at City Colleges of Chicago in July 2019.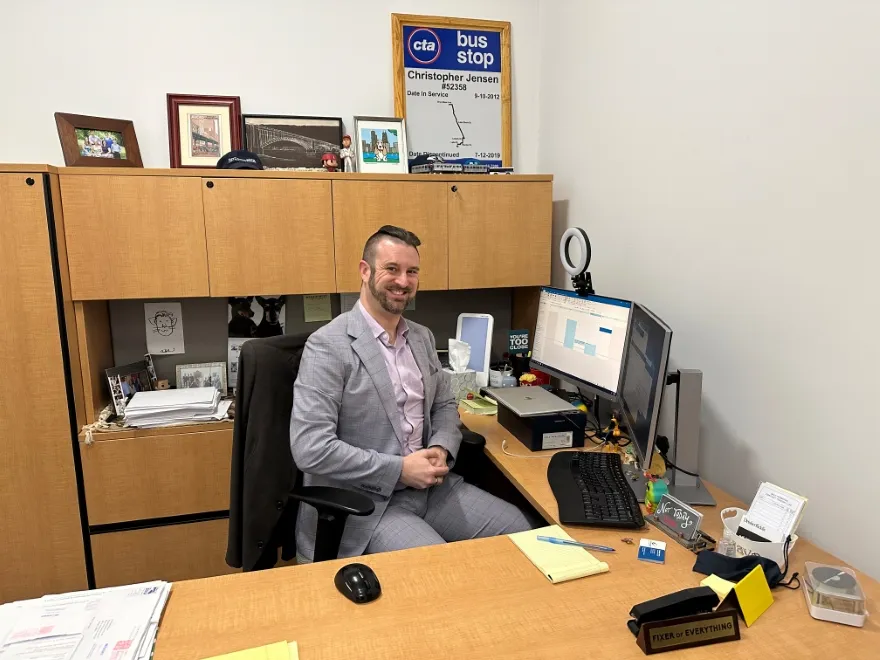 His goal is to maintain a fair, equitable and welcoming work environment, which he ensured translated to remote work when the COVID-19 pandemic began in March 2020. He supported employees by working with bargaining units to ensure employees had what they needed to successfully perform their job responsibilities remotely.
More recently, Jensen worked on union negotiations. One collective bargaining agreement, which was finalized in October 2022, required updated terms and conditions, with the focus on wage increases. The negotiating teams met every other week for a year, culminating in 10 day-long meetings.
"It's easy to say this is business, but it's their livelihood," he says. "It can get very emotional. You have to strike a balance of what people want and what's possible."
In 2023, he'll be starting negotiations with three other unions. City Colleges of Chicago has seven unions and over 4,000 employees.
"You have to keep the mission in mind throughout negotiations, which isn't faculty or the administration—it's students and providing them the best education," Jensen says. "That really resonates with employees."
The power of community
Jensen says he finds it rewarding to support this mission, as well as the 54,000 students who attend City Colleges of Chicago.
"Community college has the power to change lives, especially for people who grew up with fewer  opportunities or maybe can't afford a four-year college or university," he says.
Jensen says he feels fortunate and privileged to have grown up with those opportunities.
Before law school, he earned his bachelor's degree in history, psychology and music from Washington University in St. Louis. His parents instilled in him from a young age that he could achieve anything he wanted. He says his mother, who still works as a county prosecutor, has been his biggest influence.
"Being a lawyer entails long hours and it can take over your whole life, but she showed me how you can have a rewarding career and a balanced life where family is a focus," he says. "She was always home for dinner and there for all my soccer games."
Jensen balances life outside work by spending time with friends and attending live music. He also sings in a community choir, the North Shore Choral Society, a hobby he's maintained since high school. Volunteering has been important in his life, as well. Jensen is currently the chair of the associate board at the Chicago House, an organization that provides resources to people living with HIV/AIDS.
"My investment in community doesn't stop with my job," he says. "It's so important to me to give back because I have so much."
View this feature in the Vanguard Spring I 2023 Edition here.
Showcase your feature on your website with a custom "As Featured in Vanguard" badge that links directly to your article!
Copy and paste this script into your page coding (ideally right before the closing