Matthew Gerber – Center for Excellence in Higher Education Inc.
A GC helps online learners land their dream jobs
Not all college students are 18 to 22 years old.
There are many barriers—time, money, other commitments—that keep people from pursuing the traditional college path. Imagine a young single mother—her 20s were spent raising two children while picking up every shift she could to make a little extra money. Now she's in her 30s and desperately wants a more fulfilling job. She would love to go to school, but between the cost and her limited schedule, it's just not possible.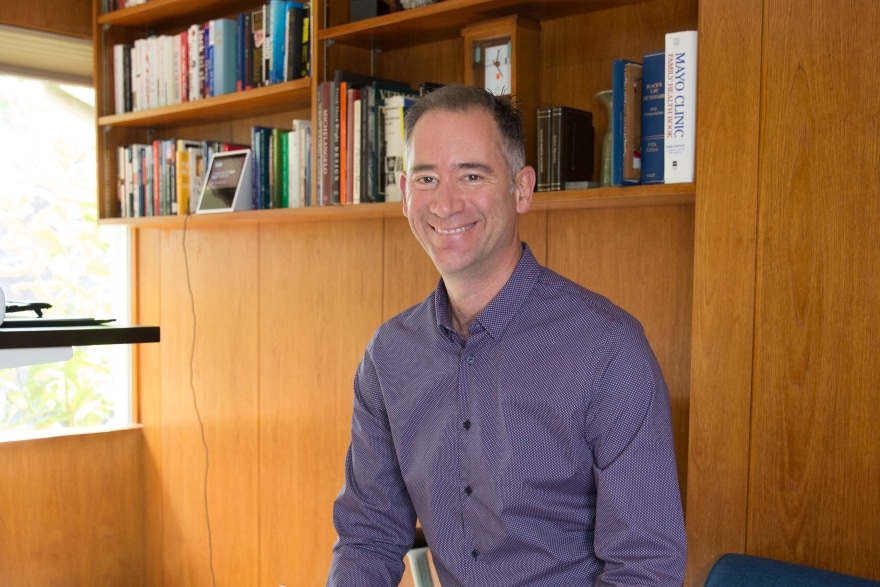 Enter Center for Excellence in Higher Education. Matthew Gerber, the organization's general counsel, says it's designed for nontraditional students such as single parents, veterans or older learners, who need an alternative path for getting their degree in order to secure a better paying or more rewarding job.
"Our mission is to help students underserved by the higher education system because of, in many cases, socioeconomic status," he says. "Our students generally have a good amount of working experience and talent. That shouldn't be wasted because of a lack of knowledge and skills that can be taught and learned in an efficient manner."
Online exclusive
Center for Excellence in Higher Education is a private career college institution that prepares graduates to find better jobs more quickly through skill-driven learning in healthcare, business, graphic design, IT and more. Based in Salt Lake City, Utah, the nonprofit also operates online and in Idaho, Arizona and California.
The center operates four colleges: Independence University, which is solely online; and three brick-and-mortar institutions: Stevens-Henager College with campuses in Utah and Idaho; CollegeAmerica in Arizona; and California College San Diego.
The organization had already been moving in a digital direction with more online classes, so Gerber says it was prepared when the COVID-19 pandemic hit last March.
"We weren't caught by surprise as much because we already had so many procedures and tools in place to support effective online learning," he says.
The institution serves almost 9,000 students across its four schools and most of them are now learning remotely because of the pandemic. Gerber says the organization focused more of its efforts in improving its online capabilities so everything would continue operating smoothly for students and staff. Aside from learning, financial aid services and other student support have all been provided online.
To address security risks that come with providing online education, Gerber manages the improvement of the organization's cybersecurity systems. He is helping the company move sensitive information to a secure cloud-based system, implement new password and single sign-on requirements and update data retention policies. He's also overseen all contracts with third-party vendors and has made sure the systems are secure and compliant with privacy and data security laws.
"With so much sensitive student information, we can't afford to have a security breach," he says.
Gerber also took the lead in providing guidance in keeping staff and students safe during the pandemic. The organization employs 1,500-2,000 people between its administrative headquarters and four schools. The guidance ensures safety standards are in place as well as quarantine protocols for people who are diagnosed with or exposed to COVID-19.
Fast track to the future
Being a general counsel, Gerber gets to do a little bit of everything. He oversees legal strategy, corporate matters, regulatory compliance, employee relations, litigation management, intellectual property protection and transactional matters.
"There's always something new," he says. "As general counsel I get to touch and see all aspects of the business."
Higher education is a highly regulated sector that is subject to federal and state oversight as well as monitoring by accrediting agencies. Gerber assists his company's compliance department to ensure the schools follow laws and regulations and meet accreditation standards.
Gerber says many companies aren't interested in hiring people for professional positions without degrees from a four-year college. The organization knows that offering accelerated degree programs approved by its accrediting body is important but isn't always enough to stand out to hiring managers. Therefore, it places an emphasis on skill-based learning and individualized student support services, which allows students to identify their interests sooner and gain tangible skills compared to traditional colleges, Gerber says. The goal is to put graduates on a fast track to a great job.
Intersecting interests
Gerber has been helping the organization grow ever since he was hired in 2003. He was instrumental in acquiring and expanding its schools and helped the organization convert to a 501(c)(3) nonprofit in late 2012. Tuition has remained relatively stable since that time.
Making education affordable is important to Gerber, especially since many of the organization's students are in lower income brackets. He wants there to be as few barriers as possible because he's seen the fulfillment that comes when someone follows their dreams. Growing up in Texas in his family's restaurant supply business, he witnessed his father work hard to make his own way.
Gaining that insight at a young age, Gerber discovered his career goal of becoming a lawyer to help businesses grow. When he was attending the University of Texas School of Law, he realized how interested he was in the intersection of education and technology as well.
Prior to working for Center of Excellence in Higher Education, he worked for technology companies and ran his own consulting company. His current position is where he feels at home, though, because he enjoys seeing firsthand how education transforms lives.
"I work with dedicated people focused on delivering an incredible experience to students so they can have the career of their dreams," Gerber says. "Life circumstances, whatever they may be, shouldn't be barriers to pursuing your goals."
Showcase your feature on your website with a custom "As Featured in Vanguard" badge that links directly to your article!
Copy and paste this script into your page coding (ideally right before the closing