Lilianna Kalin – College of DuPage
Shaping minds and policy in higher education
Given the complex and litigious environments in which many universities and colleges operate, having in-house counsel isn't just wise, it's often a necessity.
But it can be equally out of reach, particularly for smaller institutions and community colleges, says Lilianna Kalin. She's one of the rare ones, just the second general counsel for College of DuPage, the second largest higher education institution in the state of Illinois.
When the school's former general counsel was appointed to the federal bench, Kalin was hired to take his place, becoming the college's second general counsel in its 54-year history—and the first woman to hold that title.
"The position is relatively new for the college, and there's not a lot of general counsels on the Illinois community college circuit," she says. "So, one of my goals is to elevate and place the spotlight on the relevance of the role and its critical impact to the college-wide community and beyond."
New eyes on a new department
Founded in 1967 and located in Glen Ellyn, Illinois, the College of DuPage is a public community college serving more than 21,000 students—most of them from DuPage County and neighboring Cook and Will counties. The college provides courses in more than 170 areas of study, including culinary arts, social and behavioral sciences, communication, applied technology and much more.
In 2002, Illinois voters approved a $183 million bond issue that provided funds for the renovation and rebuilding of the Glen Ellyn campus, as well as the construction of several off-campus locations, including the Carol Stream Center (completed in 2004) and West Chicago Community Education Center (2005). In 2009, College of DuPage opened its new Health and Science Center, along with a Technical Education Center, further expanding the Glen Ellyn Campus.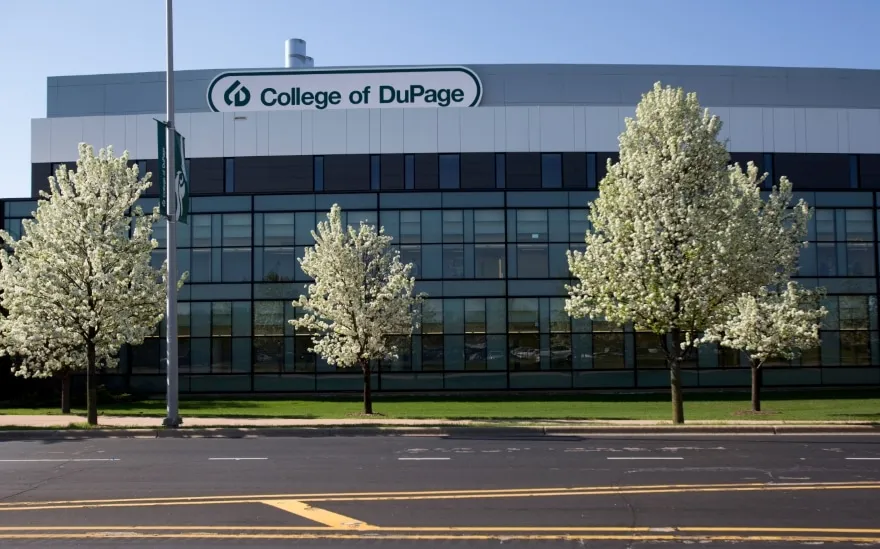 While those additions predate Kalin's arrival, she says she still has plenty to do—especially with the increased student and community engagement created by the facilities.
"I see myself as the guardian of the college's integrity and reputation from a legal perspective," says Kalin. "My role is to ensure that the College is legally compliant while maintaining a creative problem-solving environment."
Finding due process
Recently, the college engaged in a comprehensive review of its internal policies, revising everything from board governance to academic affairs and human resources.
In 2020, Kalin helped revise the school's statement of values—integrity, honesty, respect and responsibility—to include another word: equity. As she explains, "we provide services to everyone, and our job is to support them in any way we can. In 2020, we made sure that was known."
Finding support has been important in her career, too, Kalin says, and she's benefited from relationships with higher education attorneys, hoping to identify issues that exist across the higher education spectrum. One such issue is the amendments to the Title IX guidelines for sexual harassment and assault at publicly funded institutions.
Kalin says the Department of Education, under the leadership of Betsy DeVos, former U.S. Secretary of Education, implemented changes to the Title IX guidelines, granting new protections for those accused of campus sexual harassment and assault.
"Some of these changes have raised questions of whether the new rule has raised the bar unfairly against complaining victims," she says. "The rule is currently under review by the new Biden administration."
In the wake of the pandemic, Kalin has been immersed in providing legal guidance on how to reopen the school as soon—and as safely—as possible. In the meantime, and like many colleges and universities, the transition to remote and hybrid learning hasn't been without its challenges.
"The pandemic presented a lot of unknown factors. Safety is always paramount, but figuring out how we continue to run the school was uncharted territory for all of us," Kalin says. "For me, it's about ensuring that we're always one step ahead which can be difficult when there's new information and guidelines coming out all the time."
Indeed, if anyone knows the value of always staying one step ahead, it's Kalin.
Perfect timing
While studying history at the University of Illinois at Chicago, she initially had designs on going to medical school. After graduating, she worked as a paralegal at the Cozen O'Connor law firm in Philadelphia, gaining hands-on experience in litigation. Three years later, she returned to Chicago—this time as a student at Chicago-Kent College of Law.
As Kalin was accepted into law school, a paralegal position at Cozen O'Connor's Chicago office opened, allowing her to work as a paralegal by day and a law student by night.
"Looking back, working full time and attending law school at night is not something I'd recommend," Kalin recalls with a laugh. "At the same time, I have great pride in the level of commitment and determination I applied to reaching my goals."
Kalin says one of her most memorable moments in law school was when her trial advocacy instructor, Patti Sudendorf—a Cook County state's attorney—introduced her to Chicago-Kent's trial team.
"Being on the trial team, coached by some of the best attorneys and judges in the state, strategically set the pace for what I wanted to do next," she says.
Before Kalin joined the College of DuPage, she was working in the Cook County State's Attorney's Office as an assistant state attorney—first in the criminal division and later in the labor and employment division. She says the switch to labor and employment was exciting, giving her the opportunity to defend elected officials and their offices against civil actions.
"It was a chance to practice from a sole practitioner perspective without the benefit of having the kinds of resources and budgets of top law firms," Kalin recalls. "It was incredibly challenging. But I also learned a lot about myself—and created lifelong friendships as well."
After leaving the Cook County State's Attorney's Office in 2013, she decided to go in-house, taking a position at the Cook County Health and Hospital system as a senior labor attorney. There, she handled tough employment issues including layoffs, contentious contract negotiations and a full-on reorganization for the second largest public hospital system in the country.
When her position was dissolved in 2018, Kalin was determined to keep moving forward.
"Time worked in my favor," she says. "As one door closed, another opened."
At the time, the College of DuPage had just hired its first general counsel. Kalin was hired in the summer of 2018 as the assistant general counsel, responsible for negotiating labor contracts and providing support on traditional in-house counsel matters, such as governance and board advisement.
When the general counsel was appointed to the federal bench, Kalin was promoted.
"It's been an honor to serve this institution," Kalin says. "Each day brings new challenges, but they always end with a reminder of the amazing things that happen here. Like so many of my colleagues, I'm excited for the future."
Showcase your feature on your website with a custom "As Featured in Vanguard" badge that links directly to your article!
Copy and paste this script into your page coding (ideally right before the closing