Christine Kurek – Activision Blizzard
Creative, corporate and compliant
The Golden State among the most litigious, it might become even more so come the new year when a host of new laws in California go on the books.
Christine Kurek, vice president of legal at Activision Blizzard Inc., a publicly traded interactive entertainment company focusing on video games and esports, will be among those monitoring the effects of the new laws in states like California.
Labor and employment law among her primary areas of concern, Kurek is responsible for compliance with ever-evolving rules and regulations while finding creative means of supporting an ever-growing business model.
"When you're in-house, one of your jobs is to understand the law through the lens of your company and the industry," she tells Vanguard this past autumn from Activision Blizzard headquarters in Santa Monica. "In a vacuum, the law may appear to be one thing, but in actuality it can be something very different. To me that's the interesting thing about being in-house: working with the business side and coming up with a way to create a better work environment for all."
Creativity in the works
Creative and corporate aren't typically two words that go together, but for Kurek they may be the best description of her responsibilities with the over $40 billion company that she's served since early 2010.
Activision Blizzard's hallmark, after all, is creativity, with the company named one of the 50 best workplaces for innovators by Fast Company magazine. Under its umbrella are over 9,000 workers worldwide, with notable business expansions a result of the 2016 acquisitions of King Digital Entertainment and Major League Gaming Corp.
Kurek has partnered with other in-house lawyers to facilitate successful integrations, tailoring solutions that fit the culture of each entity and advising on employment, benefits and immigration.
"It's not just about the new laws, it's also about keeping abreast of trends," she says. "It's partnering with the human resources and business teams so as things change, the processes are adapted more seamlessly. Collegiality and partnerships have to be very important across a company."
And in today's world, the same goes for technology, very appealing to Kurek, who finds it helpful in supporting the company's diversity and inclusion teams. For example, the company has successfully launched employee networks, with major events planned for Pride 2020, including a float in the Los Angeles parade. Events such as these, as well as bringing in innovative speakers to foster inclusiveness and spark creativity, are at the heart of what excites Kurek about working at Activision Blizzard.
"Technology can help connect employees and employers," Kurek says. "It can help people to overcome unconscious biases and give them a better understanding of laws and cultures. We use it in such areas as online training against harassment and discrimination."
She means business
Being a former entrepreneur gives Kurek more across-the-board awareness of what's at stake in a company. In 2006, a decade after graduating from the University of California, Berkeley, School of Law, she left her position as Yahoo! Inc.'s first in-house employment lawyer to launch Buxom Inc., her own brand of women's sleepwear, in Los Angeles.
"Only the timing wasn't that great," she says with a chuckle. "How was I to know the economy would crash a couple years later?"
Though it did, Kurek seems to have no regrets, emphasizing the importance of any lawyer being prudently proactive in taking on new challenges. Besides, as she'd come to discover, she had missed the intellectual challenge of the law and finds the collegiality of practicing as part of an in-house team immensely fulfilling. As an entrepreneur she had first-hand experience in so many business aspects that would make her attractive for another in-house role, which is where Kurek feels most at home.
"The nature of in-house is so different from being at a firm," she says. "You are part of the business team and get to work on projects that move the company across the line."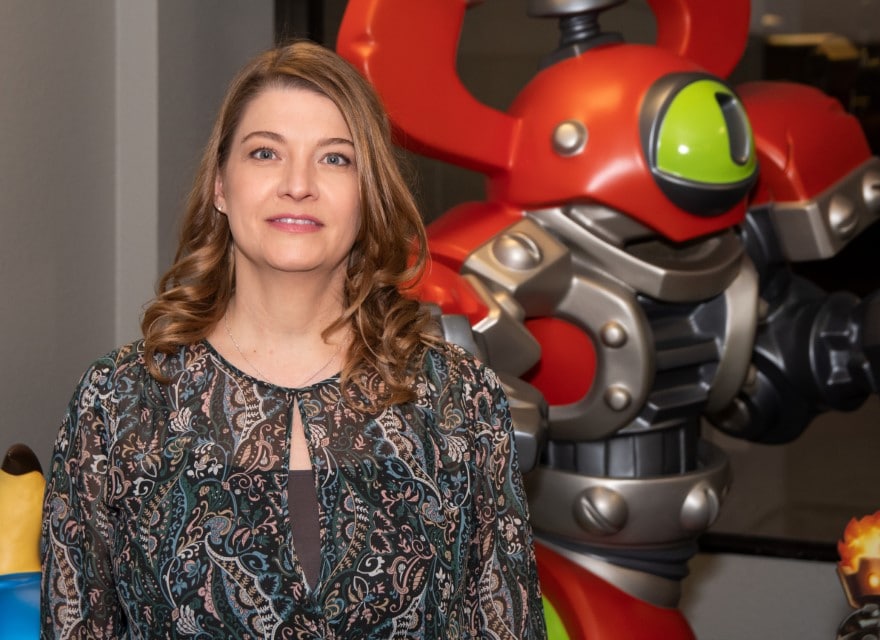 Kurek speaks fondly of the three years she spent early in her career as a litigation associate with Covington & Burling in Washington, D.C. "I can't say enough good things about how they helped develop me into a well-rounded lawyer," she says.
A five-and-a-half year stretch at Yahoo! Inc., would follow, with Kurek establishing the employment law function in the U.S. and fostering partnerships among the legal, HR and business units, much as she's since done at Activision Blizzard for the U.S. and Canada.
Soon to celebrate her 10th anniversary at Activision Blizzard, Kurek is pleased to have been here for the long term. A thrilling ride it's been, she says, the 40-year-old company retaining the culture of a startup and being at the forefront of esports, which has opened up a whole new box of legal and business issues—and made a fan out of Kurek.
"Overwatch is so beautiful," she says of the team-based multiplayer action game and the focus of the professional esports Overwatch League. "I'm a big fan of our games and respect the creativity and hard work that our teams put into them."
Showcase your feature on your website with a custom "As Featured in Vanguard" badge that links directly to your article!
Copy and paste this script into your page coding (ideally right before the closing