Matthew P. Zinn – 8×8 Inc.
Evolving with the changing legal needs of the communications business
In retrospect, it seems to have worked out just fine that Matthew P. Zinn missed out on a summer associate position at a firm in Washington, D.C. after his first year at George Washington University Law School.
A recession had lessened the demand for budding lawyers. But the time Zinn would spend painting houses in and around beautiful and bucolic Burlington, Vermont, in the summer of 1987, gave him ample time to plot his career.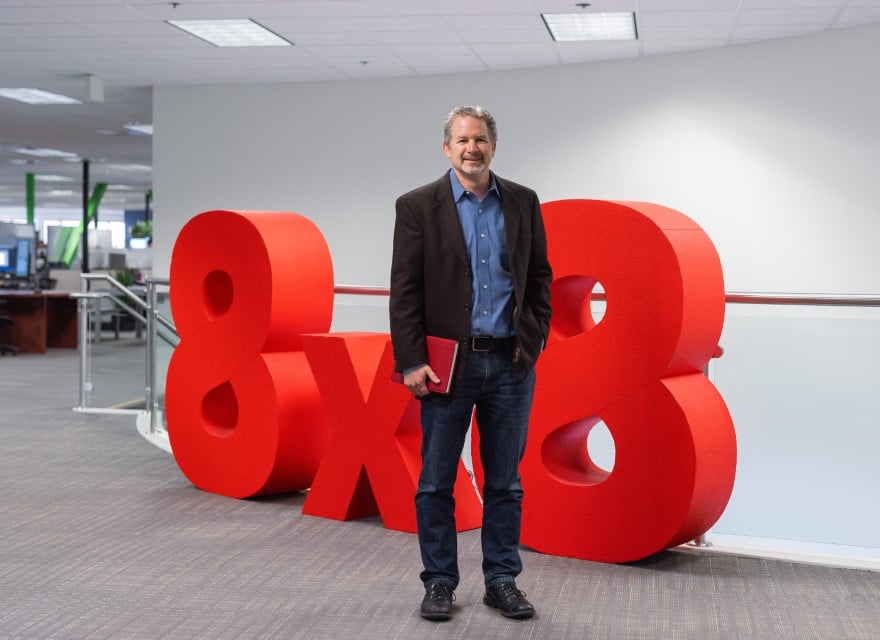 A deejay at WRUV(FM), the trailblazing University of Vermont radio station and journalist at the school's weekly paper, Zinn had a passion for media and communications. Prescient even as a political science undergrad, Zinn recognized that the media and communications world was about to undergo massive change; and that would create opportunities for lawyers who understood this very specialized landscape.
After returning to law school, Zinn secured internships with the legal department at National Public Radio and then the Federal Communications Commission. Upon earning his juris doctorate in 1989, he had positioned himself well for a career in communications law. He would cut his teeth with a couple of Washington, D.C. law firms, advising clients on regulatory compliance, then embark on a string of in-house positions with media and communications companies that, in September 2018, would bring him to the cloud communications disrupter 8×8, Inc. as senior vice president, general counsel, secretary and chief privacy officer.
Wired for communications law
"You've got to do something that interests you," Zinn tells Vanguard in October from 8×8 headquarters in San Jose, California. "Otherwise you'll spend a lot of time thinking about how you'd like to be somewhere else. My work is and has to be more than just a job."
It's also a position that called for fast orientation in a competitive and dynamic industry, with Zinn soon in charge of a staff of 25 that included 15 lawyers, some in San Jose and others in Minneapolis, London and Singapore.
The London team Zinn would get to know quickly. Just a few weeks into his new role, he had to finalize 8×8's acquisition for an undisclosed price, of Jitsi's video communications technology and team that would enhance the parent company's unified communications technology platform.
Integrating the new crew posed issues that acquiring companies rarely have to deal with, Zinn says, as a quirk in immigration law came into play because of Jitsi's largely European workforce.
"Though their employees were based in the U.S., most of them weren't U.S. citizens," he explains. "We had to move them to our London office until we can bring them back to the U.S. under a different visa. Corporate visas don't translate from one company to another."
Last July's $125 million acquisition of Wavecell Pte. Ltd., a Singapore-based Communications Platform as a Service provider didn't entail as much red tape and has opened even more revenue streams, particularly in the lively Southeast Asian market, without cannibalizing 8×8's existing assets.
"Those acquisitions make us dramatically stronger and there could be more," Zinn says. "That calls upon the legal team to conduct due diligence and ensure that the transactions are done correctly and promptly. You want to do it quickly but accurately, and in my role I'm filtering out the noise."
Transcending legal
Zinn goes on to say that in general, the less the business department has to think about legal matters, the better, though not necessarily vice versa. The role of a general counsel transcends legal; he's equally counted on for business and strategic guidance.
For Zinn it comes down to the way he manages his team.
"My goal is to hire talented people who are smarter than me. It's not hard to do," he says with a laugh, "but my role is to ensure they translate legal into business and think about their work from a business standpoint. Our CEO [Vikram Verma] and executive staff don't want to hear about law; they want good advice about how to manage legal situations."
8×8's customers requiring compliance with security standards and data protection regulations worldwide, Zinn recently hired a chief information security officer, Michael Armer, whose high-tech credentials are enhanced by an MBA from the University of Southern California.
A Certified Information Systems Security Professional—the industry gold standard—Armer is also a member of the CISO Executive Roundtable; the nonprofit link between U.S. businesses and the FBI, InfraGard and the American Bar Association. He works closely with Zinn as 8×8 revamps data security—a responsibility that will only grow as the rest of the world borrows from the European Union's General Data Protection Regulation.
"This company has evolved a lot in just my one year here," Zinn says. "It was attractive to me because of the way it morphed. It was so ahead of the curve in understanding the power of owning a unified cloud-based communications technology platform."
And it's done more than just OK on the innovation front, 8×8 at last count being awarded over 170 patents that Zinn's department will protect. There'll be more en route, 8×8 being in such a fast-evolving industry; one in which Zinn feels most at ease.
Indeed, it's the industry where he's spent most of his legal life, at times grasping trends that would make him marketable even as some of his employers changed hands.
After law school, he'd serve a total of six years with the firms of Fisher Wayland Cooper Leader [now part of Pillsbury Winthrop Shaw Pittman] and Cole Raywid and Braverman [now part of Davis Wright Tremaine], at the forefront as the rules and regulations changed for electronic media. That prepped him for an in-house role from 1995 to 1998 with Continental Cablevision in Los Angeles, and then for a couple years in Denver with MediaOne Group prior to its acquisition by AT&T.
He'd return to the Left Coast in 2000 for a 17-year stretch as the first in-house lawyer for TiVo Inc., his legal-business-tech savvy indispensable as the company went from an analogue to a digital world. He'd also spend over a dozen years successfully enforcing TiVo's pioneering DVR patents against the likes of the Dish Network, AT&T, Verizon, Motorola, Google, Cisco and Samsung.
Zinn also structured deals with cable and satellite operators to expand TiVo's software reach, but soon after TiVo's 2016 acquisition by Rovi Corp. Zinn would take his skills to a virtual and augmented reality startup in the Bay Area for 16 months and then move on to 8×8.
"With 8×8, I was looking to join a company riding a wave of disruption as opposed to staving it off," says the 55-year-old married father of two. "This is the place to be."
Sure beats painting houses, though Zinn won't regret that gig which gave him so much time to wish he was elsewhere.
Showcase your feature on your website with a custom "As Featured in Vanguard" badge that links directly to your article!
Copy and paste this script into your page coding (ideally right before the closing