Donna Bunch Coaxum – OSI Group
A GC indulges her appetite for supporting careers
For Donna Bunch Coaxum, food isn't just something that goes on her dinner table; it's her career.
Her first job was as business counsel for Kraft Food Inc., where she stayed from the early 1990s to 2001. Following that job, she became senior counsel for OSI Group LLC, an over $7 billion global consumer food products manufacturer that supplies products and services to companies, including McDonald's, Burger King, ALDI's, Subway—and, of course, Kraft.
However, due to her husband's job, which required a move from the OSI headquarters in Illinois to California, Coaxum stepped away—only to return 6 years later in 2009. In total, she's been with the group for over 12 years and currently serves as senior vice president, general counsel and secretary.
Coaxum says she's been delighted to return to OSI, which operates 65 facilities across 17 countries on four continents with over 20,000 employees. Beyond her passion for the food manufacturing industry, she says her focus is the thousands of employees.
"I try to help everyone I meet, including my current OSI legal team of 12, with a sincere interest to help them work and achieve their goals more effectively," Coaxum says.
Food and (digital) chips
Currently, Coaxum and her team are working with other departments to integrate artificial intelligence into OSI's contract management. Once the new system is implemented, employees will no longer have to manually check the status of a contract. Instead, the system will alert users of a contract's status through digital notifications, including which need immediate attention.
Coaxum hopes the updated system will also help OSI better manage mergers and acquisitions, as well as compliance with key performance indicators—think client retention rate and profit margin—and other business regulations through the metrics the system generates.
Another part of the upgrades is assessing and updating the part of the artificial intelligence platform used to manage critical incidents, which are event or circumstances that can potentially expose the company to injury, harm, loss or regulatory liability, she says. Developed nine years ago, the CI platform is updated so users can handle crises from anywhere in the world via the company's website or mobile platforms.
"Technology improves efficiency, but we're not ruling out the human factor," Coaxum says.
Multifaceted DE&I
Coaxum is also an executive member of the DE&I council, which her colleague Julie Yeary created in 2020. The council formalizes the OSI's goals for recruiting more diverse talent, and its members include employees with different races, ethnicities, genders and experiences, including those at different stages in their careers and time spent at OSI.
"The council was started as OSI's formal commitment to dedicate resources to career growth, skills training and continued education while ensuring that employees understand the organization recognizes them and their contributions," says Yeary, the senior manager of talent acquisition and diversity and inclusion. "We want to create opportunities that will allow all our employees to reach their goals."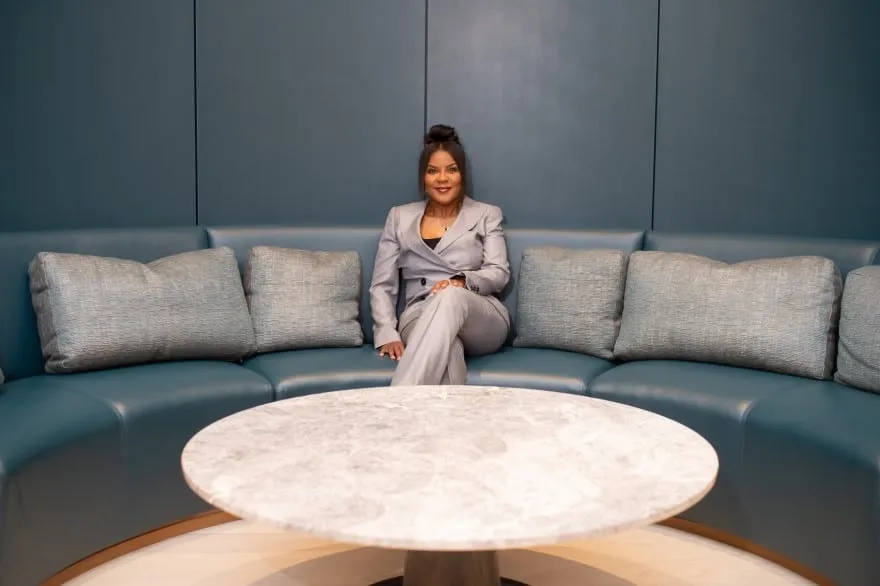 Most recently, based on some of the committee's suggestions, Yeary, OSI's president and Coaxum met with the chief executive officer and other members of World Business Chicago, a public-private development agency seeking to spark inclusive economic growth.
WBC is connecting them to Chicago's city colleges, and with the colleges, OSI is formulating a curriculum for those who don't want to obtain higher education but do need training to become production and operations leaders within OSI.
"We'll either hold classes at OSI or at various colleges and universities, where everyone can access them easily without being a student," Coaxum says.
Surprise networking
Coaxum is also working on outreach programs with universities outside of work. Her daughter Maya, a recent Brown graduate, worked with Chicago State Foundation's executive director, Darrious Hilmon, to institute a $500 book scholarship for single mothers.
The whole family got involved. Coaxum's husband and his restaurant donated funds to cover several book scholarships. At the scholarship fundraiser, Coaxum purchased a table of 10 seats for students in need who then not only attended, but also received the book scholarship.
"I felt that the students should have front row seats to see, firsthand, that my family, other donors and the university is investing in them," Coaxum says. "Hilmon interviewed my daughter along with a mother, who said Maya and others' financial support and encouragement helped her believe she can earn a college degree. Now, she and her son will be graduating at the same time."
The struggle feels familiar to Coaxum, who left OSI to move with her husband when he got a promotion. During subsequent moves and jobs, she added to her Bar membership in five states—Wisconsin, Illinois, California, Pennsylvania and Georgia—but the California Bar exam was the hardest with a 35 percent passing rate.
She'd study from 3 to 7 in the morning then go to work—and continue studying from seven to nearly midnight. Coaxum passed with such a high score the California State Bar Committee of Bar Examiners invited her on as a grader.
Now back in Illinois and once again working for OSI, she encourages young law students by speaking at school events and even helps create courses to help law students navigate their careers.
"Of course, fate and faith help," Coaxum says. "I left Kraft after having a child due to the commute—and then met OSI's CEO at a non-professional event. When he handed me his card and insinuated that the commute would be much better, I nearly leapt at the amazing opportunity, and I'm delighted to still work directly with him today."
View this feature in the Vanguard Winter I 2022 Edition here.
Showcase your feature on your website with a custom "As Featured in Vanguard" badge that links directly to your article!
Copy and paste this script into your page coding (ideally right before the closing