Edward Burns – Wheel Pros
A steady hand at the wheel
Imitation may be the sincerest form of flattery, but the extent to which some people go to imitate someone else's patented products can have Edward Burns shaking his head.
Automotive wheels are not easy items to infringe upon, he remarks. Especially when they are big, molded and branded with recognized names, and usually sold four at a time. They certainly aren't easy to lug around in the back of a truck.
But infringement still happens, and that's one of the matters Burns must contend with in his role, since last year, as general counsel of Wheel Pros.
As the Colorado-based heavyweight continues its global expansion with the design, marketing and distribution of aftermarket automotive wheels, the more the company is at risk to trademark and patent infringement.
"With growth always comes issues," Burns tells Vanguard from Southern California, one of the many locales where Wheel Pros has an operation. "And I'll expect to see more issues from overseas. IP and HR will be the largest consumers of my time in the near future."
Infringers take notice
Having had Wheel Pros among his corporate clients during a long stretch in private practice, Burns has been a comfortable fit as the company's first and still only in-house lawyer, though that may change as the to-do list lengthens.
The past couple of years he's helped the company—from outside and inside—prevail in four trademark and patent cases that garnered monetary damages against Chinese companies selling Wheel Pros knockoffs abroad.
"It was a real bonus for us," he says. "A lot of knockoffs come from China, and this sends a message there as well as to the rest of the world."
He's confident that message has been further emphasized by Wheel Pros' tighter ties with Jones & Co., a Toronto-based firm known for expertise in intellectual property, licensing and franchising, and international law. Because the firm registered Wheel Pros' products in multiple jurisdictions, customs officials are better able to crack down on infringers.
"They are the experts in China and are really the brains behind the success," Burns says of Jones & Co. "I'd really like to give them the credit."
Though infringement isn't all that's on the docket. Wheel Pros doing much business online, there's the need to ensure data security, especially with the European Union's General Data Protection Regulation and its heavy fines for noncompliance.
Also bent on being a good corporate citizen, Burns reviews Wheel Pros' manufacturing to ensure it meets the voluntary environmental standards of the U.N. Global Compact.
Then there's the U.S.-Chinese tariff dispute that has had Wheel Pros' products absorbing a 25-percent hit, causing the company and its manufacturers to find ways to eat the added costs as well as move more operations back to the United States. Wheel Pros secured South Carolina tax credits to reopen a shuttered factory there, creating several hundred jobs in the process.
"At least that will be a positive from the trade war," says Burns, who reviewed the tax incentives and various contractual and regulatory matters to get the factory in operation. "It's always nice to stamp 'Made in the USA' on our products."
Passionate for IP
While some might find IP law less adrenaline-provoking than other aspects of the legal profession, Burns rightfully anticipated its growing need over 20 years ago. Then a student at the University of San Diego School of Law, he worked on a successful patent infringement case on behalf of American Racing and was hooked on IP as well as the automotive industry.
Quite the combo to grow on, he says, with most wheel companies having a strong presence in Southern California where love for automobiles and the open road can be near-religious.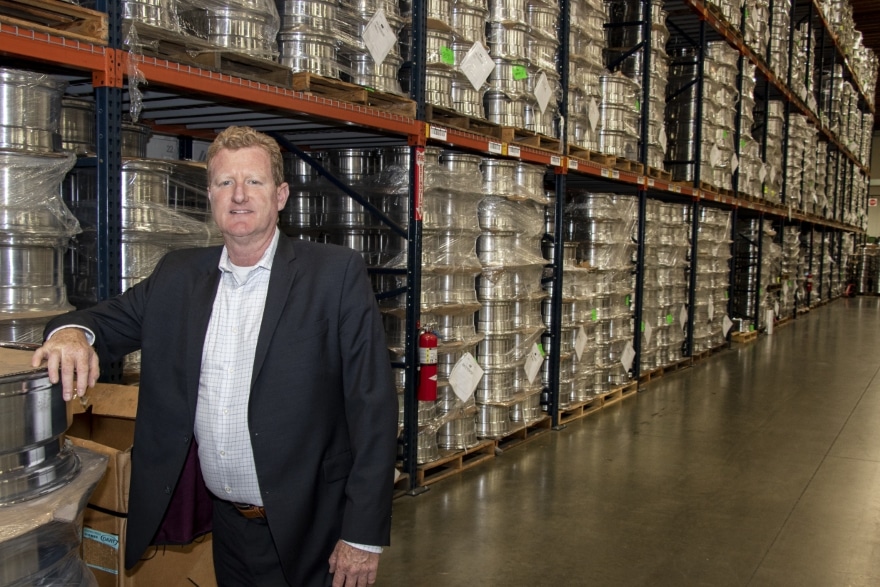 "I wouldn't be a good fit for just any company," Burns concedes. "You've got to find an industry that really interests you, one where you'll make yourself valuable, relate to your colleagues and contribute on all levels."
He's obviously found it and had been prepping for something along those lines since his law school graduation in 1999. Burns would spend his first 11 years with Freeburg, Judy & Nettels, then the next nine years as managing partner at Burns & Schaldenbrand where duties included litigating IP cases and handling general business law for Wheel Pros.
It was a role in which he'd get to know his future colleagues on a personal as well as professional level.
"You really need relationships with the people you work with—the CEO, the marketing team. It's only after you get to know those guys and their jobs that you're able to best serve them," he says. "I know the ins and outs of the company. A lot of lawyers just sit at their desks and spit out documents and advice. I find you can't do that if you don't know all the players involved."
Besides, he reminds, there's fun to be had when one is so immersed in company culture.
For Wheel Pros is also a lifestyle brand, one that sponsors pro athletes and such sporting events as NASCAR and IndyCar where one can see the company's products holding up under pressure. You'll often find Burns partaking in the fun, cheering from the stands and mingling with drivers and sponsors.
He's happy to say that this past May, the company's booth at Overland Expo West in Flagstaff, Arizona, had a good many of the 22,000 attendees admiring just how Wheel Pros' wheels fit the needs of so many specialty vehicles as well as conventional ones.
From such fun business partnerships can be forged, says Burns, who equally relishes the business and legal sides of his position and how they complement each other.
"As an in-house lawyer, you've got to tailor your advice to the goals of the business," he says. "Don't be the kill-business unit and lose your credibility. There are risks inherent in any business and you have to manage them."
And, of course, be on the lookout for those unduly taking credit for what the business strives so hard to produce.
Showcase your feature on your website with a custom "As Featured in Vanguard" badge that links directly to your article!
Copy and paste this script into your page coding (ideally right before the closing