Matthew Bagley – Security National Financial Corporation
Drawing from the past to develop the present
At the age of 19, Matthew Bagley was up for just about anything—even flying to Hong Kong and learning Cantonese. It was a wild ride for this boy from Utah.
Actually, Bagley had no idea he'd be heading to Asia. As a soon-to-be missionary for The Church of Jesus Christ of Latter-day Saints, you don't get to pick where you're going. Instead, you receive two months of training after being assigned a mission—often in a far-flung locale.
When his plane landed in China, Bagley began assimilating into a local culture vastly different from the one he experienced in Utah. He learned the language, tasted new foods, and took in a landscape far different from the mountains of Utah.
Now as the general counsel of Security National Financial Corporation—a financial services company based in Draper, Utah—Bagley says his time abroad forced him to learn and adapt, a skill that's come in handy throughout his legal career.
"Constantly finding myself in different environments—where I didn't have the background—forced me to dig in, learn and get up to speed," Bagley says. "That helped me adapt to new situations that required a short learning curve."
Legal sparring
Established in 1965, SNFC offers everything from life insurance products and mortgage lending to deathcare services. It's grown five-fold since he arrived.
Bagley was hired in 2008 to handle high-profile mortgage fraud cases in California, Utah and Colorado. Over time, he was given more responsibility, including other transactional, employment and regulatory matters. Recalls Bagley, "it took a year to run those three mortgage fraud cases through the pipeline."
For the first few years he worked on other litigation, handling contentious employment matters, administrative complaints and other "legal messes." Now, he not only managed the company's litigation, but those of its subsidiaries via outside counsel in other states where the company operates. The work includes a collection of foreclosure deficiency cases and he's appeared as pro hac vice in several high-profile cases outside of Utah.
Bagley says his focus on connecting with people—which he learned as a missionary—helps him build better business relationships with them. That, in turn, can help reduce litigation costs.
"Establishing a relationship with an adverse party or opposing counsel early on—often by just picking up the phone rather than shooting off dueling emails or letters—can help identify common ground that can hopefully facilitate a resolution," he says.
Up next
With his litigation duties beginning to abate, Bagley is devoting more time to employment, regulatory and commercial lending issues. Today, SNFC and its subsidiaries have a presence in 47 states and employ 1,800 people. To accommodate that growth, the company is building its new headquarters in Murray, Utah.
"My work functions like 'MASH' sitcom where something different develops every day and we triage," Bagley says with a laugh. "It's hard to predict what you may be working on or know what to expect when you walk into the office."
Drawing from the past
After spending two years serving the church overseas, Bagley returned to Utah in 1986, earning a degree in political science and Chinese at Brigham Young University in 1990. He then earned his J.D. and MBA at Brigham Young, graduating in 1994. During that time, he also went to Taiwan to better learn Mandarin.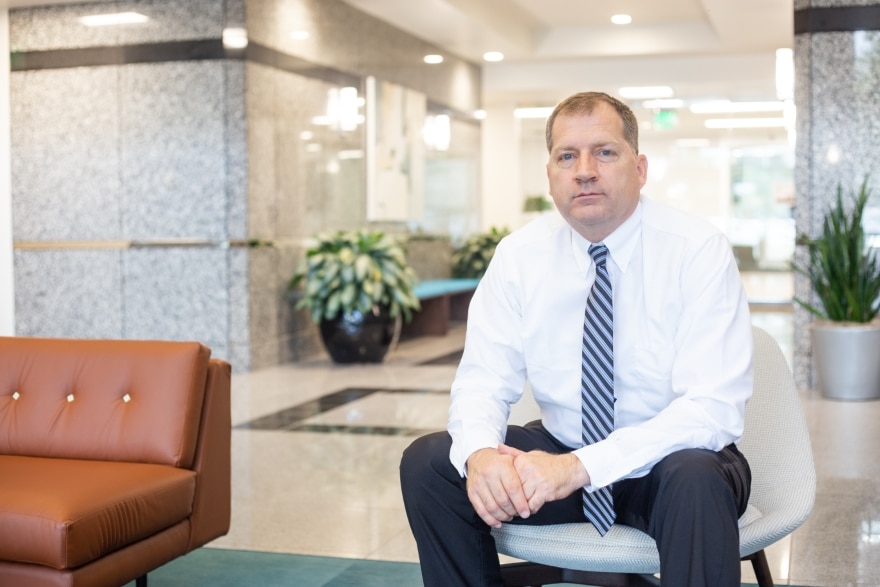 After graduation, he returned to Hong Kong as a contract legal consultant for Intel Semiconductor—primarily handling CPU counterfeiting issues and trademark infringement cases in the Asia Pacific region. He'd hoped to become a practicing attorney there.
"Things didn't work out," Bagley says.
Back in Utah, he took a job in 1996 as an associate at Bertch and Birch in Murray, handling medical malpractice, personal injury and bankruptcy litigation. A year later, he joined Kesler and Rust in Salt Lake City, focusing on commercial and civil litigation for almost 10 years before moving to Cohne, Rappaport and Segal in 2006. There, he worked in the real estate and construction space, handling title insurance defense and contracts.
For the last several years, he also worked afterhours as a freelance Chinese-to-English translator of legal and business documents for TransPerfect.
"A good litigator—and attorneys in general—should be problem solvers," Bagley says.
But as Bagley notes, some contentious matters can only be resolved through litigation—which, after all, was what brought him to SNFC. Thirteen years later, his litigation load is filled with more customer, regulatory, employment and transactional matters, and he relishes solving them.
"They relate to each other while also entailing a variety of issues and problems unique to the different companies," he says. "If I'm doing that job right, I'm finding a resolution. There's always an inherent satisfaction in solving a problem."
View this feature in the Vanguard Summer IV 2021 Edition here.
Showcase your feature on your website with a custom "As Featured in Vanguard" badge that links directly to your article!
Copy and paste this script into your page coding (ideally right before the closing