Fatima Arash – Diamond Properties
A diamond in the rough: Leasing in the wake of pandemic quarantines
During the height of the COVID-19 pandemic in 2020, most people only went to stores for essentials, like food and toilet paper.
This meant businesses like gyms, nail salons and bakeries saw very few customers for months. With revenue and foot traffic rapidly decreasing, many businesses began looking for ways to break leasing agreements.
At Diamond Properties, General Counsel Fatima Arash watched as owners shut down or moved their businesses online—thus losing incentives to keep a physical location.
"For some business owners, it just became easier to take a 'sue us if you want' approach, but I knew we could find a solution that worked for them and us," she says.
She's been with the New York-based commercial real estate leasing and management company since January 2017, so she knows many of the tenants and their attorneys well. Diamond has over 100 properties across 11 states, ranging from office, medical, industrial and retail to entertainment, self-storage, residential, lodging and land.
Arash reviewed many of the leases and ultimately helped many tenants switch to smaller locations by finding vacant, appropriately sized and priced spots in the company's portfolio. In some cases, tenants moved to places almost half the size of their original location.
"Many of our tenants were and are small businesses that we truly value in our community; none of us wanted to see them leave and give up on their dreams," Arash says.
Is the force majeure with you?  
Of course, no amount of expertise or innovation could keep 100 percent of the tenants in place—something Arash anticipated.
In early 2020, she began conducting significant amounts of legal research to determine if the pandemic fell under the force majeure frustration of purpose or impracticability of performance category. This clause in contracts covers natural disasters, such as hurricanes and earthquakes, as well as human-induced catastrophes like riots, strikes or war.
If the pandemic fell under this clause, it would excuse tenants under the rental contracts without any repercussions—leaving Diamond Properties to sustain major losses. However, Arash knew that courts were more likely to side with landlords and that an ongoing pandemic didn't excuse a delay in a tenant's rent payment or performance.
"We definitely did not want to take our tenants to court and engage in a costly and time-consuming litigation anyways," she says.
The goal was—and remains—to keep tenants in their spaces. So, she helped them downsize or reduce rent in other ways, such as switching electric companies or switching to LED, energy saving lights. She also adjusted some terms of the lease for the duration of the pandemic or permanently—or deferred base rent payments for a period of time and allowed some tenants with expiring leases to turnover their spaces early.
It was a learning opportunity for her, her team and the company. Now, she and her team keep an eye on the future and ensure that they're covering the possibilities of any "unforeseen economic trauma" in the company leases.
"We've become quite creative in terms of revisiting and reworking our existing and new contracts," Arash says. "We're still working closely with tenants to reach win-win situations as often as possible."
Adapting with velocity for mutual success
For spaces that didn't stay occupied, Arash and her colleagues helped Diamond Properties transform them into Velocity flexible workspaces.
These private and shared office spaces with short-term memberships became a place to work for those who didn't want to be at home but couldn't go into offices due to safety regulations. Arash says the benefits have lasted beyond quarantine; Velocity workspaces are still used by entrepreneurs in startups or small business as temporary offices.
"Our Velocity flexible workplaces promote productivity and community experiences, which we feel enables our members to get work done better, faster and more efficiently without being stuck in a traditional lease," she says.
These workspaces led to another new offering, as well. Listening to tenants and the general public's concerns, Diamond Properties partners decided to develop air purifiers, which could also be installed in the company's buildings.
To launch Air Purix, Arash drafted contracts and agreements, including the ones needed to obtain the trademark. She had to work faster than usual, but she was up for the challenge.
"There was a sense of urgency to get this new product to the market, specifically for our tenants as well as external landlords and building owners," Arash says. "This is a product that wasn't just important during quarantines but is still essential as people return to offices."
Balancing a career and life change
Even with the unprecedented challenges the company, Arash and her legal team have encountered since 2020, they've closed over $300 million in new acquisitions. They've also had major accomplishments, such as acquiring Memphis Depot Industrial Park for $180 million in June 2022.
Arash helped Diamond Properties close the deal on the commercial property. Its 43 buildings span 4.2 million square feet and are less than a mile from Memphis International Airport and less than five from downtown. She explains that an urban infill setting in such a convenient location is rare and gives Diamond Properties access to a large skilled labor force.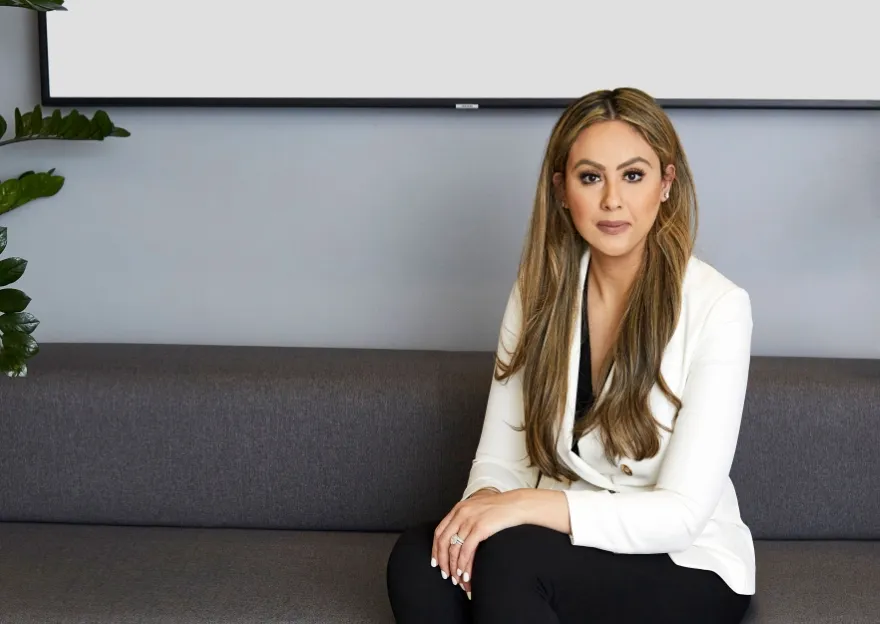 "This was one of the largest and fundamentally important transactions for our company—a complex deal that could've become messy, but I made sure that we had a structured approach and closed the deal quickly," says Arash, who prepared a redemption agreement while helping Diamond Properties place a loan with Wells Fargo and quickly buy out 50 percent of the partners.
To do this while responding to the challenges of the pandemic and preparing to welcome her daughter Celine to the world is exactly why she is so passionate about her work at Diamond Properties.
"I don't just love this job because it's action-packed—certainly more so than ever due to the pandemic—but because of its entrepreneurial spirit," Arash says. "Diamond Properties supports my goals as a female legal leader and gives me a seat at the table while allowing me the flexibility to be with my growing family."
View this feature in the Vanguard Spring II 2023 Edition here.
Showcase your feature on your website with a custom "As Featured in Vanguard" badge that links directly to your article!
Copy and paste this script into your page coding (ideally right before the closing