Fatima Arash – Diamond Properties
Bringing out the diamond in the rough
When Fatima Arash walked into her job interview at Diamond Properties, she says she didn't necessarily have all of the required experience (to be fair, the job description asked for a "seasoned lawyer").
What she had was a plan. Laying out a chart for the executive team, she mapped out exactly what she could accomplish for the company's new legal department in every quarter of the coming year.
Arash got the job.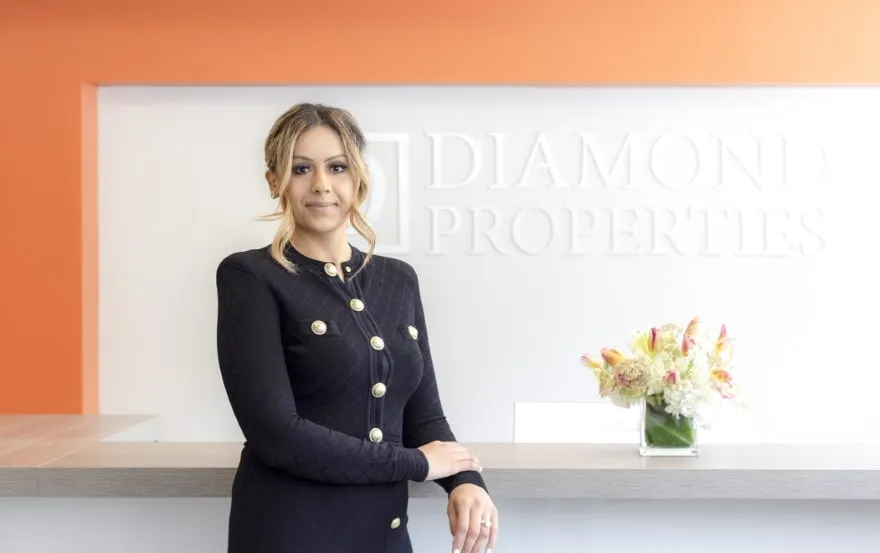 Almost three years later, the millennial general counsel is helping complete a series of big-ticket projects for the New York-based real estate developer with a billion-dollar portfolio: from transforming distressed properties and supporting multimillion-dollar real estate development deals, to setting up family-style multi-level racetracks with Dutch electric go-karts. Arash is laying down the legal groundwork necessary to seal the deals.
"Watching all of the hard work come to life and seeing the positive impact our projects are having on each community is rewarding," Arash says.
Bringing legal projects to the finish line is reflective of skills she's honed as a new breed of millennial attorney. With a style that embraces technology and transparency, blended with candor and social consciousness, it's a formula she sees as a successful litigation model in Diamond's nationwide expansion.
Diversified development
Founded in 1993, Diamond Properties was recently recognized by Westchester Magazine as the 2019 winner of Westchester's Best Real Estate Developer. The company is made up of three different business entities: Diamond Properties, Diamond Hospitality Group and RDI Inc.
The diversified portfolio covers a range of enterprises, encompassing the development and management of 70 commercial properties, including an award-winning Broadway-quality theatre, resorts, campgrounds, family entertainment offerings, laser tag arenas, escape rooms, arcades, bowling alleys, ropes courses and even an ice arena that's home to a hockey league team.
RDI Inc., a manufacturing and technology company, specializes in engineering and manufacturing an array of electronic products. With a commitment to solar power, Diamond has two solar projects considered among the largest rooftop solar arrays in New York state.
Additional business spokes include farm-to-table beef production and wines and spirits. "Each sector has its own set of challenges. As a GC you're required to navigate the complexities with good judgment as a counselor to your business teams with an unwavering moral compass," Arash says, joking that one of her bosses recently wanted to add pig farming to the mix. "Literally, no two days are ever the same."
No pressure, no diamonds
Arash recently closed a $43.5 million purchase of an industrial warehouse portfolio of properties located in Nashville, Memphis and Missouri. She handled everything from negotiating the purchase and sale agreement and loan documents to due diligence, title review, and preparing investor offerings and complex SEC filings.
In addition, Arash is helping development initiatives for three Detroit properties—an industrial portfolio valued at more than $8 million; a $12 million retail shopping center in New York; and acquiring a new mixed commercial use building in South Norwalk, Connecticut, (valued at more than $16 million) that Diamond will transform into rooftop dining and bar, and a family entertainment venue.
The company also recently started construction of an $8 million multi-level raceway with environmentally friendly Dutch electric go-karts, two years in the making.
Beyond the typical legal fodder—which can include everything from contract and disclosure reviews to negotiating eight figure purchase and sale agreements—Arash handles construction contracts; commercial lease agreements; filing of trademark applications; mediation and arbitration; negotiating and finalizing settlements; and high-stakes M&A.
"I'm involved at every level whether we're knee deep, or I'm watching from the sidelines, as GC I'm always making sure our investors and tenants are happy and we're closing our deals on time and within budget," she says.
It's all part of the company's effort to take on deteriorating properties and revamp them into modernized venues to make them a good place for recreation in the communities, Arash says, noting other projects are also in the works.
Closing in on more than $200 million in transactions to date, with another $65 million in the pipeline, Arash says the atmosphere is "super intense," but says working with co-CEOs James and William Diamond makes it easier, since their focus is on always doing "the right thing and creating win-win situations."
Accessing a specialist
Given the remedial, regulatory and environmental nature of many of the projects, Diamond Properties partnered with Nancy Mendel of Winnick Ruben Hoffnung Peabody & Mendel LLC of Connecticut.
Mendel has assisted in reviewing commercial and industrial properties with complex histories that Diamond has considered purchasing.
"I love working with Fatima. She's smart, competent and a delight to work with. The whole group at Diamond Properties is wonderful," Mendel says.
Millennial Mindset
One of the first high-stakes cases Arash had to resolve involved one of Diamond Properties' shopping centers. Because Diamond didn't have an in-house attorney at the time, a restrictive covenant buried deeply in an agreement had gone awry, requiring immediate remediation.
As Arash tells it, Diamond was potentially looking at a having to pay out a seven-figure settlement. In the course of the 10-month dispute resolution process, Arash fielded some contentious phone calls from President Trump's "Pitbull" attorney Larry Rosen—of Stormy Daniels fame—but was ultimately able to reach an agreement with the opposing general counselor working on the case.
"In the end, the company never filed suit against us, and we agreed upon a substantially lower settlement," she says, noting it was a key resolution and a "major win" for her, as a millennial GC only five years out of law school.
Arash credits her "millennial mindset"—an ability to serve as a business partner, legal guardian and promotor of company values all at once—for giving her the confidence necessary to resolve the case.
"As a young GC, you don't view everything as so compartmentalized; we are involved in setting the tone for company culture and are more involved in meaningful outcomes rather than just producing a legal invoice," she says. "We are part of the team, seeking sound solutions leading with good judgement and providing leadership to all the business teams throughout the organization."
Recipe for success
For Arash, it's a career path that was fated from the start. In fifth grade, she lost her class spelling bee in the final round. The word that tripped her up: attorney.
Needless to say, Arash no longer has trouble with that one—or any other legal term, for that matter.
Earning her bachelor's degree in an accelerated program at St. John's University, she immediately transitioned into St. John's School of Law, completing her J.D. in 2015.
Experience as an intern in cybersecurity—coupled with close to two years working as chief of research and compliance and general counsel at Walison Corporation in New York—rounded out her experience before she took the job at Diamond Properties in 2017.
As the company's first general counsel, she had to create the legal department from scratch. The goal, she says, was to align her department with the company's co-CEOs. Covering everything from general commercial disputes; labor and employment issues; human resources and compliance to high stakes M&A closings and post-closing disputes; the new policies were quickly embraced.
"Jim and Bill are visionaries and love big crazy forward-thinking ideas. When I presented my plans for the legal department, it made sense to them," she says.
Now, thanks to burgeoning opportunities with Diamond showing no signs of slowing down, Arash says the future looks bright.
Spoken like a true millennial.
Showcase your feature on your website with a custom "As Featured in Vanguard" badge that links directly to your article!
Copy and paste this script into your page coding (ideally right before the closing