Gareth Carline – Heli-One
Blue skies again
When he was in private practice, Gareth Carline regularly wondered why so many corporate clients waited so long to seek professional advice.
"I was often thinking, 'if you had talked to me earlier, we could have avoided this problem,'" he tells Vanguard in March.
The past seven years, Carline hasn't had to be so reactive, as a forward-looking member of the executive team at Heli-One. The Richmond, British Columbia-headquartered MRO provider—that's maintenance, repair and overhaul—for helicopters, has locations in Canada, Norway and Poland, and supports the global market.
For a lean legal team of a company with a growing international clientele, it's an exciting—and challenging—time to be in this industry, he says. As Heli-One expands its client base beyond the energy industry's helicopter operators to include more governmental and military operators, Carline juggles an array of responsibilities.
There's also further expansion into Europe, as Heli-One focuses on what had been an underused Polish operation that now seems a growth area, it sitting in an aviation region that's attracting big companies. Got to be proactive on that side of the Atlantic, Carline explains, with more helicopters and engines needing service and arriving from as far away as Asia.
Another takeoff
For Carline, the role can mean another quick course into the legal, business and cultural nuances of a foreign country with a need for outside counsel that he manages remotely.
"Compliance on employment law can be one of the biggest challenges for us," he says from his office in Richmond. "All these jurisdictions, each with a different approach. In the U.S. I have found it's generally no-hands-on, hands-off from the government until an issue comes up and then the regulatory boards weigh in. In Canada it's more regulatory across the board. Europe—very process-oriented."
And it's a much different company than when Carline joined as an employment lawyer in 2013. Back then Heli-One and its parent, CHC, were more about helicopter operations, but would transcend into MRO.
"I found the shift greater than I initially expected, given that operating and maintaining helicopters would seem like two sides of the same coin," he says. "Instead I found the MRO side to be quite a different business model, with far more transactional items, a very different liability regime, and a complicating context of having to balance the competing interests of operators, lessors and the original equipment manufacturers."
The technical demands and the need to find better storage options led him to assist in the patenting of Heli-Cell—a self-contained, soft-sided garage that monitors conditions and air quality in accordance with regulatory needs.
To meet these needs, Carline has brought together cross-functional teams to redevelop Heli-One's commercial processes to meet new third-party demands. He's also set up a structure for the rising demand in mobile repair teams. All these projects, he says, are done with a focus on providing value-added options for Heli-One's customers.
"It's been a big turnaround," he says. "A whole new experience with Heli-One becoming very much of a growing operation."
Sky's the limit
The past seven years have seen Carline's role expand significantly, though he still tends to human resource-related matters in North America and elsewhere. It's not all sexy work, he makes clear, but it contributes to keeping the blades turning: corporate record-keeping, intellectual properties oversight, lease negotiation, immigration law compliance etc.
He's helped establish operations in 15 countries and has played a role in keeping the company aloft when falling energy prices reduced its big-ticket clientele. In any sort of aviation industry one must expect the unexpected, he says, though he adds that it beats working in any other industry—or in private practice.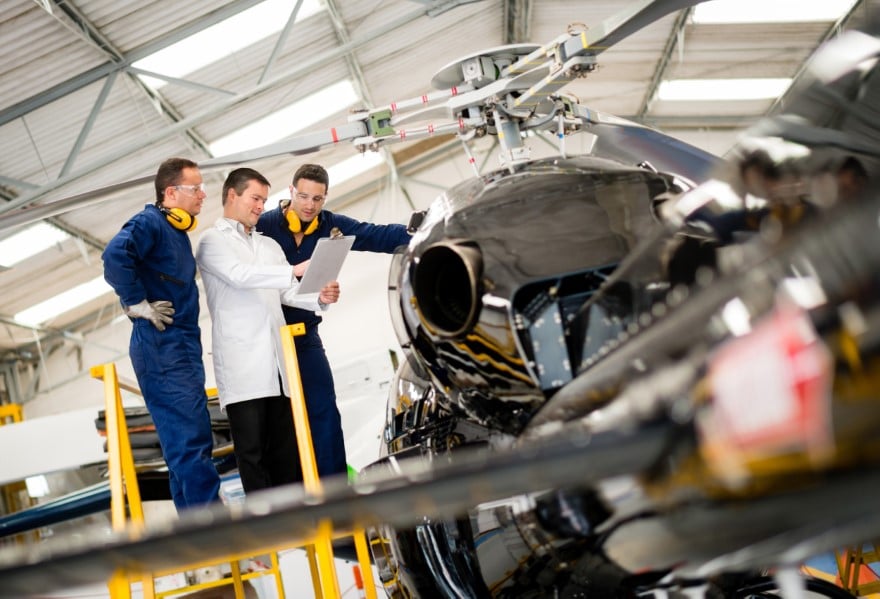 "When you work for a company, you're looking out for one client," he says. "It seems I've gone through the life cycle of this company in seven short years."
That life cycle at a glance: CHC going public, getting new ownership and executives, overcoming the challenges of the energy industry's downswing and expanding its MRO business unit.
None of which resembles what his TV role model would do, but Carline likes to think he has something in common with Perry Mason—something that transcends the fact that Carline and the late Raymond Burr both hail from British Columbia.
From out of the blue
"As a litigator, Perry always had a big twist with a witness," Carline says. "He knew how to break one down by hitting their soft spot."
While not going into too much detail, Carline describes how in private practice he had to question six witnesses on a client's behalf, and upon assessing their personalities was able to discredit each in a different way. Sympathy, pride, anger, empathy—whatever those witnesses were revealing, Carline found a way to use it for his "Perry Mason moment."
There's not much drama nowadays, the 2006 University of British Columbia commerce and law graduate says, but that's fine with him, given that the role of an in-house lawyer is to maintain stability. He credits the two law firms on his resume with giving him the skills and experience to be a general counsel.
Immediately out of law school, Carline joined the Vancouver firm of Farris LLP. "You could be a lot of things there, but wrong wasn't one of them," he says. "That has carried through with me."
In 2008 he'd become an associate for over four years with Kornfeld, a boutique firm noted for its close ties to many projects that shape Vancouver's sparkling skyline. There, he further honed his hands-on skills in labor, employment and commercial real estate, his capabilities in such subjects attracting the attention of its former general counsel, who reached out to Carline with a simple premise.
"The sales pitch was, 'C'mon aboard, helicopters are cool,'" Carline says with a laugh. "Even when the work is routine, it's still a great industry to be in."
Showcase your feature on your website with a custom "As Featured in Vanguard" badge that links directly to your article!
Copy and paste this script into your page coding (ideally right before the closing