Antoinette Currie – Global Contact Services
Calling for a challenge
It's a simple, almost quaint, notion in an age of email barrages, obsessive phone checking and video and teleconferencing: face to face interaction.
Yet Antoinette Currie makes a point to do this every day with her staff—and the general counsel and vice president of human resources for Global Contact Services, in turn, has the opportunity to meet regularly with her superiors.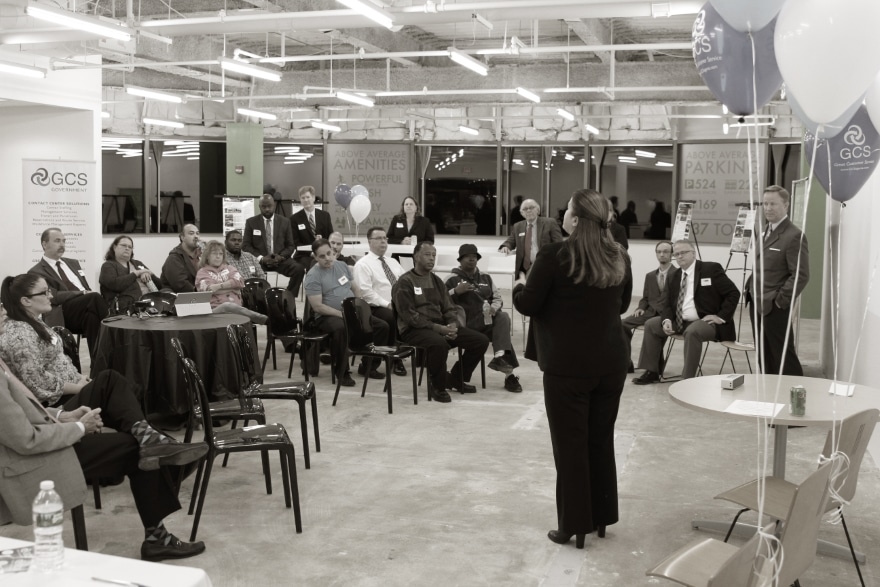 "If you can take 10 minutes to have an in-person conversation with someone rather than sending a five line email or making a quick phone call," Currie says, "it makes such a difference."
Thriving in a "charged" environment
Global Contact Services (GCS) specializes in contact center outsourcing, and also provides staffing, consulting, training and certification services. The 18-year-old company is headquartered in North Carolina, but Currie works in its in Long Island City, New York, location where it serves and shares an office with a main client, the New York City Transit Authority.
Specifically, GCS handles NYC Transit's paratransit program, which provides accessible transportation for the infirm, elderly or handicapped. Agents take between 8.2 and 8.5 million service calls annually for the program.
When Currie joined four years ago, call staff were in the midst of unionizing and settling contract negotiations with NYC Transit. All call center staff are now unionized through the 85-year-old Transport Workers Union of America (TWU).
"Interacting and negotiating with a difficult union was how I started," she says. "I'm getting comfortable in a gruffer environment. It definitely keeps us all on our toes."
In her dual role, Currie handles regular union negotiations, labor relations, matters involving workers' compensation and immigration, compliance with Occupational Safety and Health Administration (OSHA) laws, recruitment, team-building and compensation.
She has also implemented policies around attendance, tardiness and dress code, while coaching employees on striking the right balance between confidentiality and open communication.
"You can see the changing in mentalities, processes, compliance, the ease of how things run when everyone is a cohesive group," she says.
A thriving culture
Currie also highlights GCS' strong company culture as contributing to the team's overall success: Management observes an "upside-down" work chart (that is: employees are at the top), while providing ongoing training around customer service and soft skills. Company founder and CEO Greg Alcorn even wrote a book on the subject, "7 Dumb Things We All Say: Smart Ways to Improve Every Relationship."
With an aim to develop and retain employees, GCS also has an extensive management training program. Over a 90-day period, top-performing workers learn discipline, management, coaching and other essential leadership skills, Currie explains.
She supports this program in her HR role; looking ahead, she is also focused on establishing a roadmap for that role while growing a strong HR team. Another goal is to update the company's human resource information system (HRIS). In doing so, Currie aims to move away from manual, redundant, time-intensive processes so that employees can be interactive in other areas.
Similarly, because HR and legal "can get into paper documentation of everything," Currie is reorienting toward more sustainable practices around document scanning and automation.
"I've read lot of things about in-house counsel losing their spark, and their skills not being up to snuff," Currie says. "But I can definitely say that I don't feel that is the case for me, especially in this role and in this environment."
Teamwork, communication, efficiency
Currie joined GCS in 2016, starting out as a human resource counsel before becoming the company's first general counsel and vice president of human resources less than a year later.
A poli sci undergrad from the University of Massachusetts Boston,
she began her career in HR, serving as an HR coordinator and specialist with HP Hood LLC, then as a human resource generalist with United Electric Controls.
After receiving her JD from Roger Williams University School of Law in 2011, she worked in private practice as a labor and employment attorney and foreclosure litigation attorney—but her goal was always to find a way to integrate her HR background and her law degree, she explains.
When an opportunity came up at GCS, she wasn't swayed by the unique work environment or the ongoing interplay with the union and NYC Transit. The only female and the youngest member of the company's executive group, she says she's learned to be "comfortable" in uncomfortable environments. Her goal is to pass this skill—among others she's gleaned throughout her career—on to colleagues to help them advance their careers.
"Promoting career growth is very big in the company, and it's a big goal of mine," Currie says. "That's how I made my way through human resources and law school—growing from within."
Showcase your feature on your website with a custom "As Featured in Vanguard" badge that links directly to your article!
Copy and paste this script into your page coding (ideally right before the closing