Lisa Stephenson – CRST
Shipping crisis du jour? Lisa Stephenson will figure it out
Hungry truckers. Civil unrest. Forest fires. Derechos, hurricanes and a pandemic. The only thing that might be missing in 2020 are the locusts, but Lisa Stephenson still maintains she's the luckiest lawyer in Iowa with the best job in the world.
As the vice president and general counsel at CRST International—one of the nation's largest transportation and logistics companies with more than 5,000 employees across the U.S.—COVID-19 rocked her world. Joking that her office is more like a call center these days with her phone "ringing off the wall," Stephenson responds to a steady stream of lega needs.
She's quick to point out the company wouldn't be able to keep toilet paper on the shelves and blood plasma and medicines in the hospitals without a committed team. Heroic truckers endured miles on the road without a hot meal or even a bathroom, at times, to make those deliveries.
"The year's been insane, but the talented people I work with have faced these challenges with spirit, courage and determination," she explains. "Our trucks never stopped for one minute—we kept the wheels moving all day, every day."
Rolling, rolling, rolling
No question, she didn't learn this type of stuff in law school, jokes Stephenson, who joined the Cedar Rapids-based transport company in 2016.
Thankfully, she admits, she's a strong local girl who doesn't scare easily, the type of person who likes to "unravel a ball of yarn" to solve difficult problems.
With COVID-19 crisis, complexities touched all aspect of the business, from drivers and dispatchers to diesel mechanics. Add to that DOT regulations and other laws that vary in every state. Then factor in the smorgasbord of regular legal issues—including employee privacy issues—and there's plenty to unravel.
"It was most certainly a baptism by fire," Stephenson recalls. "Figuring out ways to socially distance maintenance technicians and team truckers sharing a cab were just some of the questions involved in keeping essential workers on the job and repair shops going. With new issues surfacing daily it became a colossal game of whack-a-mole."
Early on, CRST—like other businesses—wasn't clear on the magnitude of the pandemic, but it became evident the coronavirus was not the flu.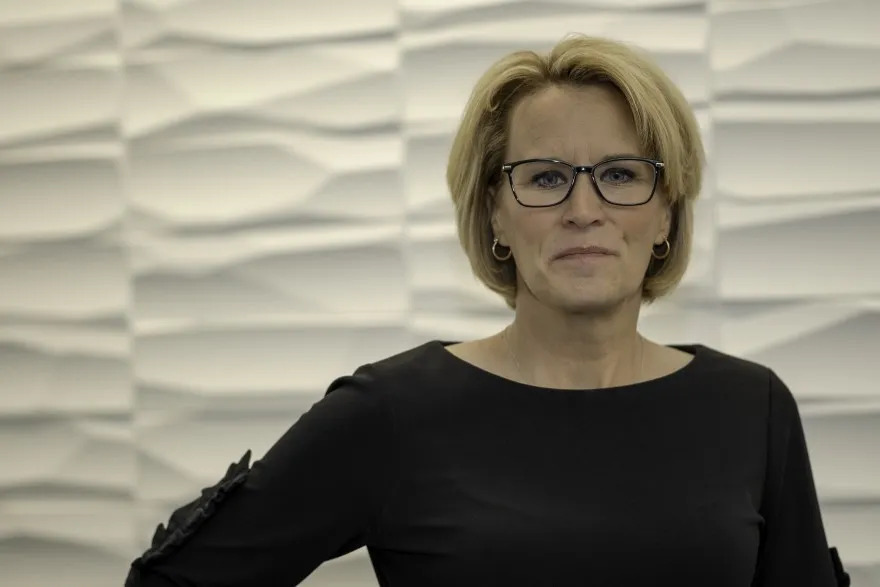 By mid-March, businesses nationwide were shutting down and trucks couldn't get into yards to pick up goods. Borders were closed to deliveries in Mexico and Canada. Then social unrest erupted, forcing truckers to be diverted from their destinations. About the time CRST figured out those challenges, a powerful derecho hit Iowa in August, with high winds flipping trucks on the highways.
"It was insanity," she says.
Businesswise, the level of goods shipping to certain market segments evaporated overnight, while demand in other areas skyrocketed. CRST struggled to find enough drivers to keep pace, as its dormitory-style training school had to be shut down.
But somehow, CRST survived.
Home-grown help
It's that adaptability and ingenuity that are part of the company's history, which begins in 1955. Iowa native Herald Smith bought a chicken coop to use as an office and saw a need to haul livestock to Chicago. He figured out a way to make a profit by carrying steel on his return trip, and Cedar Rapids Steel Transport was born, renamed CRST in 1974.
Stephenson was happy to join the company that was an economic staple in her home town.
Equipped with a JD with distinction from the University of Iowa College of Law in 1998, she took a post-grad federal clerkship with the Honorable John A. Jarvey in 1998 and the Honorable Michael J. Melloy in 1999, and became an associate at Moyer & Bergman in 2000. The biggest client at the firm was, of course, CRST, which she got to know through her work.
Taking a break from private practice in 2004 to expand her family, she came back to serve the federal judiciary as a career law clerk to the Honorable John A. Jarvey for eight years. But by 2012 she returned to practice at Simmons Perrine Moyer Bergman and in 2016 began "pinch hitting" for her predecessor—who was moving out of state—as CRST's general counsel. The appointment soon became permanent.
"The company knew I was a local girl and a lifer and they hadn't scared me off," she says. "It was too cool an opportunity to pass up."
Her first order of business was taking an inventory of ongoing litigation in California and getting to know her legal team—three lawyers internally and around 60 outside counsels across the country. Then, CRST made its largest acquisition with Gardiner Trucking in California, which would expand the shipping network from Los Angeles to New Jersey and from Chicago to Birmingham, Alabama.
This was the unofficial prep for the COVID-19 challenges on the road ahead.
"In truth, we've survived everything and some things even changed for the better," Stephenson says, pointing to the use of the Zoom for long-distance mediations and out-of-state oral arguments that used to take three days of business travel. "In some ways what we've learned has made us become more effective … I don't see us going back."
The best part of her work without question, she says, are the driver appreciation events, such as the million-miler celebrations which highlight the achievement of truckers who have safely logged one million miles or more. The event might look different in the foreseeable future, but regardless, to her the stories are very compelling.
"Hearing what our drivers have gone through keeps me going," Stephenson says. "When we stop to take a moment to reflect about what people have gone through and about what our team's achieved to help the nation, there reason to celebrate and that feeds your soul."
Showcase your feature on your website with a custom "As Featured in Vanguard" badge that links directly to your article!
Copy and paste this script into your page coding (ideally right before the closing