Gonzalo Sainz Gout – Irongate
Paradise gained in Baja California
It sounds like a new paradise in the making, and it's called Costa Palmas. There on the western side of the Sea of Cortez in Mexico's Baja California Sur, the Los Angeles-based real estate developer Irongate has bought hundreds of acres. The property is home to some of the world's most iconic hospitality brands and has over 2 kilometers of swimmable beaches, in a safe, scenic and secluded area just 45 minutes from Los Cabos International Airport.
"And at the end of the day, almost everything touches legal," reminds Gonzalo Sainz Gout, who oversees that side for the firm's Mexican operations. "Contracts, corporate, trademarks, litigation, compliance … every bad and good thing have a legal component."
Pandemic notwithstanding, Irongate has been in growth mode and well on its way to creating a 1,500-acre paradise and playland. There have been and will be hitches along the way, but the successes are tangible.
For instance, in October 2019 Irongate opened the Four Seasons Resort at Costa Palmas only to have to close it for months of the following year—COVID-19 forcing all hotels in Baja California Sur to padlock. Prior to its reopening, Sainz was consumed with collateral effects, impacts on credits, redefining protocols, furloughs and other labor matters.
He also had to comply with a new labor law in Mexico that prohibits outsourcing and collaborated with the human resources and tax departments in restructuring corporate and personnel policies for a company with multiple entities under its umbrella.
"We worked seven months on that implementation," he tells Vanguard in June. "We are still in a post-closing stage because we have so many suppliers and contractors who use this model."
Back to biz as usual
Baja California Sur having safely reopened, Sainz is back to immersing in all aspects of the Costa Palmas master plan. He's also glad to be back in the office most days though during the pandemic he accomplished much through conference calls, video projects and virtual communications.
The Four Seasons Resort will soon be augmented by another resort and residential complex now under construction by its partner, the Swiss-based Aman Resorts. This resort, Amanvari, represents Aman's first Mexican property and includes a marina village with boutiques, restaurants, yacht club, and waterfront esplanade. More amenities are in the conceptual stages, and there's a championship golf course designed by Robert Trent Jones II incorporating the sea and desert.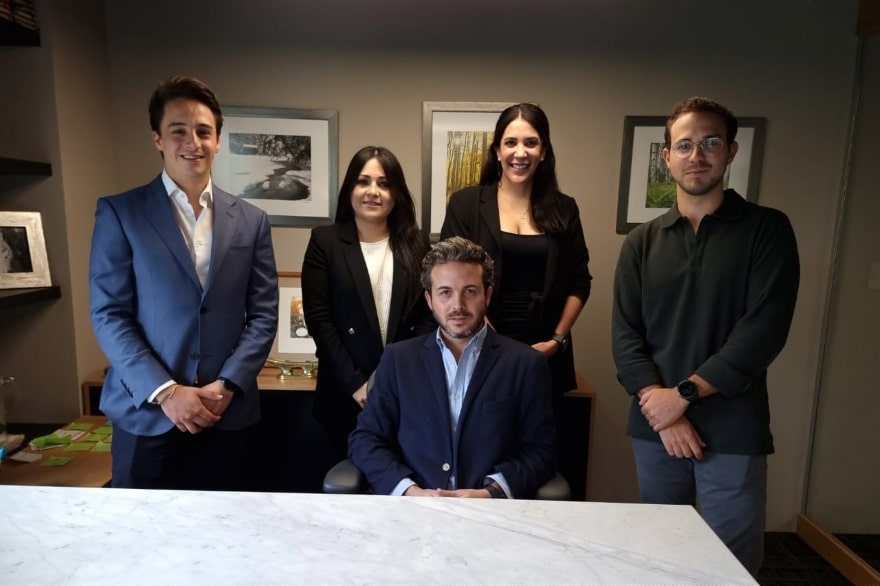 Well-versed in real estate, Sainz oversees a legal team of four and has a is involved at all stages of development, from due diligence for prospective purchases and memorandums of understanding with Irongate's partners. He oversees risk analyses, document preparation, negotiation of credit contracts, the establishing of guarantees and obtaining operational permits. He's helps translate Mexican policies and achieve their objectives.
On the corporate side, it's essentially everything.
"We are a mini-law firm within the company as it serves the needs of the other companies and departments," he explains. "We create strategies that reduce negative impacts on our company and try to make our department and other departments as efficient as possible. We try to do almost everything in-house though we do outsource litigation."
Community first
He also relishes being the bridge between Mexican and U.S. culture. Colleagues on both sides of the border share a concern for sustainability and conservation within the region, and Costa Palmas has created Fundación Costa Palmas for spearheading initiatives ranging from improving the well-being of the nearby community to protecting the East Cape environment. In 2018, the year Sainz joined the company, Costa Palmas was recognized by the Foundation for Environmental Education for its good stewardship of La Ribera Beach.
"The working environment is great and I'm truly happy to be here," Sainz says. "Of course, with all the situations that this or any job can have there's stress, but I'm always happy to come to the office. It is a great company to be a part of."
There's also a better work/play balance and when work's done at Costa Palmas, there's ample opportunity for Sainz, his wife and their two small children to enjoy time together. It suits him better than private practice, though that was where he picked up his passion for real estate.
A 2005 Universidad Iberoamericana of Mexico City graduate, he served just a year as an associate in two law firms in Mexico City before taking his skills to the real estate investment and development in a high-end development company in México.
In 2009, Sainz started a three-year stretch as corporate and legal director for the telecommunications company Satelites Mexicanos. His credentials enhanced by a master's in business law from Universidad Panamericana, Sainz returned to the real estate industry in 2012 with a publicly traded shopping center development company.
He's been at Irongate since July 2018 and deems this to be his most fulfilling position. Sainz says there'll always be more opportunity for him to spread his wings.
"In this position, as an in-house counsel, you get to see everything from scratch," Sainz says. "You are part of the business and the decision making."
View this feature in the Vanguard Fall I 2022 Edition here.
Showcase your feature on your website with a custom "As Featured in Vanguard" badge that links directly to your article!
Copy and paste this script into your page coding (ideally right before the closing