Ira Stuchberry – D2L
IPO compliance part of D2L legal leader's
For almost 25 years, Kitchener, Ontario-based D2L has provided learning platforms, content and programs to help instruct students from kindergarten through college, as well as for adults looking to improve and build on job skills. 
Founded in 1999 by President and CEO John Baker, then a 22-year-old, third-year engineering student at the University of Waterloo, D2L's products and services include its Brightspace learning innovation platform for K-12, college students, and corporate customers. Its Wave platform connects workforces with online skills training and career development opportunities through courses at academic institutions.  
D2L Brightspace is used in the Gwinnett County Public Schools in Georgia and VHS Learning, which provides online American Sign Language instruction. It's also used in more than 500 colleges and universities, including the State University of New York system, Purdue University, Georgia State University and Southern New Hampshire University. 
Ira Stuchberry, the vice president for compliance and assistant general counsel, was drawn to the company because of its mission. She says that she values it even more as her school-age children have been learning remotely during the COVID-19 pandemic. 
However, when it came time for D2L to go public, Stuchberry had to do some teaching of her own. She says the learning and teaching continues as she guides new compliance requirements public companies have to adhere to. 
"D2L has a very noble, global mission and vision to transform the way the world learns and personalize learning," Stuchberry says. "I'm a  business minded, flexible and creative lawyer who thrives on challenges and creative solutions." 
Staying home, going public
On Nov. 3, 2021, D2L was listed on the Toronto Stock Exchange, raising $150 million Canadian dollars ($120 million U.S.). Becoming a public company brought new corporate governance duties for Stuchberry, along with regulatory requirements to comply with the Canadian Securities Administrators. 
She helped create the corporate governance structure, including the charter for its board of directors—and charters and mandates for board committees. It's an ongoing process, Stuchberry adds.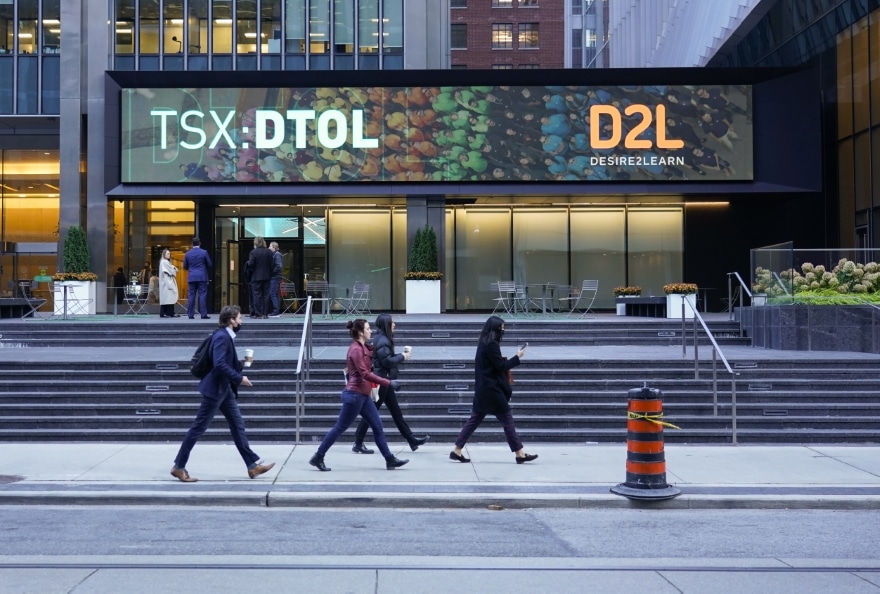 Her CSA filing requirements include informational circulars for investors, quarterly financial statements and an annual audit. Stuchberry also oversees organizing the annual general meeting for shareholders. 
Stuchberry helped structure the new employee equity plan with CFO Melissa Howatson, which includes integrating new administrative software. She also conducts frequent training for employees on topics such as regulatory compliance matters, insider trading and the meaning of blackout periods when they can't buy or sell stock.  
"One of my passions is mentoring, teaching, training and career development for my team," Stuchberry says. 
A remote approach
Stuchberry knew that the IPO was part of the company's long-term plans when she joined D2L in 2018. In that time, the world and Stuchberry's life had changed. In 2021, D2L employees were working remotely because of the COVID-19 pandemic, and she had just given birth to her third child. 
In fact, Stuchberry was five months into her year-long maternity leave when she decided to return to work to help guide D2L's IPO. 
Stuchberry says she and D2L's leadership team spent "hours on end on Zoom," balancing the heavy workload with the new reality of working from home. D2L's leadership, including Baker, Howatson and Chief Legal Officer, Anna Forgione scheduled meetings around family time, she adds. 
Beyond the Zoom meetings, Stuchberry also had to immerse herself in D2L's operations, financials, history and company strategy while preparing the business section and other sections of the prospectus. As part of the process, she educated colleagues in other business units. 
"Taking a company public is never a one-person show even if the legal team is driving," Stuchberry says. "This was a very cross functional project, especially with a company that has more than 20 years in the industry." 
Business is a 'natural step'
D2L's IPO was the first of Stuchberry's career. Before joining the company, she worked in private practice at a Toronto corporate law firm, advising clients on a diverse range of corporate and commercial legal matters. 
She's also co-author of "The Director's Handbook," written with Hartley R. Nathan, who was a lead partner and her mentor while she worked in private practice. After he retired, they collaborated on the instructional guide that discusses the duties and liabilities board members for an organization face. 
Stuchberry first worked at the firm while earning her J.D. at the University of Windsor. She became an associate at the firm in 2013, then joined D2L as corporate counsel and assistant corporate secretary in September 2018. 
Stuchberry is a native of Romania who emigrated to Canada when she was a young teenager. Before earning her J.D., she earned an international bachelor of business administration degree from Schulich School of Business at York University. As part of her studies, she spent a semester at Vienna University of Economics and Business. 
"I always had an inclination towards law, and after I completed my business degree and spent several years working in private wealth management at TD Bank, law was the natural career progression for me," Stuchberry says. "I really enjoyed the IPO process and working across the company to drive the project to a successful completion." 
View this feature in the Vanguard Fall I 2022 Edition here.
Showcase your feature on your website with a custom "As Featured in Vanguard" badge that links directly to your article!
Copy and paste this script into your page coding (ideally right before the closing