Jeremy Livianu – Establishment Labs
IPO credentials well established
The ringing of the Nasdaq bell was preceded by a phone call to Establishment Labs by Costa Rican President Carlos Alvarado Quesada last July 18.
For this was a landmark moment; the Costa Rican company qualified for an initial public offering on an American stock exchange, its shares going for $26.60 and since holding fairly steady. The IPO could be a trailblazer, the president relayed during the call, along with his gratitude to the Establishment Labs' management team who made it happen.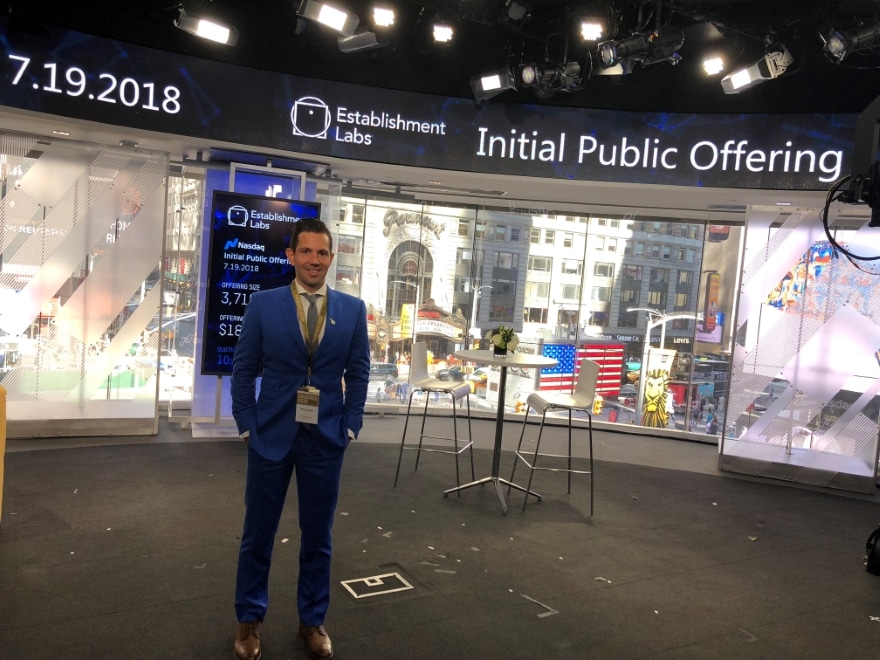 Among them was Jeremy Livianu, the 38-year-old general counsel who just four months earlier had joined the company that makes advanced silicon-filled breast and body shaping implants. Among his first responsibilities was to orchestrate the IPO.
"Blood, sweat and tears until the last minute," is how Livianu describes those four hectic months during a May interview with Vanguard. "But to see the company's name on the Times Square marquee was just a surreal accomplishment. Not just for Establishment Labs but for Costa Rica. This was a coming-of-age moment for that country, Costa Rican innovation and its entrepreneurs."
And how it involved Livianu and a few colleagues playing beat the clock.
Timing was of the essence
"Life sciences companies were having successful exits throughout 2018 and the company wanted to get in when the market was hot," Livianu explains. "But they didn't have anyone on the management team who had been through an IPO before. Well this wasn't my first rodeo."
While Livianu would make a few trips to Alajuela, Costa Rica, most of his work would have to be done in California, where he'd be aided by Chief Financial Officer Renee Gaeta and the Palo Alto office of Wilson Sonsini Goodrich & Rosati, an international law firm noted for its expertise in technology, life sciences and startups.
There would be Securities and Exchange Commission documents to pore over, risks to manage, bankers to satisfy, players in Costa Rica with whom to establish immediate rapport, and an expedited case to be made to the primarily American investment community that Establishment Labs would acquit itself as a growth enterprise.
The year that's since passed has been most upbeat for Establishment Labs, with President Quesada visiting Palo Alto and Silicon Valley in February and touting the company as an example of Costa Rican ingenuity. Such a success story leads to economic spinoffs, Livianu says, noting the need for more foreign investment in Costa Rica-based startups and how Establishment Labs is contributing to the general welfare through its manufacturing.
"This is what drives me as an attorney," he goes on to say. "I'm doing something bigger than me, not just providing a legal service and getting compensated. It's more rewarding when you make a difference like we are—by introducing technology to improve women's lives and by helping to transform a country's economy."
IP defense never rests
Those breast- and body-shaping implants being among the most successful medical devices on the market, Livianu must ensure their protection. Without going into much detail, he acknowledges an increase in the risks surrounding potential pirating. Not that it surprises him.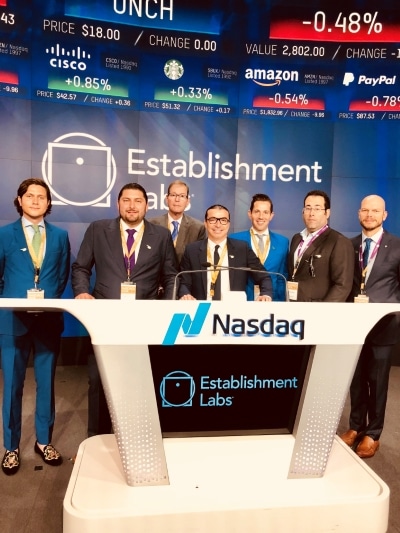 "They wouldn't do it if they didn't see our products as being superior," he says, noting that Establishment Labs is active in more than 60 countries and must be tactical about where it expands. "You've always got to look at the landscape and stay a step ahead of any copycats."
Staying a step ahead is something for which Livianu seems to have a knack. Montreal-born, he'd earn a BS in chemical engineering as a University of California-San Diego undergrad. That and his juris doctorate from George Washington University Law School prepped him well for a legal career that's included in-house roles with four medical device companies, though his motivation may have come from a different source.
"I took so much engineering, science and math that I didn't know how to write," he muses. "I wanted a well-rounded education, to use the other half of my brain. Law was the other half that completed the circle. I didn't necessarily want to be an attorney, I just wanted to complete my education."
Upon doing so, he'd cut his teeth with a couple of firms, Paul Hastings in San Diego and O'Melveny & Myers in San Francisco. Eager to mix his scientific interests with law, he'd become corporate counsel with Tethys Bioscience Inc. in 2009. One year later he would oversee health care compliance and privacy for Johnson & Johnson, and in 2014 he'd opt for medical device maker Nevro.
That would prove to be his first IPO, though Livianu would have nine months to launch the process as opposed to the 120 or so days he'd face a few years later at Establishment Labs. Those nine months still raced by, however, with Livianu at the forefront of a $126 million capital drive that would satisfy the company's future financing needs and provide liquidity for pre-IPO investors. Seven million shares sold at $18, with the stock hitting a high of $26.25 before closing at $25.19. As of his departure from Nevro, the stock was selling for around $95, although has since come down to $62.
He'd do a lot more at Nevro over the next four years, his responsibilities including a U.S. product launch following Food and Drug Administration approval, SEC reporting, advising senior management and building a worldwide compliance and data-privacy program. In short, all the qualifications Establishment Labs would be looking for when it launched the search for its first general counsel.
It was one of Livianu's acquaintances at Wilson Sonsini Goodrich & Rosati who recommended he pursue that position, Establishment Labs being especially interested in someone with a scientific and technological background, IPO experience, fluency in Spanish, interaction with regulatory authorities and experience in medical device aesthetics, which he had acquired while at Johnson & Johnson's Mentor Worldwide LLC.
The list didn't grow any shorter once Livianu expressed interest, and how exhilarating he's found the past year, his travels taking him not just to Costa Rica but to Japan, Brazil and Europe, and his to-do list burgeoning. And all the while managing a team of eight attorneys spread around the world.
"It's been a whirlwind—50,000 kilometers per hour every minute orbiting the earth," he says. "I'm 10 times the lawyer I was when I started, though I may have aged 20 times. But my passion is to continue bringing innovative medical technologies into the world and helping those companies raise the capital they need to succeed while providing returns to their investors."
He's two for two on that count.
Showcase your feature on your website with a custom "As Featured in Vanguard" badge that links directly to your article!
Copy and paste this script into your page coding (ideally right before the closing