Chad Wiener – Tenet Healthcare
A good skate who makes the call in any league
If baseball, as its more philosophical followers say, is a metaphor for life, could officiating hockey be the same for practicing law? Given that few people have done both, it's worth hearing Chad Wiener's take.
"All the traits I developed while officiating hockey have been applicable in my legal career," says Tenet Healthcare's new vice president, assistant general counsel and assistant corporate secretary who for years had laid down the law at minor-league arenas throughout the United States. "That includes anticipating situations before they occur, not getting excitable in pressure situations, diffusing conflicts and taking accountability when making a mistake."
And having strong communication skills. On ice Wiener would warn coaches if they were getting abusive. In the C-suite, part of Wiener's job is to spot potential issues and advise executives on how those issues may potentially be viewed by regulators. As Wayne Gretzky would say, it's skating to where the puck will be instead of where it is.
Then there's being a dependable teammate at Tenet, just as Wiener had been to his partners in skates and striped shirts. Maybe above all, there's just recognizing that respect is a two-way skate. As Wiener advises from Tenet's Dallas headquarters this past February, "You can't get it if you don't give it."
Cold comfort
Time was when much of Wiener's Februarys were spent driving among the mostly secondary cities that make up the American Hockey League and other minor league circuits. While he never got the call to the NHL, Wiener continued to officiate while enrolled at Marquette University Law School from 1998 to 2001.
Afterward he enhanced his juris doctorate with a master of laws in securities and financial regulation from Georgetown University Law Center. After 10 straight winters in the pro ranks, he stepped away from the rinks for seven years though he did return for three more before hanging up his whistle and stripes for good when in his early 40s.
By then Wiener had honed his transactional savvy with the Milwaukee-based firm of Quarles & Brady and was promoted to partner. Then came the first of his in-house roles, a 2012-2019 stretch with Caterpillar Inc., the last couple years as the lead securities and governance counsel for the construction and mining equipment giant.
"He was always prepared, anticipated potential issues, displayed a quiet and relaxed confidence and, in short, was someone I relied on," says Caterpillar's former Group President and Chief Financial Officer Brad Halverson. "What set Chad apart was his ability to work well with everyone and his ability to bring his understanding of our business to his legal advice. He was a true partner."
Afterward, he spent an eventful two years-plus as AT&T's senior securities counsel and assistant secretary. That included working with executives on the telecom and media giant's spinoff of WarnerMedia, whose merger with Discovery is expected to close in 2022.
"Chad consistently displays characteristics of collaboration and calmness despite the pressure of the situation," recalls AT&T Senior Vice President and Controller Debra Dial.
Moves to Tenet team
Wiener relished the high-profile work at AT&T, enjoyed the people he worked with and planned to stay, but the opportunity at Tenet was too compelling to pass up. Tenet is a diversified healthcare services company that operates 60 hospitals and around 550 outpatient centers and additional sites of care.
At Tenet, Wiener's responsibilities include overseeing legal matters relating to securities, corporate governance, finance, investor relations, real estate and executive compensation.
Each year seems to bring new rules, he says, 2022's additions expected to include new disclosures related to cybersecurity, climate change and corporate board diversity. Wiener says much of the core legal work remains the same despite his transition from technology, media and telecom to the healthcare sector.
"The challenge is integrating and applying your skillset in an entirely different business context," he says. "But you embrace the learning curve rather quickly, learn the new lingo and show your versatility."
Blackhawk to the bone
And life in Dallas is enhanced with it having an NHL team, the up-and-down Stars, who are just as likely to contend as not qualify for the postseason. However they perform, the Stars will be at best a distant second for the Chicago-born Wiener who remains a Blackhawks fan and tries to indoctrinate his two young sons.
He'll still take them to Stars games and sometimes run into referees and linesman with whom he officiated. Wiener's not disappointed about not making the NHL and is thankful for the opportunity to have officiated in the International Hockey League, which ranked with the AHL as a top-tier developmental league, as a 22-year-old fresh out of the University of Wisconsin-Madison. Though the "I" disbanded in 2001, five of its teams joined the AHL.
Mention law or hockey to Wiener, and he's certain to bend your ear. He's seen his share of conflicts in both and while he keeps a cool head, he knows there are times when rivals in any endeavor must blow off steam. Lawyers do so by arguing, but hockey players may literally take matters in their own hands and there were times when Wiener found that prudent.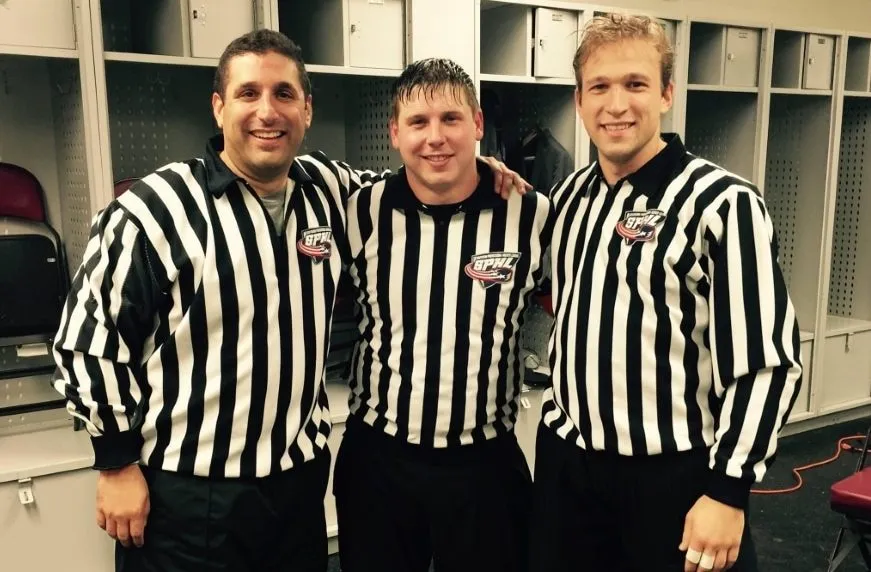 "It all comes down to reading the situation," he says. "If it was two equally matched guys who really wanted to fight and I thought it would simmer things down, I wouldn't stand in their way. I'd even talk to them while they fought. 'Are you guys done yet? Sometimes they'd both say 'yeah' and go take their seat in the penalty box. There's actually a good level of respect among them."
And a level of respect that Wiener tries to earn on and off the ice. Referees, after all, aren't infallible. One of them, the late Vern Buffey, said it best with the title of his autobiography, "Black and White & Never Right."
Wiener recalls botching a particular call 20 or so years ago and how a coach spent the rest of the period berating him. So afterward the even-tempered Wiener approached the coach.
"I told him, 'Can I say something before I hear you out?'" Wiener recalls. "I made the wrong call and I'll work hard not to make that same mistake again. He said 'OK' and walked away and that conversation changed our relationship."
View this feature in the Vanguard Spring IV 2022 Edition here.
Showcase your feature on your website with a custom "As Featured in Vanguard" badge that links directly to your article!
Copy and paste this script into your page coding (ideally right before the closing