Lynda Godkin – WEX Health
Part of the conversation
While working for Holyoke-Chicopee Home Care Services in Chicopee, Massachusetts, Lynda Godkin conducted entire conversations with one of her clients—an elderly woman who'd been removed from her home by the local department of public health—by kneeling on the doorstep and talking to her through the front door mail slot. After much gentle coaxing, the woman would finally open the door.
Godkin's career and clientele have shifted somewhat over the years; from a post-college stint in social work to her current role as senior vice president, general counsel and chief compliance officer for WEX Health.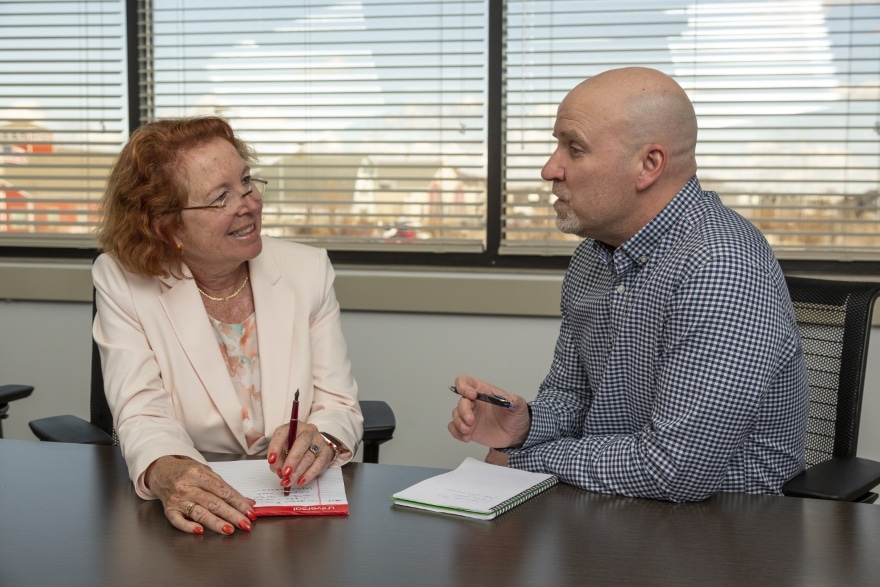 Something that hasn't changed, however, is Godkin's abiding commitment to relationships; how to build them and, more importantly, how to maintain them.
When you're working in a business as shape-shifting as health care fintech, those bonds can loom especially large.
"It's something I feel extends to every facet of life. When you have good relationships, you know when you're moving in the same direction," says Godkin, who joined the Simsbury, Connecticut-based WEX Health in 2010. "When you're a lawyer counseling a business in a fast-paced environment, being seen as part of the team is especially important."
The real deal
These days, "fast-paced" might be an understatement. Back in January, WEX Health's parent company (WEX Inc.) announced it was acquiring Discovery Benefits, an employee benefits administrator serving more than one million consumers across all 50 states. It was also one of WEX's biggest customers.
According to Godkin, the deal opens a significant new distribution channel for WEX Health, which offers platforms that allow companies to streamline and simplify their employee health benefits.
Owing to her extensive experience with corporate transactions, Godkin's involvement encompassed both the grand and the granular: working closely with the parent company's legal team on the structure and pricing of the deal, reviewing WEX Health's contracts with Discovery Benefits and its affiliated banks, and more.
"In a deal like this, there's a lot of negotiation around how the relationship would stay the same and how it would have to change going forward," Godkin says. "Again, this was an entity we'd been working with for years, so maintaining those relationships was very important. It requires a high level of trust and communication."
Trusted hands
Indeed, game-changing transactions have been more rule than exception during Godkin's nine-year tenure. In 2014, she was part of the team that negotiated WEX's acquisition of Evolution1, a leader in cloud-based payment solutions, for $532.5 million.
Craig Adas, managing partner at Weil, Gotshal & Manges and an expert in M&A, was one of the first lawyers at the table for Evolution1's private equity owner, Genstar Capital. Since then, Adas has helped Godkin on all manner of commercial agreements and contracts. He's also had a front-row seat to what makes Godkin a unique in-house attorney.
"Some lawyers are astute on regulatory matters; others show good leadership skills or judgment. What sets Lynda apart is that all of these represent areas of strength," Adas says. "She's clear in terms of what her expectations are, and she's excellent at figuring out where the divisions of labor should be. She's a true partner in that sense."
Lay of the land
Still, it's in the day-to-day dealings that Godkin is most frequently immersed. Chief among them: negotiating revenue-generating agreements.
Given WEX Health's broad clientele (they work with some of the nation's largest health plans and financial institutions), the complexity of these contracts—which involve tax-qualified plans and health care technology—requires a deft touch.
Godkin likes to ensure the process is a fair one—and one that protects the company's intellectual property (IP) and service capabilities.
"Our crown jewels are our people and our IP," Godkin is fond of saying—a quote that would just as easily apply to the department's commitment to data security, another area on which she and her team are increasingly focused.
Indeed, the results—here as everywhere else—more than speak for themselves. This past March, Godkin received the Eagle Award, WEX's highest corporate honor. Think of it as the company's MVP award.
"Lynda has an incredible ability to balance negotiating with customers, prospects and team members to grow the company, while at the same time protecting the company on the regulatory and compliance fronts," says Jeff Young, president, WEX Health. "She is an engaging, authentic and consummate leader and has played a vital role in the growth and success of our company."
And to think her career almost never got off the ground.
Mom's always right
After studying psychology and French at Mount Holyoke College in Massachusetts—much to the chagrin of her mother, who implored her daughter to go to law school—Godkin was at a crossroads. Torn between pursuing a research path and entering the clinical world, Godkin took a job as a social worker at Holyoke-Chicopee Home Care Services.
Godkin got her first real taste of the legal world when she advocated in court on behalf of that elderly client at her mail slot, who'd failed to show up for a hearing.
"I found myself having to explain to the judge what happened—and I really enjoyed it," Godkin recalls. "I walked out of that courtroom thinking, 'This is it. This is what I'm supposed to be doing.'"
Three years later, armed with a J.D. from the Western New England College School of Law, Godkin joined the Connecticut firm of Day, Berry & Howard (now Day Pitney LLP), where as a member of the corporate finance department, she helped negotiate multimillion-dollar transactions.
Through the ranks
Eager to ply her trade in-house, Godkin was hired by health services giant Cigna Corporation in 1985. As counsel to the benefits division, Godkin managed the legal affairs for 10 different health maintenance organizations and a prepaid dental company.
Five years later, she made the move Hartford Life, a subsidiary of The Hartford, where she'd remain for the next 16 years—culminating in a six -year run as senior vice president (SVP) and general counsel as well as chief lobbyist in the company's home state and head of The Hartford's worldwide philanthropy.
In 2006, Godkin got a call from Bob Patricelli, an entrepreneur and longtime friend who first hired Godkin at Cigna. Patricelli asked Godkin to serve as SVP, general counsel and chief compliance officer for Women's Health USA, a business-services company that helps women's health practices run more efficiently.
In 2010, Godkin was asked to take on an additional role as general counsel of Evolution Benefits, Inc., which Patricelli had just sold to venture capital firm Genstar Capital. The resulting entity, Evolution1, Inc., needed a veteran general counsel to help take the company to the next level.
Despite her initial reticence to be general counsel to two companies at once, Godkin eventually accepted—a pivot she owes to Patricelli's unique persuasiveness, leadership and vision. That lasted until 2013, when the growth of Evolution1 demanded a more singular focus.
"It's been a rocket ship ride ever since," she says with a laugh. "There have been a few points in my career where I've had to take a plunge. There's always some risk in taking on a new challenge. But when people have confidence in you, and you have confidence in yourself, it always seems to work out. And it's fun!"
The reason? Hard work, of course (though she still finds time for her twin passions: golf and cooking). And the kind of relationships that only the most seasoned legal counselors have a chance to build.
"The balance you have to strike is showing people your expertise while still making them feel comfortable working with you," Godkin says. "You don't just want them to understand who you are as a lawyer, but who you are as a person as well. And that goes both ways. Relationships are the grease that make the machinery run—and run well."
Showcase your feature on your website with a custom "As Featured in Vanguard" badge that links directly to your article!
Copy and paste this script into your page coding (ideally right before the closing