Jose Antonio Rodriguez – Acacia Network Inc.
Making more than a dent in societal problems
It's a cycle that can be mentally taxing, Jose Antonio Rodriguez acknowledges. Chief legal officer and executive vice president of New York's largest Hispanic-led nonprofit, Acacia Network Inc., he's aided some of the most underserved communities statewide and beyond.
"At least we know we're making a dent," he tells Vanguard in April from Acacia's headquarters in the Bronx. "You do feel rewarded when you help people. Then new people come in and you do so again."
Acacia undertakes such goodwill causes as affordable, transitional and senior housing; primary and behavioral health care; education and after-school activities; workplace development and substance abuse treatment. What was just a New York State operation has extended into Connecticut, Maryland, Tennessee, Georgia, Florida and Puerto Rico, that last location being the birthplace of CEO Raul Russi. In Puerto Rico, Acacia developed a 102 unit assisted living facility, a gem named Palacio Dorado in the town of Toa Alta.
While it's a formidable caseload, its mission is shared by over 100 affiliates whose relationships Rodriguez and his small staff nurture and formalize. Acacia also handles their affiliates' back-office responsibilities such as financial, legal, compliance and personnel. Though it adds to his department's duties, he rationalizes that anything Acacia can do to free up affiliate staff for more meaningful work is well worth it.
"Since college, I've always been involved in community relations and organizations," says Rodriguez, who's 70 but not thinking about imminent retirement. "I majored in it as a college student [CUNY's John Jay College of Criminal Justice]. Even when I was in private practice, I had my office in a community setting. This is like an extension of it."
Helping the homeless
Acacia and an affiliate, the Community Association of Progressive Dominicans, recently commenced with a free crisis counseling program that includes one-on-one virtual sessions which have proved popular during COVID-19.
A new job training program for troubled veterans is also gathering steam. Ground has been broken for low-income senior housing in Buffalo, and Rodriguez advises that the need for such accommodations will only grow as baby boomers age. Applications are also being accepted for a new, affordable apartment complex in the Bronx.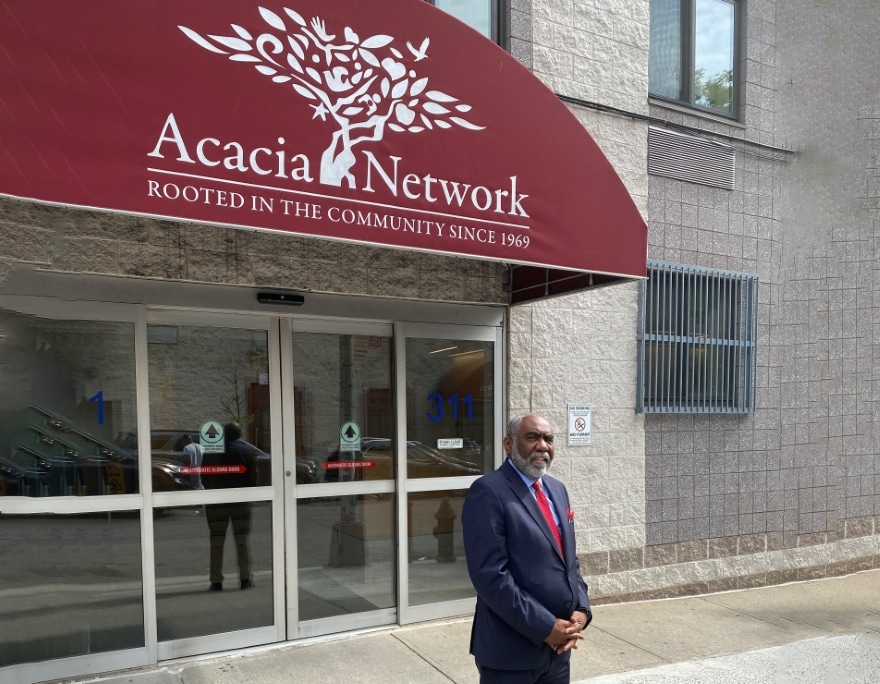 At last count there were over 70,000 homeless men, women and children in New York City alone. Acacia, now one of the city's largest recipients of public homelessness funds, owns around 150 properties and leases more. It provides transitional housing to approximately 10,000 families with children, single females and single males.
While providing shelter there's also an opportunity to offer medical services, workforce opportunities or other social services, Rodriguez adds.
So there's much to keep the legal staff busy—contracting with landlords, other affiliates and vendors; complying with regulations; and defending Acacia against litigation. There are also many slip-and-fall allegations, Rodriguez says, while noting that the short-term savings of a quick settlement are likely exceeded by long-term costs.
"Everyone wants to sue, but we won't pay without proof of harm and liability," he says. "Do that and it just results in more cases. We have a policy of no payment until we evaluate. If there's no merit to the allegation, we'll defend the entire way."
Long-time kindred spirits
A member of the team since 2009, Rodriguez's involvement with Acacia began years earlier when the law firm he ran with his daughter, Alisa Fuentes, represented one of the agency's forerunners, BASICS Inc.
BASICS, struggling to survive on grants alone, merged with another Latino-run social service agency, Promesa Systems Inc., in 2009, with Rodriguez as board attorney for what has become Acacia. In early 2017, the rebranded agency needed a corporate restructuring and beckoned Rodriguez to leave private practice and assume his present roles of executive vice president and chief legal counsel. His daughter having left private practice some years earlier to become New York City's Deputy City Clerk—a position she still holds—the timing seemed right for a transition.
A challenging transition at that, Rodriguez says, explaining that the early months were spent reviewing and settling legacy cases. COVID-19 has been among the most recent issues that Acacia has contended with, the agency being responsible for the well-being of so many vulnerable people.
Law came late
Interestingly, he wasn't inclined toward law as a CUNY undergrad, though that changed when Rodriguez landed a job as a court officer in 1973 and saw he could make a difference as a lawyer. He graduated in 1974, and one year later enrolled at Seton Hall University School of Law, earning his J.D. in 1978.
He spent more than 32 years in private practice in the Bronx before joining Acacia. Rodriguez has been an adjunct professor at his alma mater, John Jay College, and Bronx Community College, and is admitted to practice in New York's four federal district courts.
He was admitted to practice law in New York State in June 1978, after completing law school in two and a half years by attending during the summers. Having come from a poor family and raised in disadvantaged communities, he says his parents worked hard to raise him and his two siblings. His mother, while working full time in a factory, attended college and became a registered nurse. She worked during the late 1970s as a nurse at a clinic run by Hunts Point Multi Service Center Inc., now under the Acacia umbrella.
Aided by just two deputy counsels and a risk manager, Rodriguez expects to add another lawyer to his team. Acacia's staff is 3,000, with around half being Black or Hispanic. Acacia is also immersed in a five-year plan that calls for ways to efficiently meet a growing caseload.
In any case, Rodriguez is where he wants to be and proud to have a family that shares his values.
His wife, Madalin, is a retired Yonkers Public Schools teacher, and daughter Alisa and son Daniel have done well in their careers. There are also two grandchildren, Victoria and Brandon. Outside of work, Rodriguez is on the board of Legacy Volleyball, a nonprofit organization, which helps keep kids off the street.
"There's always another way to make a difference," he says.
Showcase your feature on your website with a custom "As Featured in Vanguard" badge that links directly to your article!
Copy and paste this script into your page coding (ideally right before the closing