Josie Romanelli – McKesson Canada
Helping company's partners to help patients
At McKesson Canada, Josie Romanelli has been bringing the legal lens to the healthcare company's vision since May 2011.
"I was in telecom and IT for 11 years and wanted to enter a new industry," she says. "Joining McKesson Canada meant a chance to flex a new muscle, while supporting a healthcare company that focuses on improving patients' lives and building healthier communities."
She can't reveal the specifics but says a career highlight was McKesson Canada recently landing another national customer under challenging conditions and a couple years pursuit.
Kudos to her legal department, says Romanelli, as the big score came with the pharmaceutical distributor continuing to meet the needs of customers while COVID-19 was impacting supply chains. At times like these, she is reminded how a company can't just focus on its own interests.
"Think about the toilet paper shortage and you can only imagine how much more difficult it was from a pharmaceutical perspective," she tells Vanguard in August from Montreal. "Here we were dealing with unprecedented demand for the products we distribute and yet we still came through."
McKesson Canada distributes a third of pharmaceuticals used nationally. Romanelli says the company had to work with drug manufacturers, retail customers and government agencies. Through contracting and other means, she says her team not only supported collaboration amongst internal business units but supported exchanges and engagement with external stakeholders to ensure distribution of vaccines and other necessities in a timely and equitable manner.
Now with the worst of the pandemic hopefully over, Romanelli's focusing on how the legal department can contribute to the company and its new customer making the most of their relationship.
A people person
It takes more than just legal and business skills to bring out the best in a group of young lawyers, says Romanelli, who's now in her 12th year with McKesson Canada, the last few as a vice president. Along the way, she's acquired and refined skills that weren't taught at the University of Sherbrooke, where Romanelli had earned her degree in civil law.
A major part of her role is keeping employees happy and engaged. She strives to provide her team with the tools, autonomy and mentorship to become company leaders, she says. She works on their versatility and finds opportunities to align their objectives with the company's.
"Since we're all about meeting customer needs, we can provide the best service possible when we ensure that our employees aren't just talented but engaged, excited and passionate about their work," she says. "McKesson gave me the opportunity to learn people-management skills that I didn't have before. It's not a science and there's no manual that teaches you how to deal with other human beings."
Those statements might be surprising coming from what seems a personable Romanelli who's ascended the McKesson Canada ladder since becoming senior legal counsel in 2011. But as she explains, when one is charged with overseeing a department or a portion of it—as she's been doing since 2019—it's essentially a full-time job.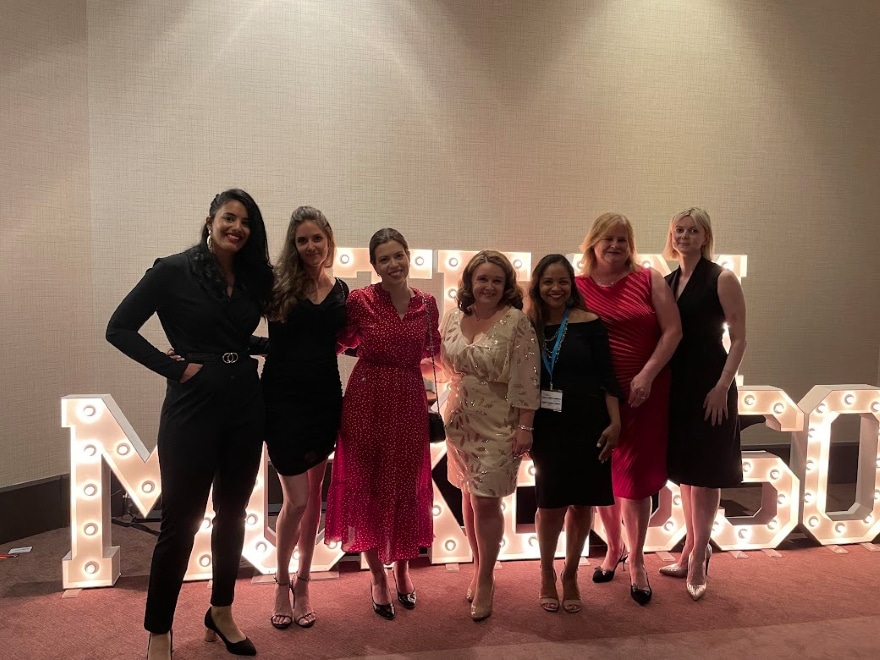 Romanelli now manages 11 lawyers, a contracts specialist and an administrative assistant entrusted with commercial matters. Each day may entail them contracting with customers, manufacturers and pharmacists. It might be to outsource patient-assistance programs or the infusion of a drugs at a McKesson Canada-affiliated infusion clinics. It might also be to contract for distribution of pharmaceutical, over-the-counter or consumer goods. Or to become a member of one of the company-operated pharmacy banners.
Good business in DEI
While teamwork is the goal, she's still dealing with individuals. A job well done is to be recognized and by getting to know her hires on a personal level, Romanelli says she can figure out which ones appreciate a call-out while others might prefer a gift card or some private commendation.
Then there's her role in leading or helping sustain other initiatives. McKesson Canada being a wholly owned subsidiary of U.S.-headquartered McKesson Corp., it's taken a cue from its parent on diversity, equity and inclusion.
Romanelli co-chaired the Canadian chapter of WE or Women Empowered, a DEI focused on inspiring future female leaders but with the alliance of male colleagues. Through monthly events, WE mentors women on such subjects as finance, leadership and professional development.
Everybody's expected to uphold I2CARE values, which stand for integrity+ inclusion, customer-first, accountability, respect, and excellence, Romanelli says. Each fall there's the Work Your Way Day, with the company affording employees a wellness day for whatever they may need: an appointment, massage, hike, home improvement, what-not.
And, she says, sometimes the way to a colleague's heart is indeed through the stomach.
Food for thought
"Food does unite a team," Romanelli says. "It fosters camaraderie and collegiality."
COVID-19 concerns having lessened, office gatherings are again business as usual with doughnuts, coffee and team lunches among the amenities. During the grimmest of times, the workforce found creative ways to stay connected through online pizza-making, apple-pie bake-offs, seasonal music playlists and virtual trivia night.
To be sure, she says, it's not all fun and games, but a day on the job rarely is unpleasant. It makes her glad to have joined McKesson Canada on what, to some extent, was a leap of faith. Romanelli had spent the previous 11 years as in-house counsel to the telecommunications and technological industries. Though she lacked experience in healthcare, McKesson Canada still appealed to her.
"I had reached the point where I needed to be pushed out of my comfort zone," she says. "The timing was great because of the opportunity McKesson Canada presented."
Eleven years later, she's got much to keep her from getting too comfortable, including how the company is evolving along with the Canadian healthcare system in general. In a way it seems both natural and ironic for Romanelli to be in this position.
As a teenager in high school science was her focus, though the less she saw of the labs, the less appealing it became. Law became her interest, but not private practice and litigation.
"My passion and love became contract negotiation," she says. "I love to problem-solve, find creative commercial resolutions and bring things to closure. I assess the risk and always go with a practical and logical outcome that best protects the interests of the company."
And it'll always be a learning experience.
"Leadership's like having children," the married mother of two teenagers says. "It's trial and error, but I like to believe that I get it right at least most of the time. And I never ask them to do what I wouldn't do myself."
View this feature in the Vanguard Fall III 2022 Edition here.
Showcase your feature on your website with a custom "As Featured in Vanguard" badge that links directly to your article!
Copy and paste this script into your page coding (ideally right before the closing