Karla Baez Elizondo – Grupo Idesa
Teamwork bolsters a terminal's growth
It can't get much more satisfying than to see the fruits of one's labor, Karla Baez Elizondo muses from her office in Mexico City this past spring, after helping to consummate a deal that opens up further opportunities for Grupo Idesa.
And how the past four years have flown. Baez came aboard as general counsel in September 2015, around the time when one of Mexico's largest petrochemical enterprises needed in-house legal expertise to, among other endeavors, streamline the process of opening a polyethylene production facility in Veracruz on the Gulf of Mexico.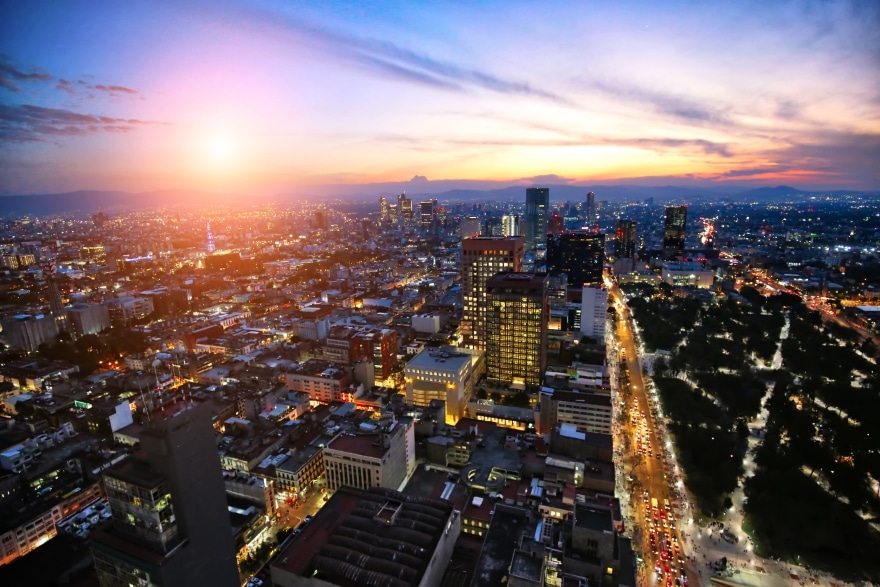 Owner of a port terminal and three plants in Veracruz, Grupo Idesa's facilities will be growing even larger now that Baez has finalized the details that, come mid-2021, should increase its capacity for storage of regular, premium and diesel fuels to over 450,000 barrels. Only this time, Baez has had the help of a five-member in-house legal team that she's assembled and fine-tuned.
Given the magnitude of the project, one lawyer couldn't do it alone, she tells Vanguard in May when the last of the documents was signed.
"It was necessary to start from zero to review the regulations that we need to comply with for the operation of this kind of terminal," the bilingual Baez says. "For a lawyer, it's quite the challenge to understand how a terminal works and to be able to draft the agreements—the financial documents, the papers for EPC (engineering-procurement-construction) and storage agreement, among others. But the synergies are in place to do so."
Shining on other fronts
Mexico also being the world's top producer of silver and among the leaders in gold, Grupo Idesa is indispensable to the mining industry as well, as both precious metals would be hard to extract without sodium cynanide, which is among the compounds coming from the Veracruz facilities. It's another sensitive area that calls for Baez to ensure compliance with numerous regulations.
Time was when she might have been a rarity; a prominent female executive in such an intense industry. Indeed Baez is the first woman to reach the management level at Grupo Idesa, but she doesn't find it too remarkable, having practiced complex commercial and contractual law for 11 years with two of Mexico's most prominent firms—Galicia y Robles (2004-2007) and Mijares, Angoitia, Cortés y Fuentes (2008-2015).
Rewarding as those experiences were, however, she was eager and ready to go in-house and have essentially one client, that being the company itself. All those years of ironing out deals from the outside made her want to see the long-term effects of her mixture of business and legal acumen.
"At the law firm, you have to know the details around a transaction, but your scope is just legal," she says. "In-house you have to know all departments and be their partner. I like having to be as much businesswoman as lawyer."
At Grupo Idesa, she's had a most dynamic company to familiarize herself with, its integrated business units encompassing petrochemicals, distribution, logistics and applications, with the broadest presence in Mexico and an expanding outreach elsewhere as demand for its products only seems to be growing. Having long depended on outside counsel, the company had a lot of ground to make up when it opted for in-house legal and Baez has been fully immersed from the get-go.
Among her early responsibilities was the restructuring of the petrochemical workforce that necessitated the transfer of 500 employees. She'd lead the bidding process at the National Hydrocarbons Commission for Grupo Idesa's exploration of oil and natural gas blocks, the new projects further diversifying the company. And often having to interact with engineers, she'd spend many of her personal hours reading up and being mentored on the complexities of the petrochemical industry.
A colleague who had joined the company a couple of months earlier, Jimena Sordo Fernandez, would prove an indispensable legal manager. Taking the big-picture approach, Baez would entrust her with contracts, foreign trade, intellectual properties, labor matters and civil and commercial litigation.
There have been other steps that could be said to have greased the corporate machinery for further efficiency. The legal department has established internal policies to improve communication among the company's four business units. It has standardized the templates for non-disclosure documents and implemented an internal documents system that provides easy but secure access to Grupo Idesa's inner workings. The pieces are falling into place for various joint ventures and acquisitions.
Lifelong learner
A 2003 graduate of Universidad Anáhuac México Sur, Baez earned a master's from Northwestern University in the U.S. and a tax graduate diploma from Universidad Iberoamericana. As far as the origin of her legal passion, it came from within, there having been no lawyers in her family.
But a spark seemed to be set off her last year in high school, when young Mexicans were encouraged to focus on subjects that might become their livelihood. Having scored well on various tests, teachers pointed her toward law, though Baez says she might have had another motivation: There's a certain elegance and prestige to the profession which she wanted to be part of.
Just four years into an in-house legal career and still at a relatively young age, Baez seems to be making her mark. Last year saw her recognized on the Mexico GC Powerlist by The Legal 500, which analyzes the capabilities of law firms and in-house departments. While she'll accept the professional accolades, Baez seems more impressed by the success of Grupo Idesa.
"We're contributing to the economic growth of Mexico," she says. "We're one of the biggest companies in Mexico and growing."
Showcase your feature on your website with a custom "As Featured in Vanguard" badge that links directly to your article!
Copy and paste this script into your page coding (ideally right before the closing