Kelly Crites — Allegheny Wood Products Inc.
All in the family — moving in-house to offer legal insight for global wood supply and materials business
Allegheny Wood Products Inc. (AWP) sells hardwood and lumber products throughout the United States and worldwide markets. The company's corporate office is in Petersburg, West Virginia. Due to the increasing demand for its products, AWP now has 12 mill locations and more than 700 employees throughout West Virginia and Pennsylvania. Behind the growing family-owned business is Kelly Crites, the company's first in-house general counsel and trusted legal adviser.
In her role, Crites offers expert legal insight into key business transactions, mergers and acquisitions, real estate contracts, harvesting and land management compliance, environmental law, maritime and international shipping law, safety issues, employment matters and global market expansion as AWP builds on 43 years of business and a newly expanded footprint.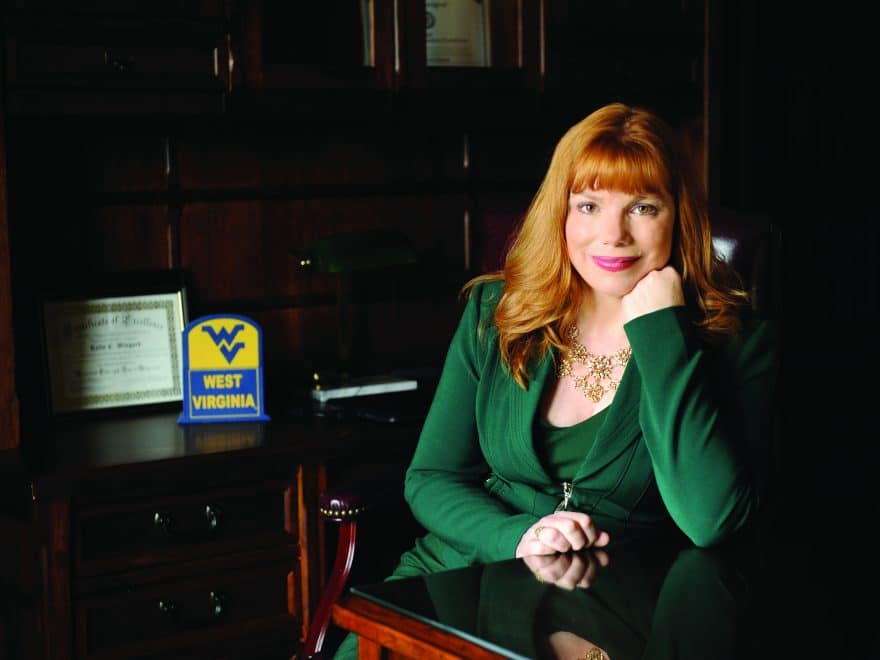 The second-generation family-owned business was established in 1973 by John W. Crites, Patricia Ann Crites and Crites' grandfather, Elbert Lee Cole. "Now my brother, John Crites II, is president of AWP," she says.
Grounded in family ownership, Crites says her mission is to help further the business while remaining true to core principles. "Honesty in business is No. 1 and we're fully committed to getting a high-quality product to our customers. I hope my insight allows us to uphold these key components," says Crites.
Finding a balance
Although she was born and raised in the family business, Crites originally didn't see herself joining AWP. "In college I moved from being a theater major to receiving a bachelor's of science in journalism. As a journalist I saw so many people in need of help, and I always wanted to find a way to help people, but it was hard to make a living in that career. I landed a job in public relations in a political campaign for a local congressman and found it interesting; this is what turned my attention to law," she recounts.
Crites attended Walter F. George School of Law at Mercer University in Macon, Georgia, graduating in 1993. "I was interested in criminal defense and domestic law," she says. "I went to work for a large firm in Charleston and then became a family court judge for a while, which I really enjoyed. I quickly found if I wanted to have children and spend any time with them, I couldn't handle the large caseload and I needed to do something else."
When she adopted her first son, Crites left the gavel behind to settle her family. "The twins came and although I never really planned to go in-house at AWP, the company really needed in-house counsel and it was a good fit for me and my family," explains Crites. "The job was in a good area to raise children; it was near my family and much more flexible. I loved the courtroom life, but it's not conducive to motherhood; neither is working in a large private law firm."
A good fit in the family business
Finally, in 2004, Crites came back to Petersburg to join her brother at AWP. "Growing up in this business, I understand the wood business very well and before I came in-house my family at AWP would call me and ask for legal advice and my opinion, so as the business really started to grow, it made sense for me to come on in-house."
Crites quickly found just how much AWP needed her assistance. "When I first started we were in the process of acquiring three saw mills from Georgia Pacific — that's a huge amount of transactional legal legwork," she says.
With business law, a wood products background and fearless tenacity in her favor, Crites managed to hit the ground running. "It was sink or swim. I jumped in with two feet, swam hard and here I am today," she laughs.
Supporting expansion, business growth
Today, Crites oversees the full gamut in legal transactions, compliance and legal business advice in AWP's ongoing expansion, all with just one legal assistant at her side. With shipments going out daily via railcar, truck or container cargo, Crites deals with any number of transportation, maritime and trade law intricacies on a regular basis. "At one point we were shipping to 36 countries," she says. "You run into sticky situations in so many global markets. For example, if we ship a load of lumber to London and the customer goes bankrupt, the lumber is left sitting in a warehouse and we're waiting to get paid. Shipping to China and many other countries, you can run into any number of trade laws we must comply with. It's these kinds of situations that I have to find a solution to."
Crites often turns to the help of specialized outside counsel for specific legal areas, one of them being transportation law. "Sometimes I hire outside counsel to give advice on a particular area of the law and part of my job is to monitor them and make sure they're providing good, on-track advice in a timely manner," she says.
Crites stays organized by making a target list every day with her main priorities on top. "Sometimes emergencies come up and I have to completely turn my attention to something else," she says. "This kind of flexibility is important to success in my position."
Top on the target list lately has been meeting AWP's legal needs regarding business development while the company expands to new global markets. "I look at how to best prepare us, from a legal perspective, to enter a new market when there are issues and the various legal needs, requirements and loopholes we need to consider to enable AWP to operate in a new country or area with as little legal issues or snags as possible," she says.
Now that AWP has weathered the housing crisis and the recession, the company is poised to make major moves in the coming years. "We were fortunate that through the downturn, my father had prepared AWP to weather an economic decline if one occurred," says Crites. "He's always looking at the big picture and what's ahead. That's why we're not publicly held; when you're publicly held, it's all about the next quarter. You don't have the ability to look farther down the road as much."
But there are challenges to staying small and family owned. Crites often finds herself working with large players such as Georgia Pacific and Marathon Oil — these firms have huge legal departments. "We don't have the large corporate structure and the large legal team, but luckily I have very good relationships with outside firms and have trusted outside counsel," says Crites.
Despite being a one-woman show, Crites' sense of duty to her family business truly stands out and fuels her resolve and steadfast dedication to AWP's ongoing success and growth. As Allegheny Wood Products looks to make new leaps into more global markets, Kelly Crites is at the company's side as a strong force, helping to guide and steer the company in the right direction.
Showcase your feature on your website with a custom "As Featured in Vanguard" badge that links directly to your article!
Copy and paste this script into your page coding (ideally right before the closing