Lance E. Purcell – FirstBank Southwest
Reason to be bullish on bank's future
There's something about that Texas Panhandle lifestyle, Lance E. Purcell says. When not attired for his role at FirstBank Southwest in Amarillo, you might find him in boots and jeans, roping calves at a rodeo or mentoring at-risk youngsters at Cal Farley's Boy Ranch, a residential community that helps boys and girls overcome troubled situations.
It takes time management to fit these activities into his schedule, and when Purcell isn't wearing a Stetson, he's sporting three other hats. He's general counsel of an independently chartered bank, senior trust officer of its wealth management division, and director and president of its subsidiary Covenant Title company.
Having grown up among ranchers and farmers just across the state line in Tucumcari, New Mexico, he's at home speaking their language while also helping the rest of the bank's clientele make critical decisions about their future.
"Our niche is the community banking model," the good-natured and folksy Purcell tells Vanguard. "Relationships are everything to us. We've established a reputation for getting to know our commercial and retail customers so we can be familiar with their needs and provide the support and advice to help them grow."
Extending its reach
While the Panhandle is FirstBank Southwest's home—having nine banking centers in the region—it is growing elsewhere in the Lone Star State. In April 2021, the bank opened its newest loan and production deposit office in Fort Worth.
"We recognized the vast potential to acquire new commercial customers in the thriving Dallas and Fort Worth area," explains Purcell, whose responsibilities include identifying new business opportunities and overseeing the legal and regulatory details. Texas' urban centers have become boomtowns thanks to the state's favorable business climate, and Purcell sees the bank's geographic footprint continuing to grow with the corporate relocations and expansions.
In addition, the wealth management and title sides keep growing,
"Our loan production office is the lead for future geographic expansion, and it is driving expansion for our other business lines," Purcell says. "We get leads on 401(k) opportunities to help a business with their retirement plans which then opens the door for further bank relationships."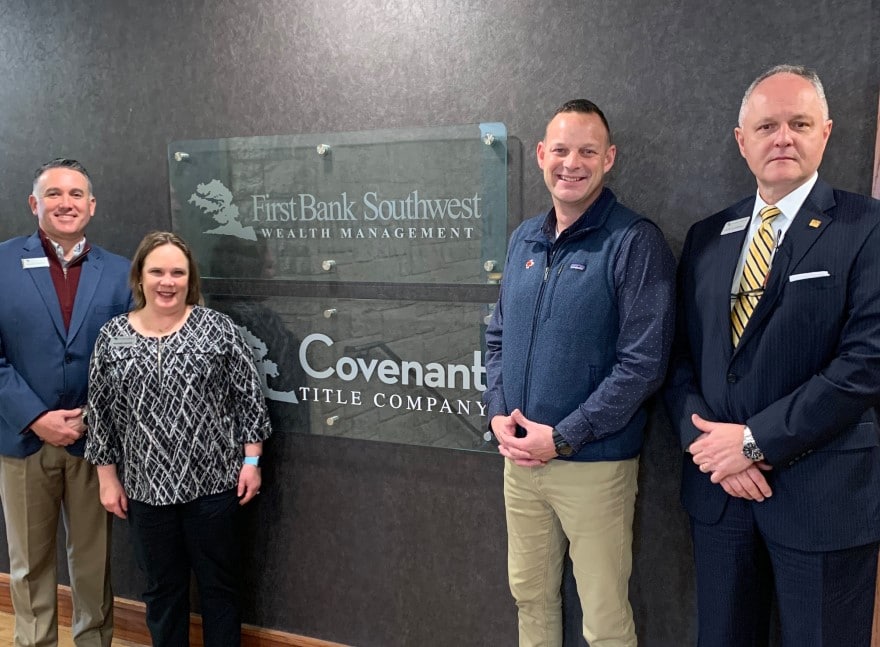 Purcell is proud of the team that provides a first-rate wealth management division, which includes investment and retirement plan departments run by Bobby Martinez. Offering 401(k) services makes FirstBank Southwest somewhat of a rarity in Texas banking services, Purcell says.
"We're seeing a lot of people who have money and need to place it somewhere," Purcell says. "Low interest rates don't meet the needs of many, they are looking for someone to help them find reasonable risk expectation."
The Covenant Title subsidiary, run by Julie Lamm, fills another niche as Purcell emphasizes the importance of title insurance and closing services in any real estate transaction. Purcell describes his role as the intermediary between the legal and business sides, which is where he wants to be.
"It's being able to research complex legal issues and translate them to the business side to assist with the decisions that need to be made," he says. "It's working with the right lawyers and surrounding yourself with people who you trust can do the job."
By the basics
Purcell follows a fairly simple game plan—be proactive and anticipate pitfalls. Surround yourself with people whose skills exceed your own. Be an effective leader, communicator and drive shareholder value.
Such has been his modus operandi since he came to FirstBank Southwest in April 2010 after five years as assistant vice president and trust officer at Amarillo National Bank. That in-house role came after just two years of Purcell honing his skills as a Hester McGlasson & Cox associate in Amarillo following his 2003 graduation from Texas Wesleyan University School of Law. An Oklahoma State University undergrad with a BS in finance, Purcell enhanced his creds at the Graduate School of Banking at Colorado in 2019.
"It's been a great almost 12 years," he says of his FirstBank Southwest tenure. "The Ellis family [the founding family's descendants] and the board have provided me with a great opportunity to grow and be a part of the leadership team to help move the bank into a very exciting future."
They more than hold their own against the banking behemoths through customer service, Purcell says. Technology also has been a great equalizer, and the bank has distinguished itself while processing the federal government's Paycheck Protection Program.
"We spend a lot of time researching areas and people and the necessary steps to execute our plans," he says. "A lot of my role is the communication between the legal process and the decision-makers."
It's a role that's garnered the 40-something Purcell much recognition in Texas legal circles.
Jolly good fellow
This past summer he was elected to membership in the Fellows of the Texas Bar Foundation, an honor bestowed each year on just one-third of 1 percent of the bar's membership, with the chosen few selected based on professional achievements and contributions to the profession.
Purcell takes the honor in stride, noting how he too has benefited from his extracurricular activities. As the incoming board chair of the Cal Farleys' Boys Ranch, he's eager to help steer at-risk youth toward a better future and to have fun in the process.
Located in Old Tascosa, a pioneer town where the likes of Billy the Kid and Pat Garrett eyed each other with well-founded suspicion, the ranch now is where personal pride and perseverance is fostered along with faith. The youngsters having access to Western-style activities, could be some of them will join Purcell in roping calves.
A married father of four boys ages 8 through 16, Purcell also is immersed in football this time of year. One's got to maintain work-life balance, he says.
"At the end of the day, you've got to do right," he says. "Operate in an ethical manner and do it right the first time. I tell my boys that all the time."
View this feature in the Vanguard Winter I 2022 Edition here.
Showcase your feature on your website with a custom "As Featured in Vanguard" badge that links directly to your article!
Copy and paste this script into your page coding (ideally right before the closing