Lele Modise – Barclays Africa Group Limited
A proud part of the African growth story
For many of us, the long-running TV show "Law and Order" is merely a diversion; for the impressionable young Lele Modise, though, it was a window to a fascinating world.
The South African native seemed born with a strong sense of justice, and was certain by age 12 that she would pursue law. Watching the popular syndicated television show only confirmed her convictions about the profession—despite Hollywood's decidedly melodramatic bent—and its inherent principles of integrity and discipline, as well as the studied approach and analysis involved.
"I always wanted to help people, to fix whatever problems they might have in the right way and achieve a good outcome, if possible, for everyone," she says.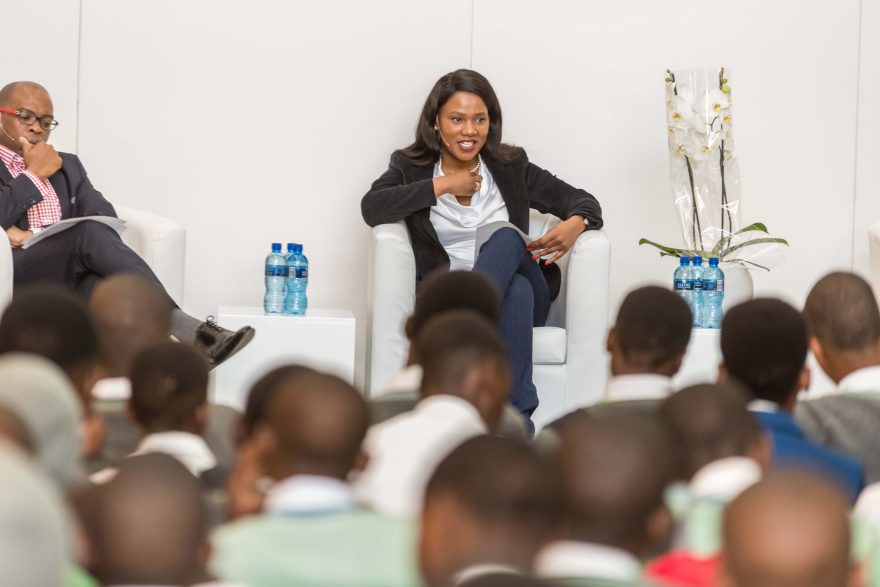 Today, she works to fulfill that goal at Barclays Africa Group Limited, where she serves as general counsel of Corporate Investment Banking and head of the Transaction Management Group—the latter of which she formed and implemented two years ago, to streamline processes and improve efficiency.
"It goes beyond just being a lawyer," says the graduate of the University of Pretoria and the University of South Africa, who joined the Johannesburg-based bank in 2014. "I wanted to use my experience and also grow as a leader, as well as be part of an organization that is invested in the growth and prosperity of the African continent."
Mentors, mentees and social responsibility
Modise didn't have immediate professional role models as she navigated her early career—so it was crucial for her to connect with strong lawyers who "extended themselves," she recalls. She found great examples while working at law firms Bell Dewar and Hall Inc. (now Fasken Martineau) and Bowman Gilfillan Inc. (now Bowmans).
Today at Barclays, she pays it forward by making herself available as a mentor to about 10 young female professionals, helping them hash out their career goals and challenges. Some of her mentees seek her directly, while others come through in-house professional development programs such as "Masedi," which supports young women in the bank looking to move into management roles.
Similarly, Modise supports Barclays' ReadytoWork and ReadytoWear programs—which, respectively, help young graduates gain work; entrepreneurship, money and people skills; and have access to donated professional clothing. She also frequently hosts "Take a Girl Child to Work Day." In fact, the bank has bolstered its efforts around the annual event, doubling exposure to two days a year for girls in 10th, 11th and 12th grades. As Modise notes, "One day is not enough."
All told, she stresses the importance of providing opportunities for the underprivileged, as well as continuing to transform the South African culture. Exposure to the corporate environment helps people from varied backgrounds realize that "their current circumstances shouldn't limit their reach or their potential," she says.
In the end, the single mom hopes her efforts will inspire her two young daughters, who she tells to give their best—in order to be their best—every day.
A dynamic role
Overseeing a team of 54 on the legal side and 56 in the Transaction Management division, Modise describes herself as "execution-driven" and "transformational" in her leadership style and "quite logical and solution driven in my approach."
Since joining the bank in 2014, she has served as general counsel for its Corporate Investment Banking and Wealth Investment Management and Insurance divisions (from November 2015 to July 2017), in addition to setting up the Transaction Management Group in November 2016. Her expertise is in mergers and acquisitions; corporate finance, investments and capital markets; and transactions—the latter of which she finds "energizing" and which prompted her to join the bank.
She knew the bank could be more precise with the execution of transactions and streamline the processes and functions involving them, she says, so she established what essentially serves as a middle management deal execution office. That means that once a banker on the front lines enters information on a given transaction and it is approved by the credit department, the transaction management team takes over in executing the deal. This then frees up the banker to work on more deals.
The goal is to broaden these capabilities to other areas of the bank, as well as outside of South Africa, she says.
Meanwhile, in just four years with Barclays, Modise has been instrumental in the landmark restructuring of retail group Edcon as well as African Bank Limited; establishing operations in Nigeria and redefining the company following the selldown of shares by London-based Barclays PLC.  Likewise, she has assisted numerous high-profile entities in developing and executing their strategies in Africa and extending their presence on the continent.
This is a particular passion of hers: There is significant untapped potential in Africa, and she looks forward to being part of the continent's growth story, she says.
"I enjoy what I do, growing as a leader, being a trusted advisor and helping to provide solutions," Modise says. "I'm excited that I'm part of an organization that is thriving."
Showcase your feature on your website with a custom "As Featured in Vanguard" badge that links directly to your article!
Copy and paste this script into your page coding (ideally right before the closing